Welcome back to the Great North Ventures newsletter! We have grant funding news, as well as our monthly roundup of portfolio company updates and jobs.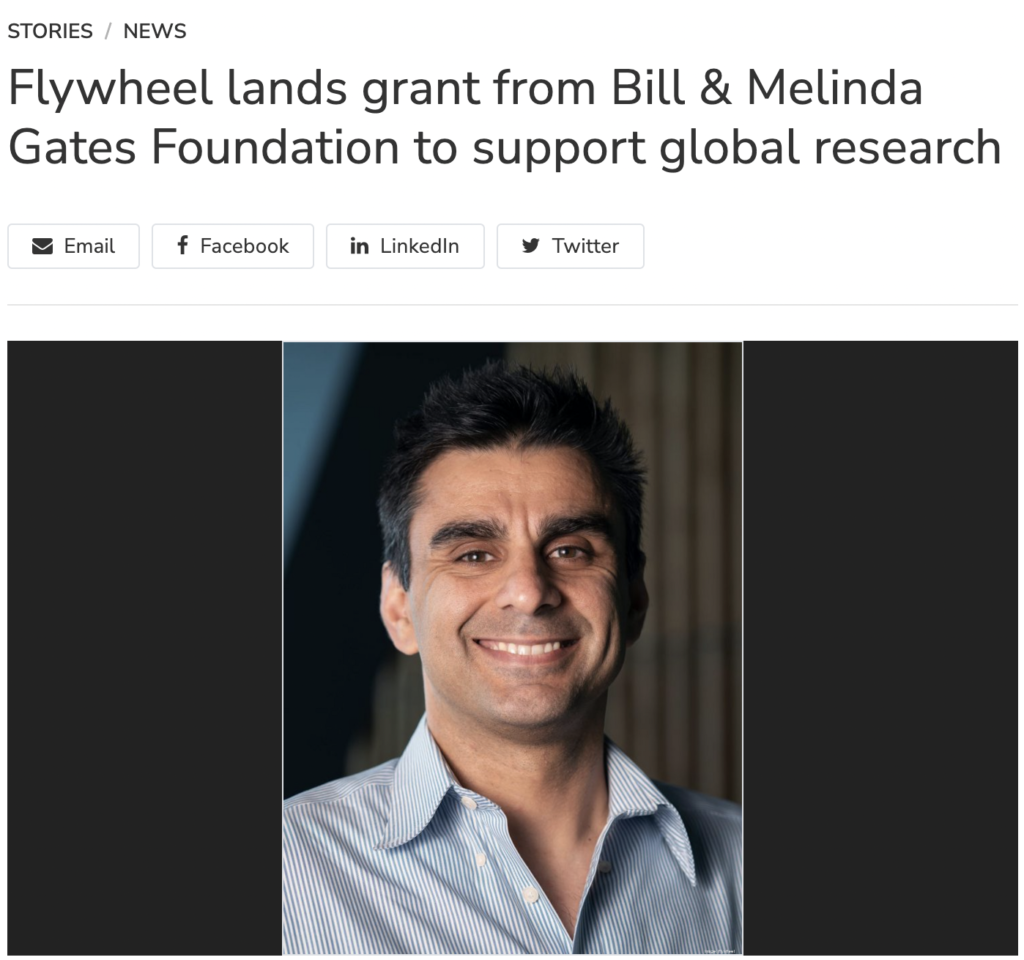 Portfolio company Flywheel has earned a grant from the Bill & Melinda Gates Foundation for its work making data accessible to medical researchers!
Flywheel is the leading data management platform for biomedical research and collaboration. According to managing partner Pradip Madan, "Flywheel's work on data management and collaboration in life sciences and clinical research has created a data management powerhouse accelerating the bench-to-bedside journey of numerous initiatives."
The $829,000 grant will provide a centralized, cloud-based research infrastructure to an international cohort of researchers led by King's College of London, and support research on the neurodevelopmental health of children growing up in poverty and other adverse environments in low- and middle-income countries.
"We're looking forward to leveraging Flywheel not only to make data easily accessible to our neuroimaging partners around the world, but also to develop shared analytic pipelines and maintain consistency and compatibility," said Professor Steven Williams, PhD, Professor of Neuroimaging Sciences at King's College London, and a principal investigator on the project.
"This project will ultimately build the knowledge and analytic capacity of LMIC researchers, allowing them to further optimize neuro-focused interventions in their settings."
Great North Ventures is Hiring!
We have 2 positions open, including a Venture Capital Analyst and an Executive Assistant.
Interested in a remote-first, innovation-centric culture in one of the top up-and-coming markets of an exciting industry? Apply at the links above.
Are you a founder worried about managing growth through a downturn?
In our latest episode of Execution is King, we talked with Orazio Buzza, Founder and CEO of Fooda. Orazio shared his approach to manage growth in the face of unpredictable variables. He outlines a milestone approach that works when forecasting fails and headwinds start to blow, and helps keep expenses from outpacing revenues as your business grows.
Listen to the full episode here:
https://lnkd.in/gMNZHBdK
---
Portfolio News
Dispatch Expands Its Last-Mile Delivery Service Into California and New York

Great North Ventures invests locally

Good Design Awards Highlight Connected Devices
NoiseAware Introduces CrowdControl for Elevated-Occupancy Detection

Madison startup that helps consumers navigate food allergen 'minefield' explores new tech horizons [Allergy Amulet]

Improving carriers' cash flow with Branch — Taking the Hire Road
79 Open Positions
See all open positions on the Great North Ventures careers page
Dispatch is hiring for 9 positions
Structural is hiring for 1 position

FactoryFix is hiring for 5 positions
Pitchly is hiring for 1 position
PrintWithMe is hiring for 18 positions
Parallax is hiring for 3 positions
Branch is hiring for 18 positions
Inhabitr is hiring for 1 position
PartySlate is hiring for 3 positions
Flywheel is hiring for 4 positions
Skillit is hiring for 1 position
NextGem is hiring for 2 positions
Backhouse Brands is hiring for 1 position
Yardstik is hiring for 3 positions
Micruity is hiring for 3 positions
Omnia Fishing is hiring for 6 positions
Yardstik is a technology company offering screening, verification, and training solutions tailored to gig marketplaces and SaaS platforms.
Yardstik is new to the Great North Ventures Fund II portfolio.
The company announced on Feb. 3rd, 2022 a $8 million Series A raise led by Grotech Ventures with participation from Great North Ventures and continued funding from existing investors Rally Ventures and Crosslink Capital.
Read more here.
Visit the Yardstik website.
Welcome to our last newsletter of 2020. It's been a challenging year. We feel fortunate that the local early-stage startup scene has remained strong, and believe that investment in innovation and digital transformation will help fuel the post-pandemic economic recovery.
In 2020 Great North Labs invested a total of $5.8M, adding 14 startups to our portfolio for a total of 23. Most of the remaining capital in Fund I is allocated for follow on investing. That won't slow us down with backing new startups as we intend to continue investing in new companies out of new funds.
Before we look forward to new investing and ring the new year, let's take a look at the top stories of 2020 for Great North Labs. These are the topics we wrote about that resonated the most with our audience. 
Top 5 Stories of 2020
1. COVID-19
The pandemic has forced sweeping changes around the world. We wrote about legislation that can spurn the economy to recovery and the increasing speed of digital transformation driving value creation in tech companies and the Midwest. We also tracked trends, curated startup resources for entrepreneurs, and encouraged giving to support local nonprofits in the tech and startup community. 
2. Capacity Building
As the startup ecosystem grows, with it grows the capacity to produce breakout startups. Those startups drive economic value creation, economic activity, and job creation. This year we laid out the cash and equity, time and effort donated, re-affirming the commitment laid out in our Founders Pledge and our give-first mentality.
3. Resilient Startups
Startups have to be capital efficient and nimble to survive a downturn. The Midwest in general is know for capital efficiency and the grit required. We dug up a list of resilient startups in Minnesota that not only survived, but thrived after coming through a recession. We also pointed out how to spot a good consumer app startup, and paired with CliftonLarsonAllen to explain how investors may be able to get 100% capital gains exclusion by investing in these startups as angels or through venture funds. 
4. George Floyd 
The American Dream is one of a meritocracy, where those who work hard and well are rewarded. This dream is still not a reality for many Americans who face systemic inequities. BIPOC individuals face economic deprivation due to these inequities, which have profound and compounding effects. The events surrounding the death of George Floyd drove home the fact that we need to continue to work to provide equitable opportunities for success through charitable giving, training, and mentorship, and track progress in the number of founders we see.
5. 2020 World Economic Forum
Great North Labs was honored to be invited to the 50th Anniversary World Economic Forum in Davos back in January of 2020. Managing Partner Pradip Madan spoke about our investment thesis, digital transformation, and increasing innovation in the private and public sector in front of leaders from around the world and appeared on CNN Money in Switzerland. Pradip also hosted roundtable discussions on "Business models and strategies that will hallmark the next phase of global economic transformation" with The Digital Economist, and participated as a sponsor for the International Women Business Leaders Reception.
Launch MN Expert Exchange
Launch Minnesota has put out a call for mentors and experts to join their Expert Exchange. "The Minnesota Expert Network is a statewide program to help entrepreneurs find the right support and bring avenues for engagement, networking, and project development for startups at different stages of growth."
Interested subject matter experts, project supporters, and business mentors can find more information here. 
Events
Here is a mix of upcoming events for investors, founders, and/or ecosystem supporters. All events listed are virtual.
Portfolio News
iraLogix is new to the Great North Labs portfolio! iraLogix is an advanced, institutional IRA record-keeping and trading technology offering web-based institutional IRA record-keeping services. We led a $7.5M round that included Circadian Ventures, Trog Hawley Capital, and Riverfront Ventures.
"We needed a Plan B." PartySlate, the visual platform for event planning, has moved into virtual events.
"Plyo App Inspires Active Lifestyles." Plyo is partnering with Big Ten Schools to promote active lifestyles.
"Study: Work From Home Transitioning Resident Amenity Needs at Apartment Communities." PrintWithMe has expanded their self-service printer service to 49 states, while a study confirms that their service is an in-demand amenity for those who work from home in an apartment building. 
Job Board
Dispatch is hiring a Product Marketing Content Creator, and a Senior Ruby on Rails Developer for Remote work.
FactoryFix is hiring a Team Lead – Full Stack Developer, Full Stack Developer, and Infrastructure Developer- DevOps in Madison, WI; and a Sales Development Representative in Chicago, IL, Indianapolis, IN, or Madison, WI.
TeamGenius is hiring a Customer Success Manager, and Lead Engineer-Mobile Development based in Minneapolis, MN.
PrintWithMe is hiring Customer Support Reps in Houston, TX and Washington, D.C. Regional Sales Directors for East Coast, South Central, and South East regions; Director, Demand Generation, Operations Lead, and a Winter 2021 MBA Strategy Intern in Chicago, IL.
Parallax is hiring an Experienced Product Designer in Edina, MN.
Branch is hiring a Senior iOS Engineer and Android Engineer for remote work. Also a Consumer Marketing Manager, Account Executive (Mid-Market), and Channel Sales Manager in Minneapolis, MN.
Inhabitr is hiring a Chief Growth Officer/Head of B2C Growth, Digital Marketing Lead, Operations and technology Associate, Operations Manager – B2B, and a Sales and Customer Experience Associate in Chicago, IL. Also, Product and Technology Associates in Miami, FL, Los Angeles, CA, Austin, TX, Dallas, TX, and Phoenix, AZ; a Junior Interior Designer in Los Angeles, CA, and a Product Manager in Alpharetta, GA.
Clinician Nexus is hiring a Customer Success Manager in Minneapolis, MN. 
NoiseAware is hiring a VP of Marketing, a QA Technician (independent contractor), Senior Director of Software Engineering, People Operations Generalist, Account Manager, and a Customer Advocate in Dallas, TX.
Happy Thanksgiving, and welcome back to the Great North Labs newsletter!

This is the perfect time of year to reflect on what we are thankful for, and for giving back. We are most thankful for our investors, our advisors, and our portfolio companies, of course! They are the reasons we exist, work, and succeed.

We are also thankful for the developing startup ecosystem in Minnesota and the Upper Midwest. There have been great developments recently like the Launch MN Initiative, the first Greater MN accelerator, and one of the largest seed funds ever raised in the Midwest! 

There is still a need to improve. There are valid and pressing worries about the creation, automation, and distribution of jobs. Innovation and startups are increasingly important to our future. Did you know that from 1980-2010 about half of all jobs created in the US were from high-growth startups? 
 
Founders Pledge

That is why we are challenging founders in Minnesota to make a Founders Pledge! The Founders Pledge is an international movement of founders dedicating equity to support nonprofits. This is a way for cash-strapped founders to provide impactful contributions to organizations they find important.
There are several existing structures and organizations, but basically, to make a Founders Pledge startup founders donate a portion of their future proceeds to local nonprofits. They give support to the organizations that support them. If the Founders Pledge becomes ingrained in the culture of our startups, it will create a virtuous cycle between successful startups and the people and organizations that help them succeed.
Supporting the Startup Ecosystem

According to research on early-stage entrepreneurship from the Kauffman Foundation, Minnesota is lagging behind on 4 key indicators of success. Our rate of new entrepreneurs, opportunity share of new entrepreneurs, startup early job creation, and startup early survival rate are all below average, with our composite score putting us at 46th compared to the rest of the US.

Nonprofits are a vital part of supporting early-stage entrepreneurship, and creating favorable outcomes for founders. By contributing to their success, founders can increase the chances of their own and future startups' success. Join the movement and Great North Labs in making a Founders Pledge!
Events
The holidays are a busy time for everyone! If you find some time between family and friends, here are some events worth attending:
Portfolio News
Inhabitr closed a $4M dollar series A round, led by Great North Labs. The news of the Chicago-based furniture rental platform was covered in TechCrunch, and in this piece by ChicagoInno.
2ndKitchen closed a $4.35M round. This startup connects restaurant kitchens with kitchen-less venues, such as bars and breweries. Investors included Hyde Park Venture Partners, Math Ventures, and M25.
Dispatch was named to CNBC's Upstart 100, which includes "100 of the world's most promising start-ups to watch in 2019". Congratulations to the Dispatch team!

Job Board
Dispatch is hiring all over the country for Part Time Drivers and in Bloomington, MN for a Biz Dev Representative, HR Manager (Remote OK), Data Scientist, and CFO. 
Structural is hiring an Associate Software Engineer in Indianapolis or St. Paul, MN. 
TeamGenius is hiring a Sales Associate in Minneapolis. 
FactoryFix is hiring a Software Engineer, Product Designer, and UX Designer in Madison, and a Biz Dev Specialist and Account Manager in Chicago.
2ndKitchen is hiring a Customer Success Manager, Account Executive, and Director of Sales in Chicago. 
PrintWithMe is hiring a Customer Success Associate, Network Operations Specialist, and an Operations Lead in Chicago; Super User Technicians in Portland and Houston; and a Regional Sales Director for the West Coast.
Parallax is hiring a Customer Success Specialist, Quality Assurance Engineer, Senior Software Engineer, and for a Growth/Customer Acquisition role in Minneapolis. 
Branch is hiring a Content Marketing Manager, Settlement Analyst, Customer Support Agent, Customer Success Manager, and Senior Backend Engineer in Minneapolis.