World Economic Forum, NoiseAware, and the Startup School reboot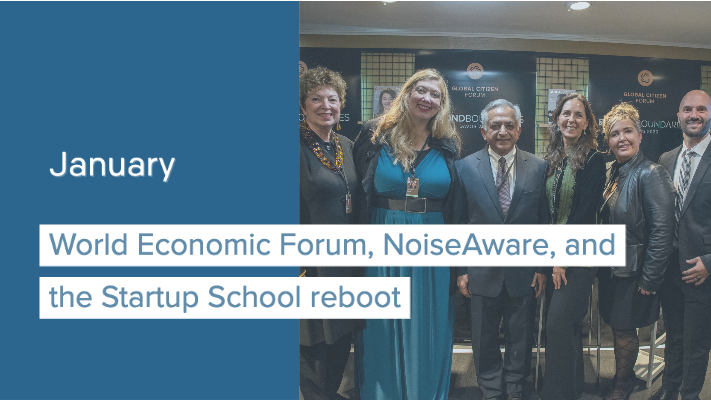 Welcome back to the Great North Labs newsletter! 2020 kicked off to a fast start. We were invited to participate in the World Economic Forum, and we announced the next chapter in our Startup School. There's also a new advisor on the team, and a new portfolio company.
World Economic Forum
Managing Partner Pradip Madan went to Davos for the annual gathering, which focuses on entrepreneurship in the global public interest, and shaping global, regional, and industry agendas. On and off stage, Pradip spoke about investing in the Upper Midwest, supporting and growing the ecosystem, and of course, the promise of the Upper Midwest region.
Pradip spoke on the Global Citizen panel hosted by Minneapolis AI company PinkLion.AI titled Innovation in Tech: Leveraging unexplored areas and geographies to increase scale and innovation in the public and private sector, and hosted an hour-long roundtable for The Digital Economist on Business models and strategies that will hallmark the next phase of global economic transformation.
Great North Labs was also proud to sponsor the International Women Business Leaders Reception and the Digital Future Board Room. Inclusion and digital transformation are both important topics that we are glad to support and help elevate on the world stage.
There was a strong regional contingent involved with and leading these events, including Jennifer Bonine of PinkLion.AI, Patricia Simmons of Mayo, and Maria Dayton, Ambassador of SingularityU Minneapolis-St.Paul. Maria and Jennifer were instrumental in organizing these events, and are strong representatives for Minnesota and the region.
One of the ecosystem building efforts that Pradip highlighted at WEF was our Startup School, which is currently undergoing a reboot. We have new partners, expanded curricula, and greater reach!
Startup School Reboot
Started in 2017, the original Great North Labs Startup School offered bootcamps covering Lean Startup and Agile Scrum, and additional offerings over the years included education on digital disruption and exponential technologies. Roughly 200 students went through the school.
Now, we are working on an expanded offering with new partners Red Wing Ignite and ILT Studios. While the new initiative will no longer be wholly owned and operated by Great North Labs, it will be greatly expanded, able to reach more of Greater Minnesota, and hopefully scale across the entire state. You can read more about it on our blog, or in this article by Minne Inno.
Classes will begin in March, and sign-up will be live in February. Contact us to get on the mailing list and stay informed, and to find out when you can sign up.
Events
Here are some upcoming events related to tech startups. Where our attendance is noted, feel free to reach out or connect at the event:

Feb. 12- Kellogg Private Equity and Venture Capital Conference 2020 in Evanston, IL. This is a Chicago-area gathering of PE/VC leaders. Panel topics include "The Value of Fostering a Diverse & Inclusive Firm", "The Future of Private Equity Firm Models", and "The Mighty Middle versus The Coasts: Beyond Traditional Venture Ecosystems". Ryan Weber will attend.
Feb. 27- Tech Talent 2020 inMinneapolis. This event at Target Field is put on by MHTA. "During this event, we will build on the data and ideas we delivered last year to look at specific ways the tech and STEM education communities are addressing supply and demand here in Minnesota".
Mar. 16- Wisconsin Tech Summit in Green Bay, WI. The Tech Summit will feature a series of brief meetings, or "speed dates," to foster communication and partnerships.
Apr. 25- Minnebar15 in Richfield, MN. The annual, can't-miss gathering at Best Buy HQ put on by Minnestar. Tickets won't be available until April 9th, but you can check out the talks and register your interest here. If you plan on going, this is good to do, to make sure you can get a seat in the talks you want to hear. (Minnestar uses those registrations to assign room sizes). Check out Managing Partner Rob Weber's talk Scaling a Company Outside of Silicon Valley.
Advisor News
Steve Schmidt is new to the Great North Labs team. He is the Founder and CEO of Abetech, a company that creates bar code and RFID systems and solutions that increase productivity.
Portfolio News
NoiseAware is new to the Great North Labs portfolio. NoiseAware provides a real-time noise monitoring solution for the rapidly growing short-term rental industry. According to property managers, the biggest challenge they face is party prevention. This is likewise a major concern for major rental platforms such as AirBnB. NoiseAware's solution includes options for indoor an outdoor monitoring, in real-time, with historical data and trend tracking across properties.

Job Board
FactoryFix is hiring two Full Stack Developers and a UX Designer in Madison, and a Business Development Specialist and Account Manager in Chicago.
Pitchly is hiring a remote Legal Marketing & Sales Content Specialist
Misty Robotics is hiring a Lead Qualification & Inside Sales Specialist, and an Inside Sales Specialist (contract) in Boulder, CO.
2ndKitchen is hiring an Account Executive, Business Development Representative, Operations Associate, Operations Intern, and Design Operations Intern in Chicago.
PrintWithMe is hiring a Customer Success Associate, Customer Service Representative, Web Developer (Python), Inside Sales Executive, and an Operations Lead in Chicago; Super User Technicians in Portland and Houston; and a Regional Sales Director for the West Coast.
Parallax is hiring a Customer Success Specialist, Quality Assurance Engineer, Senior Software Engineer, and for a Growth/Customer Acquisition role in Minneapolis.
Branch is hiring a Revenue Operations Manager, Sales Development Manager, UX Designer, Senior IOS Engineer, Customer Support Agent, Account Executive (Enterprise), IT Coordinator, Data Engineer, Devops Engineer, Jr. Visual Designer, Senior Backend Engineer, Senior Android Engineer, and Account Executive (Mid-Market) in Minneapolis.
NoiseAware is hiring a Back-end Developer, Embedded Developer, Front-end Developer, Mobile Developer, Site Reliability Engineer, Global Supply Chain Manager, Product Marketing Manager, and UI/UX Designer in Dallas.