I am thrilled to announce the addition of our newest Associate, Grant Gibson, who brings a unique blend of business acumen and legal expertise to our Great North Ventures fund. Holding a law degree from St. Thomas School of Law, Grant passed the bar this past fall, solidifying his legal prowess. Prior to joining Great North Ventures, Grant gained invaluable experience as in-house counsel at a cybersecurity startup.

Great North Ventures looks forward to leveraging Grant's diverse skill set to further enhance our ability to identify and nurture promising startups. Grant will be responsible for driving deal closures, assisting in deal sourcing, conducting due diligence, and working closely with portfolio companies to support their growth and success. His expertise will play a pivotal role in Great North Ventures' mission to foster the next generation of transformative businesses.

Please join us in welcoming Grant Gibson to the Great North Ventures team.
The following is the second guest post in a series written by Victoria Schanen, founder of Ghrow.io, a consulting services firm specializing in fractional human resources and recruiting leadership for startups. We've enjoyed our conversations with Victoria and are pleased to share a series of guest posts authored by Victoria with you. Prior to launching Ghrow, Victoria served as an HR executive in three separate SaaS startup companies based in Minnesota. She speaks and presents at startup events such as MinneBar, Twin Cities Startup Week, and Enterprise Rising and performs comedy improv in her free time. To see the first post in the series, go here.
Startups are lean operations with tight budgets and, for good reason, they tend to staff up in two areas first: technology and sales. A dedicated human resources team member doesn't make it into the picture until much later and so the function is often cobbled together and minimally viable. In this blog series, I'll endeavor to demystify startup HR by unpacking common pitfalls and offering helpful redirects.
Moreover, because hiring a team is expensive, I hope my insights help founders protect and strengthen the people investment side of their businesses.
Early hires
Startup founders often hire past colleagues, friends, or even family members, understandably. It's much easier to recruit someone who knows and trusts you. The founder also knows roughly what they are getting versus hiring an unknown quantity. Perhaps equity is offered in lieu of salary, or the offer package has other tradeoffs, saving a founder precious cash for other uses.
These early hires often don't have a job description nor defined objectives. Since the employee and founder have a close relationship, responsibilities and expectations tend to be communicated and understood in the context of working closely together. This works for a while but then reaches a breaking point.
When an early hire's performance doesn't meet a founder's expectations, the conversation is going to be a hard one without a job description to point to. Or worse, a founder may realize too late that the hire wasn't actually a fit for the work that they needed them to perform.
To avoid these scenarios, I strongly recommend writing a job description, even if it's just a list of responsibilities and objectives, before hiring anyone – even a former colleague. Job descriptions help define who it is your business needs and then sets the north star and criteria for what work needs to be completed. This will help the new hire be successful, which in turn helps the company be successful.
Leaders
Hiring functional heads for a startup – Head of Growth, Head of Engineering, etc. – is tricky. On the one hand, startups need leaders capable of strategic planning, which typically means someone who has previously held a director or vice president role. On the other hand, the leader will likely need to also perform hands-on work.
When hiring functional heads, I recommend being mindful that candidates who have a decade or more experience in a director or vice president role likely manage teams who execute all the work but they haven't gotten their "hands dirty" in a while. That said, I wouldn't swing the pendulum the other direction by hiring someone who has only ever been an individual contributor. A few profiles I've seen that translate well into startup functional heads: an experienced software engineer who just finished an MBA; an HR executive who spun up a new division from scratch; a former startup founder coming in as a head of Customer Success.
Managers
Setting up the function of people management in startups can also pose challenges. Often, the highest performing employee is offered a promotion to manager. Since promotions come with pay increases, which is hard to turn down…who doesn't like money?…people tend to bite at the opportunity. In other words, they're kinda forced into it. The issue is that being a strong individual contributor doesn't necessarily translate into being a good manager of people. Further, strong performer often miss the hands-on work they need to give up to make time for management, leading to job dissatisfaction.
Here's a manager introduction model I've seen work out. The functional head should talk to their employees about goals to get a sense of who is interested in a management vs. a technical specialization career path. Those interested in managing can be given "training wheels" such as managing an intern, a lower stakes / shorter term trial. If they like and are a good at it, you've got a manager pipelined!
People management is of course a complex topic, peppered with the sub-topics of learning and development and performance management. Please tune in for the next installment of "Startup HR Demystified" for a continued discussion touch on these areas.
I'm excited to introduce you all to Joseph Daher. Joseph has played an essential role in sourcing, evaluating, and supporting promising startups for the past nine months and I'm pleased to announce that he will be joining the Great North Ventures team full-time in the role of Associate.
Joseph grew up on Hemlock Ln in Maple Grove Minnesota. He graduated from Osseo Senior High in 2014 and proudly served his country in the United States Marine Corps from 2016-2020 as an aviation logistics management specialist; during this time, he also graduated Magna Cum Laude with a B.S. in psychology from Campbell University, North Carolina.
He will be graduating in May of this year with his MBA from the University of Minnesota Carlson School of Management. Before pursuing his MBA, Joseph attended Columbia University in New York where he studied Social-Organizational Psychology, with a focus on Organizational Leadership.
In addition to his professional and academic accomplishments, Joseph is deeply committed to giving back to the community. He currently volunteers as an Admissions Ambassador for Service to School where he coaches and mentors transitioning service members in their pursuit of higher education, and he is the founder of The Oak Tree Foundation which aims to provide educational resources and scholarships to young people.
We are confident that Joseph's strong background in finance, psychology, and leadership, and his resilience forged during his time in the Marine Corps will help him make a significant impact on our firm and the innovative startups we support. Please join us in welcoming Joseph Daher to the Great North Ventures team.
"I am thrilled to be joining the Great North Ventures team and I am looking forward to identifying promising opportunities and supporting innovative startups that will shape the future."
From my vantage point as a venture capitalist evaluating hundreds of early-stage startups annually, I've become puzzled why the vast majority of founders I come across are still choosing to develop their initial Minimum Viable Products (MVPs) via a website versus a native, mobile app. The data suggests they should not be.
According to eMarketer, over 88% of time spent on mobile is spent inside an app versus a web browser. It's not just that startups are choosing to build their MVPs using a web application, but many are scaling well beyond their seed rounds and into their Series A or B round before ever getting around to launching a native, mobile app.
So what considerations should startups be weighing when deciding whether to be mobile-first and launch with a native app, or launch with a website? Let's dive in with the help of some Twitter friends.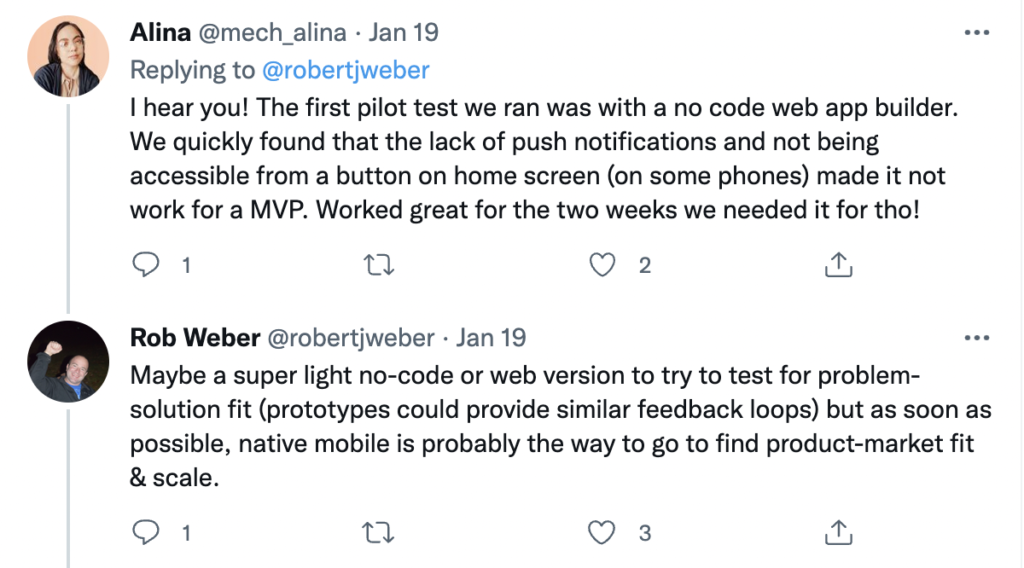 Advantages of a native mobile app
What are the advantages of launching with a native mobile app in a mobile-first world? The dominant consumption habit for the Internet is on a mobile device, and native apps have the most optimized user experience (UX) for mobile devices. But it isn't just about user experience. The opportunity to drive re-engagement from device-triggered push notifications and home screen icons proved too much to resist for founder Alina Matson of Fitment, a new micro workouts startup.
From my vantage point, local push notifications are the #1 reason to launch a native, mobile app first, with clickthrough rates ranging as high as 12% to 40% depending on your category, according to insights shared by Andrew Chen of Andreessen Horowitz.
Email or other forms of reconnecting with users just do not come anywhere near as close as push notifications in terms of clickthrough rates. Also on the marketing front, you can receive additional visibility via App Store Search Optimization (ASO) in the App Store which you are giving up when choosing a website approach.
On the development front, there is easier access to other native APIs, although the differences between what you can and can't do between a mobile app and website are fuzzier to me than ever given the advances in web technology. Finally, why not avoid costly technical debt and refactoring later in? When startups build for the web first, they start to compound technical debt which can dramatically slow down their ability to iterate later when they discover that the majority of their users want to use their application natively on their phone or tablet.
Advantages of a web app
Why would someone launch a website first? Launching a web app is often easier and faster than a mobile app. A founder may know very well that their user experience has more friction within a web app, however, as Maria Semykoz of Ukraine-based What's In My Jar points out, the signal provided in a high friction web app can help to prioritize feature development for a more-costly native mobile app.
Web pages with rich content are more likely to rank higher in search results than content stuck inside a native mobile app. Marketplace startups like Omnia Fishing first launched websites because they knew a main driver of their go-to-market strategy could be ranking high in search results. Also, requiring your users to install an app versus just keying a website into a browser also can reduce initial trials, as Scott Resnick points out.
From a technical standpoint, there are ways to make the user experience more native now than when smartphones first hit the scene. There are web-wrapper products that can make a website look mostly native and minimize the poorer mobile user experience, which has historically been more common with websites on mobile screens, as Jeff Ericson of RubyRide points out.
Other considerations before starting to build
What are some of the other considerations founders should weigh when deciding between going truly mobile-first with a native app, or launching a mobile-optimized web app for your startup?
Since native mobile apps are generally more costly to develop as Derek Rucker points out, the ability for a founder to secure significant initial capital is an important consideration. Startups which are under-capitalized may want to opt for web-only launches. Also, if you do go the native app route, Derek points out that iOS is much simpler to launch on than Android. Android has so many more different device types, with different screen sizes, that it is easier to launch iOS-only than to design for Android.
An alternative to choice: The hybrid approach
Are you still finding it difficult to pick between starting with a native mobile app or a web app for your startup? You may want to take a hybrid approach, and launch with a native iOS app as well as a website like we are planning to do for our first venture studio startup, NextGem.
NextGem is a new social app for trading card enthusiasts to discover and share trading cards. Much of the core initial functionality for NextGem revolves around the use of modern, high definition camera features on the latest phones and tablets. It would be very difficult (if not impossible) to recreate the super high-resolution photo scanning of NextGem through a website.
These high-resolution photos are needed for trading card collectors who want the ability to closely inspect the condition of trading cards before purchasing or trading. The reason the NextGem team chose to also support a website view was for search engine optimization purposes primarily. Each scan of a trading card by a user leads to a new, search-friendly content page that can be easily indexed by Google.
As a tech founder and investor, I have spent a lot of time thinking about why some startups scale and why others fail. You have to when your livelihood is riding on whether or not you can execute. And when you're putting other peoples' money on the line, knowing what to do and being able to do it isn't enough, but you have to be able to explain your decisions and actions.
When I made enough money as a founder to start angel investing, I was overly focused on the idea and strategy. Why? The business I had founded with my twin brother Ryan Weber was successful in terms of financial returns, but it lacked defensibility. In my opinion, that's what prohibited our business from scaling to an even greater outcome- we didn't have a great idea or strategy.
Learning from this lesson from my own business, I compensated by investing in founders who had a clever idea and a good strategy. Sometimes it felt like I was just investing in a nice pitch deck. Many of these teams just could not execute, and over time, they'd fail.
You can be a brilliant founder, with a clever idea and a good strategy, and still fail. It happens all the time. If you can't attract customers, build a team, and set and achieve goals, you're sunk.
As a VC, I've had to synthesize everything I've learned about operating and investing into a scalable, repeatable process- to turn these lessons into actionable guidance for conducting diligence. Founders who work towards these things increase their chances of reaching an exit, and investors who look for these things increase their chances of generating a return.
These are the top 5 signs a startup will succeed.
1) The startup has founders with great soft skills. Having a great idea or writing some really kickass code isn't enough to scale a big business. Soft skills are even more important than tech skills or industry experience. A founder/CEO's job includes sales, recruiting top talent, management, etc. All of these are soft skills.
2) The startup has a culture of accountability, and is focused on key growth metrics. Creating a metric driven, accountable culture is challenging. It is easier to do with a 4-person startup than a large-scale growth business so it is a critically important early piece.
3) The startup is good at new product development. Teams that are good at product development are analytical and creative. They run experiments before building a complete product which enables them to avoid focusing on building the wrong product with the wrong features.
4) The startup is focused on finding and perfecting one scalable customer acquisition channel. Experimenting is expected in the very early going, but eventually you need to bet on the one channel that can get you to scale. It could be digital media-focused customer acquisition, a referral program, or viral social strategy, anything that creates compounding returns. You need to be world-class at whatever your dominant channel is to succeed. For most of the best startups, growth is designed into the product or some other kind of clever growth hack is utilized. Look at Airbnb's famous spamming of Craigslist (Airbnb Growth Study (benchhacks.com)) or DropBox's famous early referral incentives. This is the scrappy team, focused on the right things, that has found the right product, and a way to scale.
5) The startup has an adaptable, entrepreneurial team. Early-stage is not the time for a team fixated on management systems. The time for investing more heavily in management systems is when your startup approaches 20–50 employees or more. In the beginning, you need a team with entrepreneurial skills, including customer empathy, product engineering strength, and go-to-market strength.
For former founders-turned-investors like myself, we need to be particularly aware of not being overly attracted to clever ideas in big markets, but instead focus on identifying the teams that can find their North Star to take them from point A to point B so the startup has an opportunity to start compounding. Execution is everything.
Every year, when I begin holiday shopping for friends and family, I always start with a list of gift ideas sourced from local entrepreneurs in Minnesota and the surrounding region. One of the best ways to support your community is to become a customer from the entrepreneurs in your community.
With the input of some friends in our local startup community, here is the 2020 list!
Gift Baskets
GiftBomb – With a unique intake form to understand your gift recipient's interests better, the highly personalized Giftbomb gift baskets have brought surprise and delight to so many friends and family for me this year. They source most of their products from local businesses. Huge fan!
Apparel
Askov Finlayson's Climate Positive Parka ($495)- I purchased Askov's latest parka right when it came out and it is outstanding. Although this is on the higher end on my list at $495, it's well worth it for that special someone.
Great Lakes Shirts ($36)- Because of the shut downs due to COVID, I've spent a lot more time with my family at our cabin this year. Great Lakes has very cool designs representing lake country vibes.
Love Your Melon Facemasks ($25)- By now, most people's facemasks could probably use a refresh. Enough said.
Kidizen Gift Card – For the latest new (or used) in kids fashion.
REM5 Winter Hat ($30)- Live events are out, but winter hats are in.
Toys & Games
Covid Playing Cards ($12)- Covid Cards are a fun time capsule delivered in the form of a standard deck of playing cards of all the whacky things that we have all experienced this year.
Paddle North Paddle Boards, Floating Docks, Kayaks ($500 to $1000)- We purchased one of the floating docks for our cabin a little over a year ago and it was a real hit with the kids.
Omnia Fishing Gift Card – For the fisherman in the family.
YOXO ($46)- Creative toys for young kids.
Cooper Kits ($65/quarterly subscription)- Running out of fun, educational ideas for the kids schooling from home?
Art Barn Boxes – DIY art boxes for kids.
Food & Beverage
BoozyJerky ($6)- Beer-infused beef jerky that is super tender and great paired with your favorite ale.
Fast Mary's Bloody Mary Mix ($15)- Vegan, gluten-free seasoning blend for a spiced up bloody.
SIPDARK – Whiskey accessories.
Muddy Paws Cheesecake – Over 222 flavors of cheesecake. If that's not enough, you can even rent their cheesecake food truck!
Nomisnacks ($32 for 16)- They built a better granola bar.

Golden Fig Gourmet Foods – Spices, snacks, artisan gifts, even dog treats!
The Sioux Chef's Indigenous Kitchen ($25)- The James Beard winner's cookbook featuring modern Native American cuisine
Health & Wellness
DoseHealth – Medication management.
Cammellatte – Skincare products made from camel milk.
Pets
PetChatz ($90) – A treat-dispensing video phone to check in on your pet when you're away.
Other
Printerette Press – Custom cards, invitations, etc.
Fractional Toys – Rent ATVs, boats, motorhomes instead of buying.
Mend Jewelry – Jewelry is always a good gift idea.
Section 1202, or "The Small Business Stock Gains Exclusion", provides a 100% tax exclusion for Qualified Small Business Stock. If you invest in early-stage companies and aren't familiar with Section 1202, check in with your tax advisor. Being able to exclude 100% of the gain on a stock sale for cash is virtually unmatched anywhere in the tax code.
Section 1202 was originally part of the Revenue Reconciliation Act of 1993, which aimed to provide relief for investors risking their funds in new ventures and small businesses. It now allows for 100% exclusion of the gains on Qualified Small Business Stock (QSBS), capped at the greater of $10M or 10x the investor's basis.
What Investments Qualify?
Early-stage startup investments can qualify for the exclusion if they:
are held for five years
were made after Sept 28th, 2010
are in a C-Corporation
"Most early-stage tech companies are considered qualified businesses under Section 1202," according to CliftonLarsonAllen's Patrick Smith, "but several types of businesses are not."
According to Smith, excluded business types include:
Professional services in health, law, engineering, architecture, accounting, actuarial science, performing arts, consulting, athletics, financial services, or brokerage services
Banking, insurance, financing, leasing, investing, or similar businesses
Farming, mining, or natural resources extraction
Hospitality (hotels, motels, restaurants, or similar businesses)
What Is Qualified Small Business Stock (QSBS)?
Section 1202 (PDF) defines "QSBS":
It is stock in a domestic C-Corporation issued after the date of enactment of the Revenue Reconciliation Act of 1993 (August 10, 1993). It must be acquired by the individual taxpayer (or a pass-through entity, but not a corporation) at the original date of issue (not in a secondary offering) in exchange for money, property (excluding stock), or as compensation for services.
The business must:
have assets <$50 million at the time of the equity issuance and immediately thereafter (including cash received from the issuance)
be an active business for the duration of the investment
Utilizing the Exclusion
When making investments, investors may want to consider investment groups or funds that have a process to take advantage of the 1202 exclusion.
"QSBS is a very powerful tax benefit that incentivizes private investment into startups," said Mike Schulte, senior analyst at Great North Labs, "However, there are potential mishaps in structuring and documenting a transaction that can inadvertently ruin compliance. Convertible instruments, entity selection/conversion, and financial reporting are just some of the issues to understand and watch out for. It is important for issuers, investors, and each of their service providers to cooperate to ensure 1202 compliance."
—————————————————————————————————
NOTE: This article is not intended to provide tax advice. Consult your tax accountant or tax attorney.
This post is a distillation of a longer post I published in the Angel Capital Association's "Angel Insights Blog" here.
There is a history of successful tech companies in Minnesota founded during recessions. These resilient startups didn't just survive- they proliferated under pressure. Jamf, which recently raised $468M in an IPO, is the largest, latest, and highest-profile example. Jamf was founded in 2002 out of UW-Eau Claire, and is headquartered in Minneapolis. Jamf is now valued at $4.7B.
Looking into startups that were founded during recessions, you wouldn't expect to find a list of successes. But by digging into public data on Crunchbase and in local publications, a surprising number of successful companies emerged that were started up in during the dot-com bust (2000-01), or the Great Recession (2007-2009).
Here are examples of startups founded during recessions in Minnesota, that found success.
Company Name
Description
Year Founded, Names of Founders
Exit/Valuation/Funding Raised*
ProtoLabs
Automated quoting and manufacturing systems to produce commercial-grade plastic, metal, and liquid silicone rubber parts
1999 (significant growth in 2000-2001),
Larry Lukis
Successful ~$70M IPO in Feb 2012 with a current Market cap of $3.2B
Modern Survey
Provider of employee survey services. The company provides employee survey and talent analytics service that enables companies to understand their workforce and drive business performance by creating an aggregated, holistic view of the employee lifecycle— from the candidate experience, new employee onboarding to engagement, and exit interviews.
1999 (significant growth in 2000-2001),
Don MacPherson and Patrick Riley
Acquired by Aon Hewitt in Feb 2016. Terms were not disclosed.
NativeX (aka W3i and Freeze.com)
PC publishing platform and mobile content and app delivery
2000,
Ryan and Rob Weber
We peaked in 2012 at $70 million in revenue and $10 million in EBITDA, with 170+ total employees.
Inbox Dollars
Online rewards club that pays members cash for their online and mobile activities. They reward members for their everyday activities such as reading emails, taking surveys, playing games, and signing up for offers.
2000,
Daren Cotter
Acquired by Prodege in May 2019 for an undisclosed amount
Ability Network
Connecting thousands of hospitals, skilled nursing facilities, home health agencies, clinics, and tens of thousands of physicians across the country with each other, and with the nation's largest payer: Medicare.
2000,
Amy Coulter
ABILITY Network was acquired by Inovalon for $1.2B on Mar 7, 2018
GovDelivery
As the number one referrer of traffic to hundreds of government websites, GovDelivery enables public sector organizations to connect with more people and to get those people to take action.
2000,
Scott Burns
GovDelivery was sold to Vista Equity Partners in a $153 million deal in Oct 2016
Code42
Code42 provides data loss protection, visibility, and recovery solutions.
2001,
Brian Bispala, Matthew Dornquast, Mitch Coopet
Code42 has raised $138M total, through their Series B round in October of 2015
CVRX
Medical device company that develops implantable technology for the treatment of high blood pressure
2001,
Robert Kieval
$340.6M total raised in 8 rounds
Most recently raised $93M in a Series G in 2019
Jamf
World leader in macOS and iOS management with offices around the world. They deliver, support and service the solution for Apple management needs in education and business.
2002,
Zach Halmstad
Raised $468M in 2020 IPO. Current Market cap of $4.7B
Compellent
Develops and provides enterprise storage software and hardware solutions that automate the movement and management of data
2002,
Phil Soran
Acquired by Dell in 2010 for $820M cash
DoApp
Mobile ad network and consumer and business app developer for websites, desktops and mobile devices
2007,
Joe Sriver
Acquired by Newscycle Solutions (Now Naviga) in 2016 for undisclosed amount
ZipNosis
Hospital and healthcare company that specializes in online diagnosis and triage, telehealth, and virtual care
2008,
Jon Pearce
Zipnosis has raised $25M in funding total through a Series B round
Calabrio
Delivers workforce optimization (WFO) and analytics solutions that elevate the customer experience and drive strategic business growth
2008,
Brett Shockley
Calabrio was acquired by Kohlberg Kravis Roberts (KKR) in 2016 for $200M
SportsEngine
The leading provider of web software and mobile applications for youth, amateur and professional sports
2008,
Carson Kipfer, Greg Blasko, Justin Kaufenberg
Acquired by NBC Sports in 2016 for an undisclosed amount
Field Nation
World's most active Freelancer Management System (FMS) ensuring successful collaborations in today's rapidly changing world of work. Field Nation enables companies to find, hire and pay contractors anywhere and easily manage their workforce.
2008,
Mynul Khan
Raised a total of $30.2M
HomeSpotter (aka Mobile Realty Apps)
Helps brokerages, agents, and MLSs build relationships amongst one another and with clients. Allow agents to collaborate with ease, work on the go, and increase their productivity. Brokerages and MLSs are better equipped to support and retain agents and help grow their businesses.
2009,
Aaron Kardell
HomeSpotter has raised $3.9M in funding
*There are a variety of success metrics, as many valuations and deal terms are not made public, and many other companies that haven't exited and are still operating
You can see that I'm on this list with my brother, Ryan Weber, with our former company NativeX. Several other founders from this list are people we have recruited as operating partners for Great North Labs, such as Joe Sriver, Carson Kipfer, Mitch Coopet, Brian Bispala, Patrick Riley, and Daren Cotter.
Capital Efficiency and Resilience
Resilient startups and founders find ways to adapt, persist, and succeed in spite of the challenges they face. The startups on this list found success coming out of challenging times with limited capital availability.
Across the entire Midwest, both the quantity and value of early-stage deals went down during the past two recessions. You can see in the chart below that the dot-com bust in the late 90s led funding to drop off a cliff, with a long climb back up hindered by the Great Recession in 2008-2009.
We live in a region where startups have to be capital efficient. We simply don't have the amount of early-stage capital other regions get. This leads to more competition for capital, and to higher capital-efficiency among startups.
"This is good news for investors, as the returns in the Midwest are more favorable for investors compared to investing in VC in other regions."
While that means the Midwest's 10% of VC-backed startups receive under 5% of funding, it also means that the Midwest startups that make it to exit return the highest median multiple on investment (5.17x). This is good news for investors, as the returns in the Midwest are more favorable for investors compared to investing in VC in other regions. But, it puts greater demands on early-stage startup operators, who need to operate in a way where they can maximize their chances of success with the capital available.
How do you Scale Resilience?
Great North Labs's approach to early-stage investing includes cultivating resilience in the regional startup ecosystem, identifying it in opportunities, and developing it into our portfolio startups.
We cultivate resilience in the startup ecosystem by supporting important organizations with our Founder's Pledge, and teaching disciplined startup methods through our startup school initiative.
When identifying opportunities and developing resilience in portfolio companies, in addition to our own experience, we include resilient founders with startup success in Minnesota and the Upper Midwest as operating partners. We believe that successful founders and operators make the best early stage investors because they've had to scale an emerging technology company before. We also believe that the best way for founders to grow is to learn from the experience of others who have been in their shoes.
By having startup operators who have not only been there before with a startup, but have found a way to thrive coming out of tough times, and have done it all in our region, facing the same regional capital availability issues that persist today, are invaluable when it comes to providing guidance for other early-stage founders in Minnesota and the Upper Midwest.
Using this approach Great North Labs is:
Building capacity in Minnesota for developing breakout startup opportunities

Identifying and investing in breakout startups opportunities early on, in Minnesota and the Upper Midwest

Guiding portfolio companies to success using our operating experience and networks, and the operating experience and networks of our operating partners
Our plan and hope is that after the current recessionary period, we will be able to look back over our portfolio companies and at other Minnesota startups fighting through these times, and add many more to this list of successes.
Sheryl Sandberg joined Facebook in 2008, when Facebook was very small. She was instrumental in its meteoric growth into the global giant it is today. Many people are trying to put blame on her and downplay her work now, but her role and contributions over the years should be celebrated. She was a successful 'integrator' at Facebook, working with Mark Zuckerberg.
The EOS (Entrepreneur Operating System) blog defines an integrator as "…the person who is the tie-breaker for the leadership team, is the glue for the organization, holds everything together, beats the drum (provides cadence), is accountable for the P&L results, executes the business plan, holds the Leadership Team accountable, and is the steady force in the organization. The Integrator also creates organizational clarity, communication, and consistency; typically (but not always) operates more on logic; drives results; forces resolution, focus, team unity, prioritization and follow-through; is the filter for all of the Visionary's ideas; harmoniously integrates the Leadership Team; and helps to remove obstacles and barriers."
There is a history of visionary founders combining forces with integrators in Silicon Valley at hugely successful companies like:
• Sergey Brin & Larry Page with Eric Schmidt at Google
• Steve Wozniak with Steve Jobs at Apple
• Gordon Moore and Bob Noyce with Andy Grove at Intel.
This is not just a Silicon Valley phenomenon. Local Minnesota examples include:
• Justin Kaufenberg with Brian Bell at SportsEngine
• Ben Cattor with Alex Ware at Foodsby
And I speak from my own experience. Ryan Weber and I co-founded NativeX, and brought Andy Johnson on board as integrator when we grew. It was a difficult decision, but the right one. You can read about in this article I wrote for Wired.
Integrators can be instrumental in carrying companies forward by collaborating with the founders at the right time. A company can be started by 'singular' founders, and carried forward beyond 50-100 employees by 'integrators'. This is why singular CEOs of more mature companies often have integrator COOs beside them. The reverse order does not always work; as remarkable as integrators are, integrators may not be successful founders. Could Eric Schmidt have founded Google? Could Sheryl Sandberg have founded Facebook? You decide!
But don't forget to also ask yourself, could Zuckerberg have grown Facebook into the global success it is today, without the talented integrator Sheryl Sandberg?
I came across this letter by Ray Allen which he wrote to his younger self, and I immediately started thinking about the letter I would write to myself. At age 37, having been a part of a few successful entrepreneurial journeys in both the driver's seat as founder a few times and observing as an angel investor many times more, what would I write to  my younger 20 year-old self? At age 20, we were just getting our team together to launch our first 'serious' startup complete with angel investors, actual employees, an office, etc and had many lessons yet to be learned. Here is what I came up with:
'

Entrepreneur' Often Means 'Into-Manure'
As my friend David Pomije, founder of FuncoLand recently shared with me, 'entrepreneur' often means 'into-manure'. Entrepreneurship is very celebrated after it works, but if you ask any entrepreneur, they all have their own epic battle that had to triumph over to persevere with their new startup. Expect there to be difficult times, and understand that you are not alone.
Spend More Time Interviewing Customers and Thinking About Strategy Before Starting

Being an entrepreneur is being in a race against time, a race to not run out of resources before getting your startup to viability. 

To get ahead in the initial race, spend more time before it starts validating your ideas with prospective customers. It is much cheaper, and more efficient, to validate your ideas before you start sprinting.After you start sprinting, you'll quickly realize it isn't a sprint at all, but a marathon. Don't just hop into new startup opportunities without consideration to market size and defensibility. Some entrepreneurs may luck into a strong defensible business model that ends up lasting, but most will not. You only have so many 'bullets' in your life, make sure you make them count.
Finding the Perfect Balance of Being Self-confident and Collaborative at the Same Time
This is a really tough one at times. I have yet to meet a single founder whom possesses all of the skills required to build a high growth startup. The most successful founders have self-confidence so they don't get steamrolled by other's ideas, but also are collaborative and are able to adapt based on feedback. Self-confidence overdone can come across as cocky and shut people out, and being too collaborative can water down your vision or slow you down.
Fail Upwards, Not Fast
Aydin Senkut from Felicis Venture passed on the angel rounds of Uber and AirB&B (

https://www.youtube.com/watch?v=x9G-IS_Rykk

) a mistake that cost him a gigantic fortune. Instead of just taking that as a failure, he turned it into a win realizing that these companies would be needing a big company to power global payments, which he found and invested in.
Build a Team as Motivated as You Are
After 5 years our early team, of primarily new college grads, reached around 50 employees and we started to realize that we didn't like our culture. We were starting to have some employees who viewed our new business as a 'just another job'.We decided to hire an outside CEO Andy Johnson to help bring additional management processes required to scale (see this Wired post here if you are thinking of hiring a CEO), and he shared with me one interview tactic that has always stuck with me…Only hire people visibly enthused about your business! If they aren't excited about your business during your interview, they aren't going to be after they join your organization. You want to build a team of different makers who have something to prove, and not a bunch of people going through the motions like your startup is just a job for them.
The Best Growth Companies Are Built by Companies Who Create a Culture of Professional Development
It is imperative to find ways to invest in your own professional growth and your employees' professional growth. Your business is going to scale fast and the skills required by your team will also need to grow fast. The best growth companies which have the happiest employees invest in their own team's professional development.
Make Sure You & Other Hiring Managers Always Hire People Better at Their Job Than the Person They Are Replacing
Don't be intimidated by smart, hardworking people who can do a job better than you and definitely don't let your hiring managers either. The best managers build the strongest teams by always finding people better than the job they are hired for then they could do themselves.
Find Ways to Share Credit Where Credit is Due


As your company starts winning the race, media and others will associate your company's success with you as the founder because you are very visible. Make sure you give proper credit to those who were a part of your early family. This is likely the most tight knit family you'll ever experience, so compensate (highly recommend stock option plan) them fairly and provide recognition to them whenever you can.

For me, those early contributors were-

Aaron Weber- Co-founder who was instrumental during those first 7 years leading operations but because he left early, got left out of the origin story most times in later years.

Debby Manthei- In addition to running Marketing, she also took care of bookkeeping and gave us a reality check when we needed it most.

Kyle Ohme- Our first head of IT who would have made MacGyver feel inadequate in putting things together.

Patrick Carlson- Our first sales hire who showed others in our team how to build strong professional relationships outside of our four walls.
Ting Huang- Our first head of architecture
Joel Dahlin- One of our first developers who helped our team come together as a family by being a great listener and creating a fun work environment.
Akash Sen- Our first head of HR who had the very challenging job of leading the human side of a startup with average employee age of about 25.
And many others who know who they are.
I will forever be indebted to all of you.
Give Back Pledge
Strongly consider adopting

Founder's Pledge

, or something similar,

 

to help support the charities you believe in as startups need strong communities to flourish. When you are uber-successful, you'll start to realize you can't bring all that money with you when you die and you'll start to realize your own mortality more. Make it known early that you care about the community, however you define community and build a legacy, not just a pile of cash. Pay it forward. It is easier to do when your stock is worth $0 then when you hit the jackpot.

~Rob Weber