Investment Theme: Community-Driven Applications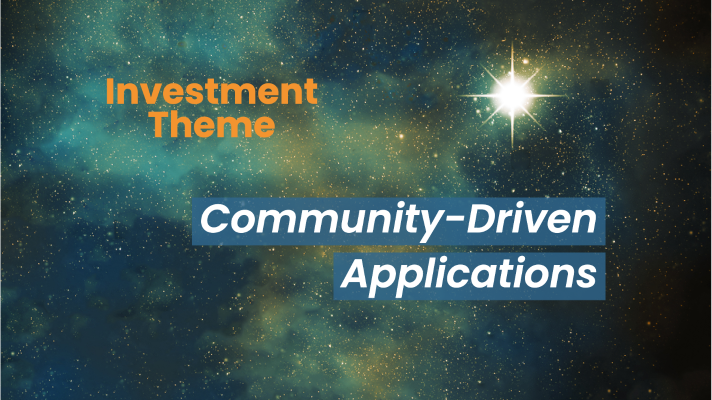 Great North Ventures Investment Themes
Great North Ventures is a network-driven, generalist early-stage fund that prioritizes exceptional execution. Founded by founders, for founders – we back repeat founders, we back strong first-time founders, and we form founder teams in our venture studio.
Our innovator network and team's connections drive our value-add to startups, and our network density is greatest in Minnesota and the Upper Midwest. While we are a generalist fund, we invest in three themes: "Solving Labor Problems", "Digital transformation Through AI", and "Community-Driven Applications". 
Community-Driven Applications
There is a global trend towards network-driven software expanding into every industry, for both consumers, and for businesses. And while much of the world is buzzing about Web3, we believe we are still in the early innings of Web 2.0, as these software platforms continue their expansion.
There is a strong investment reason to invest in network-driven startups: they outperform! Why? Network-driven apps have lower customer acquisition costs than their single-user counterparts. This is because of strong viral effects that make use of growth loops, which compound user acquisition. When these network effects cause customers to engage with other customers retention rates also increase.
Founders building software today can leverage the behavioral design patterns that dominated horizontal online communications (Facebook, Instagram, Snap, YouTube) and gaming (Roblox, Fortnite, Zynga, etc). These same Web 2.0 patterns can be applied in any category where end users benefit through collaboration.
Web3 startups will also take advantage of these network effects. The winners in the crypto and metaverse spaces will take on a mobile-first approach ("Start With a Mobile App, Not a Website") and will adopt best-in-category community features. Regardless of which internet paradigm a startup is part of, the apps with the highest engagement of their end-users will win in most categories and capture most of that category's profits.
Starting and scaling a network can be challenging due to what is commonly referred to as the cold start problem. In addition to having a strong product, successful startups usually find the smallest network that can stand on their own ("atomic network") and focus on building a leadership position there before expanding to other networks while eventually eroding the market share of the incumbent network.
In practice, we have seen other strategies work as well. Andrew Chen details four of them in his book "The Cold Start Problem":

1. Invite Only refers to allowing users to join only if they are invited to use the app by other users. This ensures a stronger network effect from those that get invited as they already know other users on the service.
2. Come for the Tool, Stay for the Network refers to providing a single-player mode that allows a user to get value from the service even before it has a strong network. Instagram had photo filters, for example.
3. Paying for Launch refers to paying to grow the network, after the initial atomic network has been figured out, as a way to accelerate growth until the tipping point is reached where the network grows rapidly due to compounding atomic networks strengthening each other. This tends to be expensive and is not usually a tactic taken in the early stages of a startup that is resource-constrained.
4. Flintstoning refers to manually helping to keep the network strong while still early in developing automated capabilities that can exist at scale through the stronger network and product.
Tactically, we see many of the same tools and techniques work effectively across social apps. We've had startups scale based on strong network effects in both consumer and enterprise businesses. Usually, incumbents lack the creativity and know-how to thwart a well executed attack. Utilize a new technology, or market trend, to uncover a unique and valuable tool or focus on a specific network whose needs are only partially being satisfied and you may have the next big community app.
What We are Looking For
Vertical Social and Passion Marketplaces
The Web 1.0 marketplace winners like Craigslist and eBay were largely horizontal in nature. Since the early 2000s, nearly every category of e-commerce has had multiple successful marketplaces targeting it. But most categories have not fully embraced Web 2.0.
We have multiple examples of these marketplaces in our portfolio, including NextGem, Mustard, Omnia Fishing, and TeamGenius.
Consumerization of Enterprise SAAS
Enterprises used to move slowly when it came to new tech adoption. Workers have accelerated and transformed that adoption as tools they elect to use garner enterprise sales. By getting enough workers to adopt the product first, businesses can't say no to the enterprise products without risking productivity. As a result, now enterprise software is consumer grade: simple, easy to use, and mobile first.
Examples from our portfolio include Branch, FactoryFix, Dispatch, Flywheel, Mustard, Omnia Fishing, PartySlate, Pitchly, SkillIt, CoverLease, ClinicianNexus, and Structural.
Work with us
If you have a startup that is a community-driven application, submit here for feedback. We will provide pitch deck feedback to all startups who submit. Before you submit, get an inside look at our process first: "This is how to evaluate early-stage consumer app startups"