June: Great North Labs's first fund raised!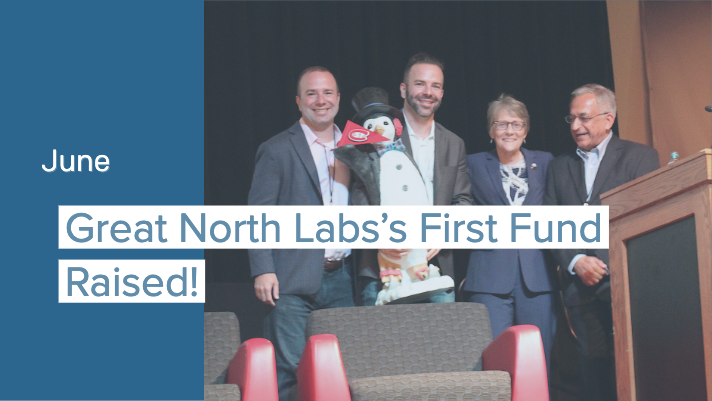 $23.7 Million Raised

Great North Labs has closed its first fund with $23.7M in committed capital! This is one of the largest debut seed funds ever raised in the Midwest.

"We are very appreciative and humbled by the tremendous support shown for our debut fund by our limited partners," said Great North Labs Managing Partner Rob Weber. "Our investors' support shows not only their conviction for us as fund managers, but also their conviction to backing the next generation of startup founders across our region."
This fund raise has exceeded our team's expectations, and has increased our capacity, reach and impact as we cultivate the next generation of tech startups across the Upper Midwest.
"The opportunity in the Midwest is significant for investors with the right experience, criteria and investment thesis. For four decades, capital has gravitated towards Silicon Valley, Boston and New York. With the high cost of living and a talent supply-demand imbalance, making a startup successful is now more difficult in Silicon Valley," said Managing Partner Pradip Madan, who is based in Silicon Valley. "As a result, investors are starting to pay more attention to the startup ecosystems in places like Chicago, Minneapolis, Madison and Des Moines. Plus, many of the industries – financial, food, travel and hospitality, healthcare, insurance, manufacturing, mining – that entrepreneurs are now disrupting are native to these areas. In the new Gold Rush, the gold is the hard-working entrepreneurs and their startups in these regions."
Read more at VentureBeat, the Star Tribune, Yahoo Finance, the Minneapolis-St. Paul or Milwaukee Business Journals, MinneInno or ChicagoInno, Tech.MN, the Grand Rapids Herald, the St. Cloud Times…
Events
July 17-18th. Enterprise Rising, Minneapolis. "If you're an enterprise SaaS startup, then this will be the best room you'll be in all year."
July 17-18th. Fund Conference, Chicago. Brad Feld of Foundry Group is the featured speaker this year. "FUND Conference was launched in 2015 to connect investors, vetted, emerging-growth companies, and business leaders for same-day connections and business development opportunities."
July 18th. Minnedemo32, St. Paul. A showcase of working tech products made in Minnesota. No PowerPoint, 7 minutes to present.
July 24th. Horizon, St. Paul. This is Forge North's activation event for ecosystem leaders. "If you are ready to look to the horizon, set clear and ambitious new goals for our region, and rally around breakthrough ideas, partners in Forge North invite you to join in."
July 25th. TedX Fargo 2019: Forward, Fargo. "We want to empower people to be solution-orientated, believing that ideas can change the way the world works. We want to encourage you to listen to new ideas, find a topic that you're passionate about, and then take action to enable those ideas. Join us as we celebrate our 10th TEDxFargo event, and 10 years of TEDx!"
Advisors
Two Great North Labs advisors are new to the team!
Geoff Wood is the founder of Gravitate Coworking in Des Moines, Iowa, as well as the Executive Director of the West Des Moines Business Incubator. Geoff co-founded and publishes Clay & Milk, a media startup that covers the Iowa entrepreneurial ecosystem.
Mike Rynchek is the former CTO of Bright Health. Before that, Mike founded and served as CEO of Spyder Trap, which was acquired by Bright Health. He is currently the Global Strategy Lead for Onduo, and an active startup investor and advisor.
Job Board
Dispatch is hiring all over the country (25 cities!) for Field Sales Representatives and Drivers. In Bloomington, MN, they are hiring an Engineer, a UX Designer, and for Biz Dev, Customer Experience, and Driver Engagement roles.
Structural is hiring a Node/JavaScript Engineer.
FactoryFix is hiring a Software Engineer in Madison, WI, and a Business Development Specialist and an Account Managers in Chicago.
Misty Robotics is hiring a Manufacturing and Repair Engineer, a Devops Engineer, and a Sr. Software Engineer, in Boulder, CO.
pepr is hiring for Biz Dev – Outbound Sales in Minneapolis.
2ndKitchen is hiring a Full-Stack Developer in Brooklyn, NY, and an Operations Associate in Chicago.
PrintWithMe is hiring a Business Development Executive, a Customer Success Manager, a Strategy Intern, and a Marketing and Operations Intern.