Jumpstart, the Startup School, and Branch Wins a Webby!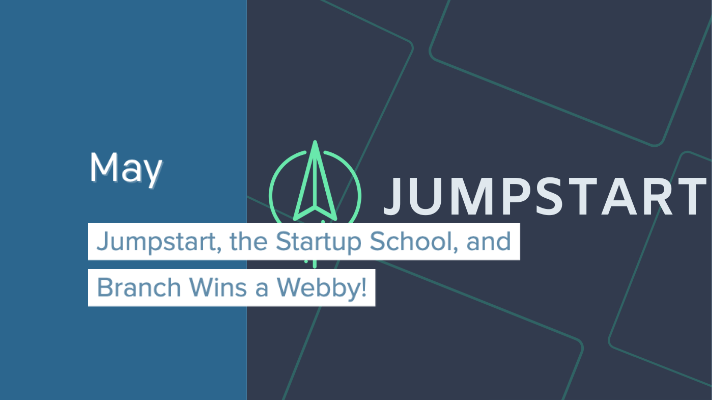 Welcome to the May edition of the Great North Labs newsletter. In this time of economic change, entrepreneurial skills, advancing technology, and its new applications will drive the innovations and evolving business models necessary to spurn economic growth and prosperity on the other side of the downturn.
Great North Labs recognizes the importance of seeding investable startup opportunities, and endeavors to be a VC leader in the cultivation of robust early-stage startups in the region. That said, there are opportunities for learning necessary skills for startup entrepreneurs coming up soon, for high school students, college students, and entrepreneurs of all ages.
Education Programs
Today is the deadline to sign up for Jumpstart's 3-day startup intensive for students! Jumpstart is structured like a hackathon, but with the focus including product and business instead of solely on coding and building. The program starts on Friday and goes through the weekend. Sign up by midnight with your own team, or as an individual. Each team will include technical and non-technical roles.
Jumpstart is virtual, free, and includes a day of workshops, speakers, and Q&A to learn from various startup ecosystem leaders. If you know any students in high school or freshmen in college interested in a startup, check it out. We are proud sponsors of this inaugural event by Futurist Academy, and are excited to see this kind of programming becoming more prevalent and widely available in Minnesota and the Midwest.
For entrepreneurs beyond high school, the Startup School is back! This collaboration with ILT Studios, Great North Labs, E1 Ecosystem Builders, and MN DEED has gone virtual. Startup Course 01 | Customer Driven Innovation – Module 101: Opportunity Identification is June 6th! This first of three modules is aimed to take entrepreneurs from idea to investable product. The module is available in two separate 2 1/2 hour time slots, is open to anyone, and, like the entire program, is free.

"Most good ideas do not come fully formed. Even the best ideas need to be iterated, explored, and refined before they have a chance at becoming great business ideas. What most people don't tell you is that there is a process that can be taught and practiced to sharpen an idea–taking it from good, to better, and then to great."
Support Startup Education
Silicon North Stars is a program founded by Mary and Steve Grove that takes high-potential ninth-graders from economically underserved communities in Minnesota, and exposes them to startup training, local tech mentors, and the culture of innovation born in Silicon Valley.
Usually the program takes the students out west to visit tech companies, but this past year was the first time the program was run entirely in Minnesota! With the evolving Minnesota startup ecosystem there was no shortage of resources, people, and companies for the students to engage with.
If you're interested in joining us in support this program and its alumni, Silicon North Stars is currently raising $10,000 via GoFundMe for their inaugural alumni scholarship program. 
Events
The summer event season is getting rolling, with many large conferences moving to a digital format.
June 4th is the Wisconsin Entrepreneurs' Conference. This virtual conference will include sessions focused on providing small businesses guidance on COVID-19, and will also highlight the Wisconsin Business Plan Competition winners.
June 4-5th is Entrefest 2020. Based in Cedar Rapids, IA, this year's conference is virtual. "EntreFEST is a two-day conference, celebrating the spirit of entrepreneurship and innovation where professionals at every level come together, share ideas, and own their success." Great North Labs's Mike Schulte will be speaking.
June 23-25th is Collision. Described by Politico as "The Olympics of Tech", this massive annual tech conference is going virtual this year. With SXSW canceled this year, this may be the top tech event of 2020 after CES. Great North Labs's Pradip Madan and Rob Weber will be attending and available through the event app.
June 24-25th is Fund xChange in Chicago, IL. "FUND xChange is assembling the entrepreneurs, industry leaders, and experts, in the banking and finance industry to explore the innovations in value exchange. Meet the community improving how we bank, pay, and invest."
Portfolio News
Branch won a Webby! First awarded in 1996, the Webby Awards are, according to the New York Times, the "Internet's highest honor". This year the competition garnered over 13,000 entries. Branch was 1 of 2 winners in the "Banking/Financial Services Apps" category. Congratulations to the Branch team for this international recognition!
Job Board
Dispatch is hiring a Director of Sales, Product Manager, Product Owner, Quality Assurance Engineer, Senior Software Engineer, Content Creator, Business Development Rep., and Software Engineering Manager in Bloomington, MN. Territory Sales Manager positions are open for 16 states!
FactoryFix is hiring a Team Lead – Full Stack Developer, Full Stack Developer, and Infrastructure Developer- DevOps in Madison, WI; a Recruiter, and Business Development Rep in Chicago, IL.
TeamGenius is hiring a Customer Success Associate in Minneapolis, MN.
PrintWithMe is hiring a Regional Sales Director on the East Coast; a Software Engineer, Summer Strategy Intern (MBA), and Summer Strategy Intern (undergraduate) for Remote work.
Parallax is hiring a Customer Success Specialist, and Growth/Customer Acquisition in Minneapolis, MN.
Branch is hiring a Channel Manager in Minneapolis, MN. 
Inhabitr is hiring a Chief Growth Officer/Head of B2C Growth and a Sales and Customer Experience Associate in Chicago, IL.
NoiseAware is hiring a COO, VP of Global Sales & Account Management, Product Marketing Manager, UI/UX Designer, Account Manager, and Customer Advocate in Dallas, TX.