July 4th, Equitable American Dream-ing, and Robots Diagnosing COVID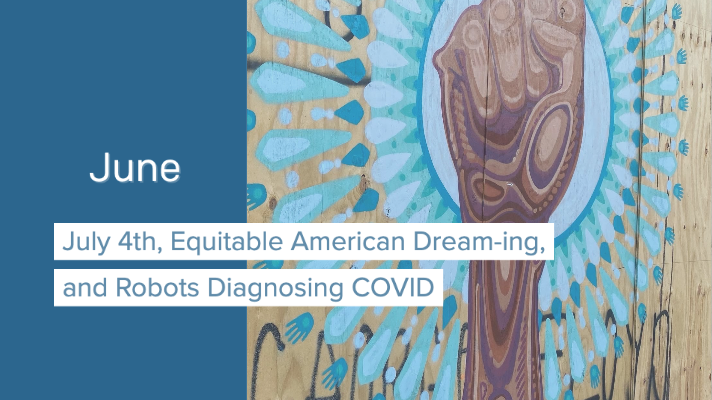 On July 4th, 239 years ago, a group of entrepreneurs, visionaries, and leaders came together to free themselves from a politically oppressive system that they found socially and economically limiting. The country they founded promised life, liberty and the pursuit of happiness- free from tyranny and organized in a way "most likely to effect their Safety and Happiness".
The American Dream is one of a meritocracy- work hard and be rewarded. This remains a dream for many who are hobbled by systemic barriers. Their success isn't solely dependent on their talents and hard work, but on factors outside of their control like where they are born, who their parents are, and what color their skin is.
The murder of George Floyd has exposed some of these barriers in a horrifying way. Not all people are safe and happy. Many are being denied the pursuit of happiness, liberty, and their very lives. For these citizens, our country isn't a meritocracy. For these citizens, our country isn't living up to its founding principles.
As entrepreneurs and investors, we characterize the issues in terms we can understand and work with. We see the root problem as economic deprivation. Existing inequalities are the symptoms of this problem, and the solution is to give everyone a fair chance to succeed. That's why our team works to provide equitable opportunities for success through charitable giving, training, and mentorship. We help entrepreneurs to have a chance at success, and we put in the effort to make it happen.
As a venture fund we have only one KPI: returns. Our investing is driven by profits for shareholders. We make investments almost exclusively off referrals- from our advisors, investors, other funds and ecosystem partners. While we believe our efforts are equitable, we don't currently measure demographics in our deal pipeline. In the words of Peter Drucker, "you can't manage what you can't measure".
So moving forward, as we log opportunities for observation and investment consideration, we will be tracking demographic profiles of the founding teams. We will also be tracking demographic profiles in our startup school initiative. These measurements will allow us to ensure that we are seeing opportunities from a representative sample of our region's population. The data will guide the creation of specific action plans to improve the equity of our investment pipeline wherever necessary, so that we can be held accountable to providing fair access to our capital pipeline, our mentorship, and training initiatives.
We aren't focused on the short-term. This is a marathon, not a sprint. Here in the upper Midwest, we are contributing to a cycle of growth by building capacity in the innovation ecosystem. The cycle includes not only harvesting profits, but cultivating startups. And by making this cycle accessible, by sharing the plans and the keys to growth engines with underserved communities, we can catalyze the generational change necessary to truly impact disadvantaged people in the region for the next 239 years.
Events
Summer is in full swing. After the 4th, check out these events.
July 8th is the deadline to apply for MinneDemo 34, in Minneapolis, MN. Minnestar's regular demo time for Twin Cities makers will be held in early August, on a day TBD.
July 9th is the OnRamp Agriculture Conference. The OnRamp Agriculture Conference brings together the agriculture and food industries' leading corporations, investors and startups. The conference highlights innovations disrupting agriculture and the future of food, the leaders making such innovations possible and how new technologies and business models will reinvent the industry. You can connect with Ryan Weber at the event.
Aug. 12th is the virtual OnRamp Healthcare Conference. "The conference highlights innovations disrupting health care and the future of medicine, the health care leaders making such innovations possible and how new technologies and business models will reinvent the industry."
Aug. 13-20th is ForwardFest in Madison, WI. "Join fellow entrepreneurs, nerds, geeks, hackers, foodies, and creatives from the Midwest in an 8-day celebration of innovation and entrepreneurship." 
Portfolio News
Misty Robotics has developed a new skill for the robot, "Misty", that turns it into a Temperature Screening Assistant. The skill turns Misty into an autonomous, customizable, user-friendly solution for touchless COVID-19 screening. 
Advisor News
Great North Labs has added a Venture Analyst to the team! Emily Shirley is a graduate of Miami University's Finance and Entrepreneurship program. While at Miami University, Emily co-founded the Social Impact Fund, first undergraduate-led social impact fund in the country. Her recent experience includes as a Strategic Account intern at Cintrifuse. 
Job Board
Dispatch is hiring Product Manager, Product Owner, and Quality Assurance Engineer in Bloomington, MN. Territory Sales Manager positions are open in Atlanta, Kansas City, Memphis, Milwaukee, Nashville, St. Louis, and Minneapolis.
FactoryFix is hiring a Team Lead – Full Stack Developer, Full Stack Developer, and Infrastructure Developer- DevOps in Madison, WI; a Recruiter, and Business Development Rep in Chicago, IL.
PrintWithMe is hiring a Regional Sales Director on the East Coast; a Software Engineer, Summer Strategy Intern (MBA), Summer Strategy Intern (undergraduate), AR/AP Specialist, Account Manager, and Recruiter for Remote work.
Parallax is hiring for Growth/Customer Acquisition in Minneapolis, MN.
Inhabitr is hiring a Chief Growth Officer/Head of B2C Growth and a Sales and Customer Experience Associate in Chicago, IL.
Clinician Nexus is hiring a Product Manager in Minneapolis or Remote.
NoiseAware is hiring a COO, VP of Global Sales & Account Management, Product Marketing Manager, UI/UX Designer, Account Manager, and Customer Advocate in Dallas, TX.