BETA Showcase, Greater MN, and Launch MN comes to St. Cloud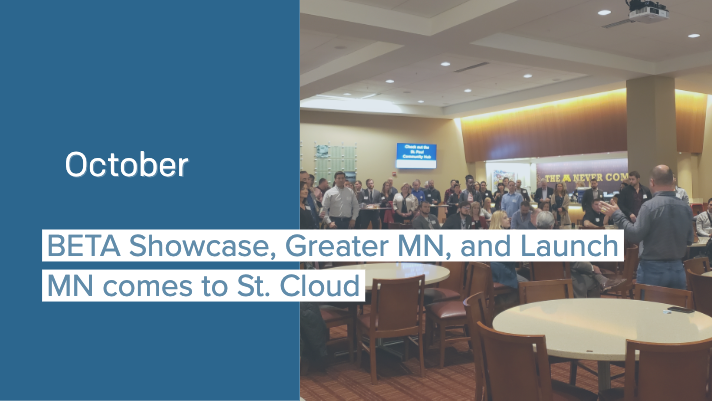 Twin Cities Startup Week is over! It was a busy week for many of us in the tech and innovation community, with around 300 events to attend and thousands of people to meet.
This year, Great North Labs was proud to bring Greater Minnesota into the BETA Showcase for the first time ever. Thanks to Reed Robinson and Adam Lingerfelt at Beta for working with us to include 10 non-metro startups at this year's event! We are still waiting on final tallies from TCSW, but we know that over 900 tickets were sold for the Showcase event. The value for these outstate entrepreneurs of that kind of exposure is fantastic, and we are glad to have done our part in providing it through our partnership with BETA. 
Prior to the Showcase, Great North Labs hosted an invite-only event for the entrepreneurs and other attendees working from or with Greater Minnesota. The Greater MN Meetup brought together Greater Minnesota ecosystem stakeholders to join the conversation on improving the startup ecosystem. We had over 100 attendees involved in actively supporting the Greater MN innovation ecosystem! Thanks to Moss & Barnett and EPIQ Partners for co-hosting and making this event possible.
"With the efforts of some amazing partners like the NEW Launch MN initiative and Great North Labs, there's an ever increasing appetite for supporting and celebrating technology being built in Greater Minnesota… Working together, we're excited to see what kind of growth occurs – customers, investment, awareness, etc – by building tighter relationships between the local technology ecosystem and those building outside of the Twin Cities." – Reed Robinson, Co-Founder and Executive Director of BETA
Events and initiatives like the 2019 BETA Showcase, gBeta Greater MN St. Cloud, and Launch MN are excellent catalysts for entrepreneurs. By supporting them we will continue to drive innovation and foster economic value creation in Minnesota and across the Upper Midwest.
In line with this mission on a national level is Revolution's Rise of the Rest Seed Fund, who just announced a $150M second fund. They are focused on investing in startups from communities not located in traditional startup hotbeds. We are partners with Rise in Dispatch and Structural, and are supporters of what they do locally. Great North Labs's Rob Weber will be speaking at their upcoming annual summit in D.C. on Scaling a Company and Growing a Team Outside of Silicon Valley. Congratulations to Steve Case, Anna Mason, Mary Grove and the rest of the Rise team!
Events
Nov. 5th, UMD Entrepreneurship Conference in Duluth, MN. This student-run conference will bring together entrepreneurs, educators, and innovators.
Nov. 6-7th, Wisconsin Early Stage Symposium in Madison, WI. This is an Investor/Entrepreneur conference with 500+ attendees.
Nov. 12th, Launch MN Roundtable Discussion: Central Minnesota in St. Cloud, MN. Great North Labs is hosting Launch MN! This session will educate innovation ecosystem stakeholders on the initiative, and serve as a forum for feedback about how to best support Central MN.
Nov. 12-14th, Fulcrum: The Conference on Solutions for the Future of Work inDetroit, MI. "The Fulcrum Conference will bring together a broad range of stakeholders to design win-win solutions that will benefit workers, employers, our communities, and our economy." 50% off code for SingularityU community members: SUCOMM50.
Nov. 14th, Cultivate in Fargo, ND. Put on by Emerging Prairie, this conference is all about emerging tech in agriculture. Entrepreneurs in the AgTech space actively looking for investment and ready to pitch, apply here. Connect with Ryan Weber (@mnvikingsfan) at the event.
Nov. 14th, OnRamp Manufacturing Conference in Indianapolis, IN. The OnRamp Manufacturing Conference highlights innovations disrupting the manufacturing industry, the leaders making such innovations possible, and how new technologies and business models will reinvent the industry.
Nov. 18th, Moonshot Monday in Minneapolis. SingularityU Minneapolis-St. Paul's happy hour event will feature Finnegan's finest, networking, and the think-outside-the-box Global Grand Challenges game.
Nov. 19-20th, 2019 UNMET Conference inDenver, CO. "50 of the fastest-growing tech companies located throughout the middle of the US will be pitching to raise Series A/B Capital". Connect with Rob Weber (@robertjweber) at the event.
Advisor News

Amit Patel is new to the Great North Labs Advisory Team! Amit is the Co-Founder and CEO of Vios Medical. Amit's experience includes Global Partnership Strategy at Heartflow, Inc., and Corporate Development at Medtronic.
Brian Tockman is new to the Great North Labs Advisory Team! Brian advises consumer growth and omni-channel retail companies. He is a former Venture Investor at General Mills, Merchant at Target, and eCommerce Startup Leader.


Portfolio News
Misty Roboticshas released Misty II! Check out their latest robot/developer platform here.
Dispatch won the Operational Excellence Award at the 2019 Twin Cities Startup Week Awards. Congrats to the Dispatch team!
Job Board
More information about our portfolio companies can be found here.
Dispatch is hiring all over the country for Drivers and for  Biz Dev, QA Engineer, Front-End Engineer, Accounts Payable, and a CFO in Bloomington, MN
Structural is hiring for a Sales & Marketing Operations Specialist, and Account Exec in St. Paul, MN.
FactoryFix is hiring a Software Engineer and Product Designer in Madison, and a Business Development Specialist and an Account Manager in Chicago.
Misty Robotics is hiring a Lead Qualification and Inside Sales Specialist in Boulder, CO. 
2ndKitchen is hiring a Digital Marketing Manager, Customer Success Manager, Account Exec, Customer Support Manager, and Director of Sales, all in Chicago.
PrintWithMe is hiring a Customer Success Associate, Network Operations Specialist, and Operations Lead in Chicago, and a Regional Sales Director for the West Coast.