New Name + New Venture Studio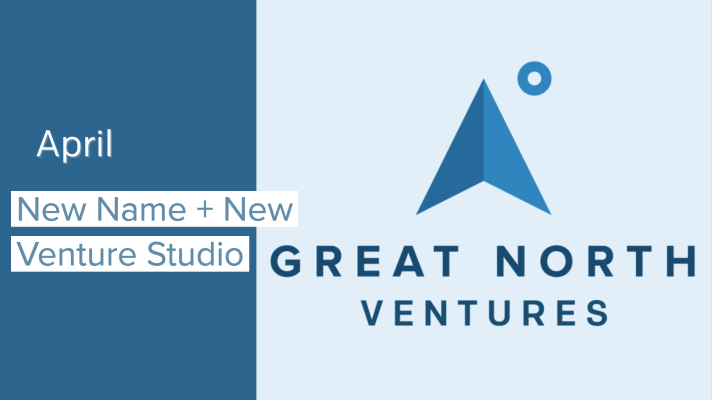 Welcome to the Great North Ventures newsletter!

Yes, you read that correctly: Great North Ventures. We have had some big news come out lately, and the name change to Great North Ventures better reflects our organization.

We Launched a Venture Studio
The Great North Venture Studio co-creates startups to tackle focused market opportunities. We pair with talented founders and operators to generate 1-2 startups every year. The first startup is a consumer app in the collectible sports card trading space. 

Read more about the venture studio in our announcement.
The ideal companies that will launch from the studio are quick-to-market, digital products focused on health care and life sciences, financial services, consumers, real estate, transport and logistics, workforce development and education, and business-to-business.

New Name, New Venture Studio, and New Fund
These changes are all connected to our investing. As we complete our final investments from our inaugural fund and start investing from Fund II, we have evolved our model.
By co-creating ventures, we will produce unique deals for investors, and unique opportunities for talented operators.
By widening our geographic focus to invest in founders wherever they are, we are open to more quality early-stage opportunities and founders.
By changing our name, we reflect these changes from our Fund I model to our new investment strategy.
Stay tuned for more changes as we update our content and presence across online platforms, to clarify and better serve investors, founders, and talented operators.
Portfolio News
SiteKick is new to the Great North Ventures portfolio! SiteKick is a construction site monitoring and reporting software platform intended to effortlessly monitor and report on critical construction site activities.

Allergy Amulet closed a $4.1M round of funding. "The world's smallest & fastest consumer food allergen sensor" will officially launch in late 2021.

Flywheel's CTO, Gunnar Schaefer, did a Q&A with the Tech Tribune where he talks about working in medical imaging at Stanford, realizing a huge problem presented to researchers, and how Flywheel solves it.

Job Board
Dispatch is hiring
Territory Sales Manager- Las Vegas, NV/REMOTE
Territory Sales Manager- Phoenix, AZ/REMOTE
Territory Sales Manager- Tucson, AZ/REMOTE
Territory Sales Manager – West Region – REMOTE (OR)
Territory Sales Manager – West Region – REMOTE(UT)
Territory Sales Manager – Mid Atlantic – REMOTE
Territory Sales Manager – South Atlantic – REMOTE
Software Engineering Manager – REMOTE
Vice President of Product – REMOTE
Business Development Intern – REMOTE
Structuralis hiring
Director of Sales – Twin Cities, MN or Indianapolis, IN, or REMOTE
Enterprise Sales Consultant – West Coast or East Coast
Implementation Specialist – Twin Cities, MN or Indianapolis, IN
FactoryFixis hiring
Senior Full Stack Developer – Chicago, IL or Madison, WI or REMOTE
Infrastructure Developer – DevOps – Madison, WI
Account Executive – Chicago, IL
TeamGeniusis hiring
Vice President, Marketing – Minneapolis, MN or REMOTE
Lead Engineer, Mobile Development – Minneapolis, MN
2ndKitchenis hiring
Backend Developer – New York City, Chicago, or REMOTE
Frontend Developer – New York City, Chicago, or REMOTE
Account Executive, Hotels – Chicago, IL
PrintWithMe ishiring
Regional Multifamily Housing Sales Director (East Coast) – Philadelphia, PA
Regional Multifamily Housing Sales Director (East Coast) – Washington, D.C.
Regional Multifamily Housing Sales Director (West Coast) – Sacramento, CA
National Account Director, Multifamily Housing – Chicago, IL
Director, Demand Generation – Chicago, IL
Inside Sales Manager, Training – Chicago, IL
Strategy Intern (MBA) – Chicago, IL
IT Network Support Specialist – Chicago, IL
Technical Support Specialist – Chicago, IL
Inventory and Logistics Specialist (Part Time) – Chicago, IL
Shipping and Receiving Technician (Part Time) – Chicago, IL
Parallaxis hiring
Customer Success Consultant (CSC) – Edina, MN
Customer Success Specialist (CSS) – Edina, MN
Branch is hiring
Senior Android Engineer – REMOTE
Data Science Engineer – REMOTE
Sr. Software Engineer – Minneapolis, MN or REMOTE
Inhabitr is hiring
Chief Growth Officer/Head of B2C Growth – Chicago, IL
Sales and Customer Experience Associate – Chicago, IL
Clinician Nexusis hiring
Customer Success Manager – Minneapolis, MN
NoiseAwareis hiring
Customer Advocate – Dallas, TX or REMOTE
Strategic Account Manager – Dallas/Austin/Denver or REMOTE
Cloud Solutions Architect – REMOTE
Front End Developer – Dallas/Austin, TX or REMOTE
Senior IT Specialist – Dallas/Austin, TX or REMOTE
Senior Demand Generation Manager – REMOTE
Senior Partner Marketing Manager – REMOTE
Scrum Master- Dallas/Austin, TX or REMOTE
Director of Product Management- Austin/Dallas, TX or REMOTE
Software Product Manager- Dallas/Austin, TX or REMOTE
PartySlate is hiring
Account Executive- Chicago, IL
Flywheelis hiring
Director of Marketing, Demand Generation – REMOTE
Frontend Engineer- REMOTE
Platform Engineer (DevOps)- REMOTE