$40M Fund II Raised!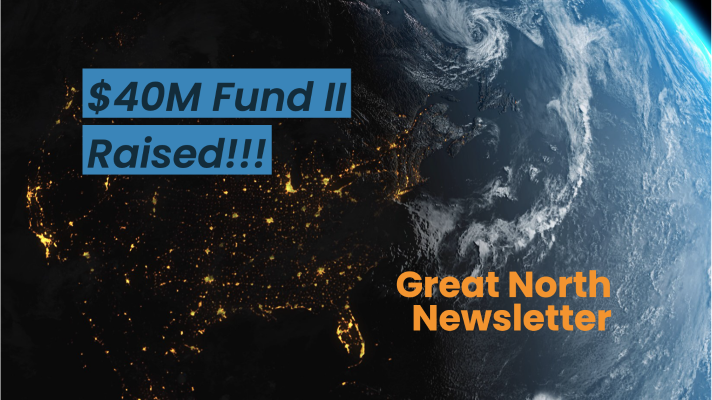 Welcome back to the Great North Ventures newsletter! The big news this month is the closing of Fund II!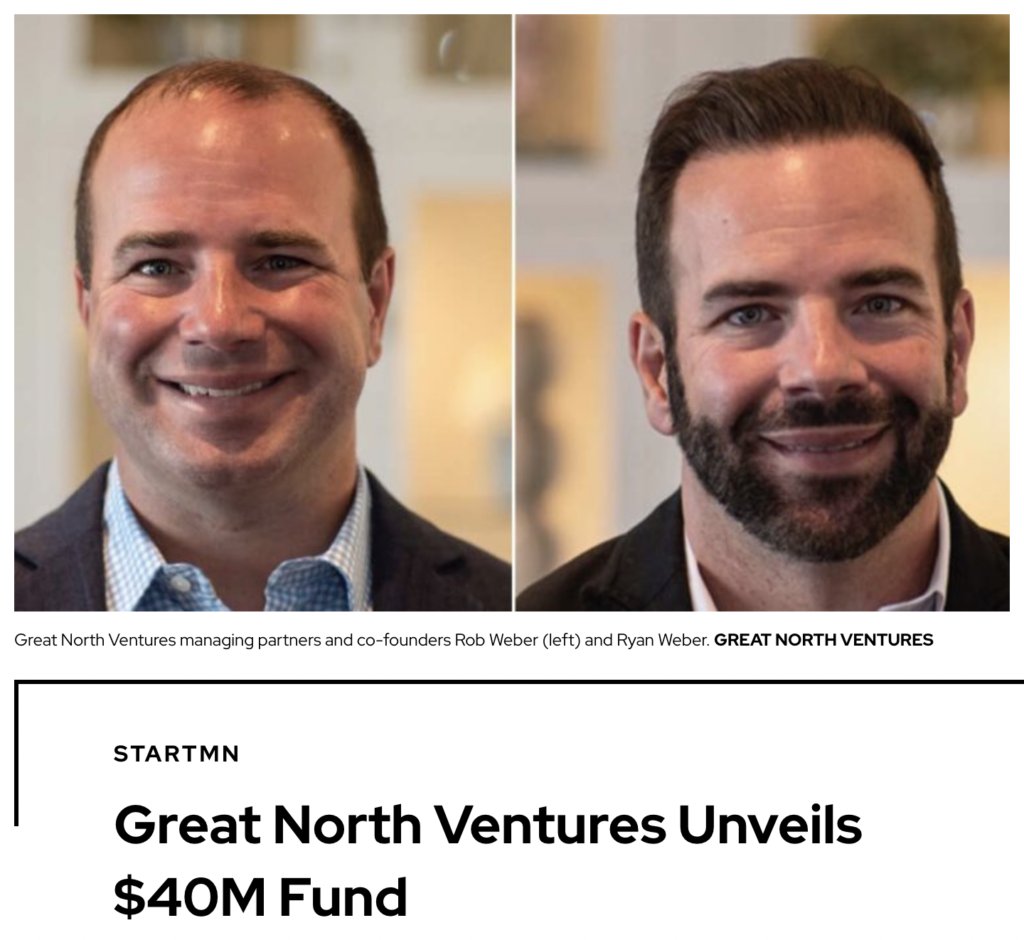 We have closed our $40M Fund II! Great North is excited to build on its Fund I success investing in startups from Seed to Series A, with a new, larger fund.
Fund II Snapshot:
Investment Themes: "Digital Transformation Through AI", "Community-Driven Applications", and "Solving Labor Problems"
Network-driven investing, rooted in Minnesota, spread through the Upper Midwest and beyond
Innovator Network of successful founders, investors, and experienced Fortune 500 operators
Fund II's Venture Studio co-creates and supports ~1 startup/year from ideation through launch and beyond
View our Fund II Investment Thesis
Thanks to our investors, founders, team, and to our community! Read more coverage here and here.
"Great North Ventures has a strong track record," said Rob Weber, Founder & Managing Partner. "Our investors have given us a vote of confidence by coming out strong for Fund II, with a 70% increase in fund size, and we are grateful for their continued support as well as the support of new investors. Our strategy as a thematic, network-driven investor focusing on opportunities in underserved markets is resonating, and we see this successful Fund II raise as proof of this theme and our ability to execute."
Interested Founders can apply for funding consideration immediately. Are you looking for early-stage funding?
Do you fit one of these themes:

Visit our site to view our criteria and to apply.
Need to learn more about early-stage scaling and venture funding? Are you working on scaling and thinking about VC funding? Listen to the latest episode of Execution is King.
It features Eric Martell, Founder of Pear Commerce, former founder of EatStreet, and former Venture Partner at gener8tor. As a successful founder, investor, and now repeat founder, Eric has valuable insight on what it takes to scale and successfully utilize funding. And guess what? He shared it with us.
Like this tidbit on what remaining focused on the problem looks like: "it took some patience and dozens, if not hundreds of customer conversations, and not being super in love with any individual solution to the big problem that we were trying to solve until we found that correct solution. And it's almost like, you know when you know, because then the business really took off."
Portfolio News

Amulet Launches to Bring Powerful Detection Out of the Lab and Into the Hands of Millions [Allergy Amulet]

OneMedNet Partners with Flywheel to Provide Leading Healthcare Imaging Data and Data Management Solutions

Good Design Awards Highlight Connected Devices [Allergy Amulet]

Omnia Fishing To Simulcast Bassmaster LIVE As Shoppable Feed For Two Elite Series Eve
129 Open Positions
See all open positions on the Great North Ventures careers page
Dispatch is hiring for 49 positions
Structural is hiring for 1 position

FactoryFix is hiring for 5 positions
PrintWithMe is hiring for 19 positions
Parallax is hiring for 4 positions
Branch is hiring for 15 positions
Inhabitr is hiring for 1 positions
NoiseAware is hiring for 5 positions
PartySlate is hiring for 5 positions
Flywheel is hiring for 3 positions
Skillit is hiring for 1 position
NextGem is hiring for 2 positions
Backhouse Brands is hiring for 1 position
Yardstik is hiring for 7 positions
Micruity is hiring for 3 positions
Omnia Fishing is hiring for 8 positions