Top 5 Stories of 2019, Clinician Nexus, and the gBETA Greater MN St. Cloud pitch night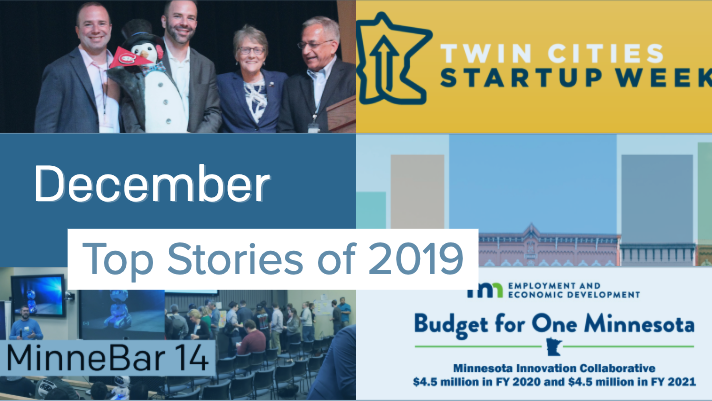 Welcome back to the Great North Labs newsletter! 2019 has been a big year for us. We invested $5.7M in 10 startups, including six in Minnesota, three in Illinois, and one in Wisconsin. That brings our totals to date to $8M in 18 early-stage startups throughout the upper Midwest, and one in Colorado.

Other than investing, the past year has been full of great events, important developments, and growth. Here are our top 5 stories of 2019.
Top 5 Stories of 2019
1. The year started with a bang, as we closed our debut fund. Our $23.7M raise is one of the largest debut venture funds ever raised in the Midwest. You can read about it on our site, at VentureBeat, or here, here, here, here, here, and elsewhere.
2. Minnebar is one of the largest tech gatherings annually in Minnesota. Put on by Minnestar, the bar camp (similar to an un-conference) attracted 1,700 local tech professionals to Best Buy HQ. Not only is it a popular event, it's a fun event to present at. Read our recap.
3. Launch MN took off with Red Wing Ignite alumnus Neela Mollgaard at the helm. The MN DEED initiative aims to grow the innovation ecosystem around the state (their application for education funding grants has recently been extended to January 17th, FYI). Watch Great North Labs's Ryan Weber speak to state legislators and Gov. Walz at the Launch MN Kickoff.
4. Twin Cities Startup Week was a huge success this year, with 16,000 attendees and over 200 events. We partnered with TCSW organizer BETA.MN to expand the BETA Showcase to include Greater MN for the first time. 10 startups from Greater MN exhibited, and ecosystem supporters from around the state were brought together beforehand at the Greater MN Meetup. Read more in our newsletter here, and about all of the other things we did during TCSW.
5. Finally, our year has ended with a call to giving. We've challenged the startup community to commit to a founders pledge, to ensure the support of the nonprofits that support founders. It's a virtuous cycle, and we want to see it become a part of our startup ecosystem. Read more about the founders pledge here.
Also, consider donating to Minnestar at this time. Our advisor, Daren Cotter, is currently matching donations up to $10k!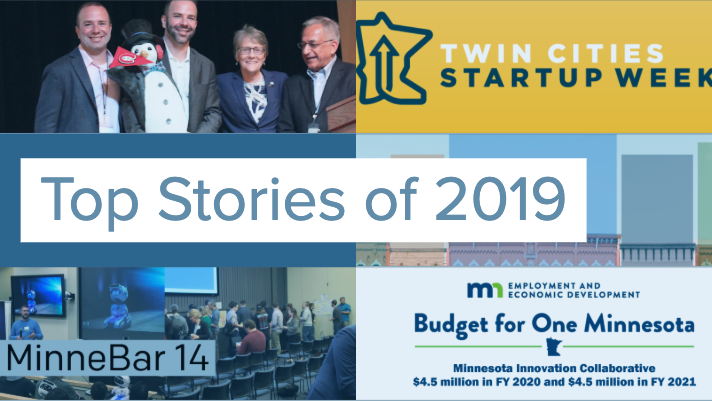 "I am interested in paying it forward to the MN Tech community that has been so much a part of the success of InboxDollars. I support Minnestar's mission and the dedicated people who are executing it every day.
I truly believe that vibrant and growing tech community benefits all its stakeholders. Minnestar and its excellent team are dedicated to executing this mission every day, and I'm proud to support them. I'm excited to see our community continue to grow, and I hope this match campaign will be a small part of that! I can't wait to see what the great entrepreneurs and technologists in MN are going to build next." –Daren Cotter (via Minnestar)
Events
The holidays are a busy time for everyone! If you find some time between family and friends, here are some events worth attending:
TONIGHT! -Dec. 19th- gBETA Greater MN-St. Cloud Pitch Night in St. Cloud, MN. We are proud sponsors of this accelerator, and are excited to see the first cohort's pitch night, from the very first accelerator based in Greater MN!
Jan. 7-10- CES in Las Vegas, NV. This is the annual conference by the Consumer Tech Association. It attracted 175,000 attendees last year!
Jan. 9th- Founders Live Minneapolis in Minneapolis, MN. "An unforgettable happy hour experience. 5 startups pitch their business, but YOU decide who wins. It's like Shark Tank, for the locals."
Jan. 30th- One Million Thanks in Fargo, ND. "1 Million Thanks is an evening program dedicated to celebrating the incredible things that entrepreneurs do in our community." Put on by our friends at Emerging Prairie.
Feb. 20- MinneDemo: Back to Campus in Minneapolis, MN. This showcase highlights students and recent grads.
Portfolio News
Clinician Nexus is the newest addition to the Great North Labs portfolio. Read about their $1.5M round in the Star Tribune. Clinician Nexus provides health systems, schools, and students with a transparent, people-centered platform that facilitates better clinical rotation management, from start to finish.
Job Board
Dispatchis hiring all over the country for Part Time Drivers and in Bloomington, MN for a Biz Dev Representative, Data Scientist, and CFO.
Structural is hiring an Associate Software Engineer in Indianapolis or St. Paul, MN.
TeamGenius is hiring a Sales Associate in Minneapolis.
FactoryFixis hiring a Software Engineer, Product Designer, and UX Designer in Madison, and a Biz Dev Specialist and Account Manager in Chicago.
Misty Roboticsis hiring a Lead Qualification & Inside Sales Specialist, and a Inside Sales Specialist (contract) in Boulder, CO.
2ndKitchen is hiring a Customer Success Manager, Account Executive, and Director of Sales in Chicago.
PrintWithMe ishiring a Customer Success Associate, Network Operations Specialist, Inside Sales Executive, and an Operations Lead in Chicago; Super User Technicians in Portland and Houston; and a Regional Sales Director for the West Coast.
Parallax is hiring a Customer Success Specialist, Quality Assurance Engineer, Senior Software Engineer, and for a Growth/Customer Acquisition role in Minneapolis.
Branchis hiring a UX Designer, Content Marketing Manager, Settlement Analyst, Software Engineer, Customer Support Agent, Customer Success Manager, and a Senior Backend Engineer in Minneapolis.