Portfolio raises $125M + talking fundraising with Branch CEO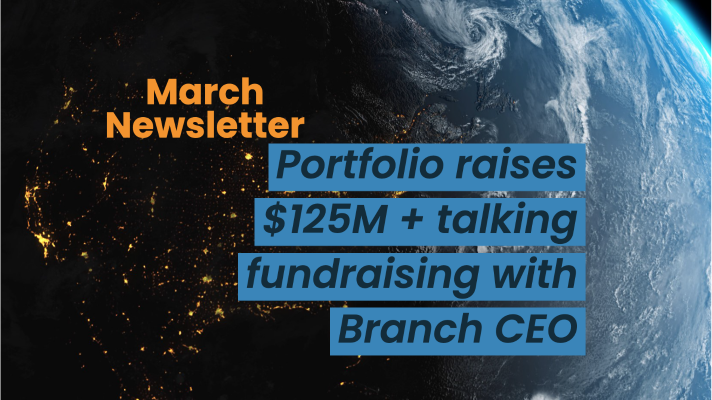 Welcome back to the Great North Ventures newsletter! We have a couple of big raises to report, along with updates and job listings from our portfolio.
Branch has raised $75M in Series C funding. With $133M raised to date, Branch has grown 2,000% in the last three years and has had 700% year-over-year platform growth in 2021. Funds will be used to double their headcount from the current 120, and to expand to a second location in Tampa.
Atif Siddiqi, CEO of Branch, joined Rob Weber and Josef Siebert on the podcast before the round was announced. We talked fundraising, deciding when to pivot, and knowing when to call on your mom to bust heads and get your Nintendo games back.
Full episode here: "Execution is King: Interview with Atif Siddiqi"
Dispatch has raised $50M in Series C funding. This is one of our very first investments from Fund I! "Dispatch said it has grown revenue at about 175% year-over-year in each of the past two years and it has doubled its headcount in that time frame."
The round will support Dispatch's expansion into 50 more markets across the country, and enable continued growth of its delivery management software for both customers and drivers.
Y Combinator's latest batch of startups presented this week. Winter 2022 Demo Day had 394 startups presenting to over 1500 investors. This is the first year where every accelerator participant startup received the new standard deal from YC. The deal includes $125k in exchange for 7% equity in the startup, plus a new $375K SAFE note with favorable terms for YC.
The move has garnered mixed reactions with some claiming that microfunds and angels will be pushed out of these deals, and others praising the move as major pressure relief for founders coming out of YC.
What is certain is that the additional $375K will affect seed investors around the world, as top startups won't have to raise immediately out of the program. Of 3650 total YC alumni, 2498 are in the US, and 4 YC alumni in Minnesota: LEAH Labs, Novel, Fanchatter, and Pyrls.
Portfolio News

Omnia Fishing is new to the Great North Ventures portfolio! Read more here: "Omnia Fishing Raises $4 Million"

"Branch raises $75M to help workers get paid faster"

"Logistics startup Dispatch raises $50M, will double geographic presence"

"Inhabitr moves HQ to West Coast, adds key California markets"

"NoiseAware taps Kevin Locraft as CEO"

"Pittsburgh fintech firm partners with The Retirement Learning Center" [IRALOGIX]
135 Open Positions
See all open positions on the Great North Ventures careers page
Dispatch is hiring for 49 positions
Structural is hiring for 1 position

FactoryFix is hiring for 5 positions
TeamGenius is hiring for 6 position
PrintWithMe is hiring for 11 positions
Parallax is hiring for 7 positions
Branch is hiring for 12 positions
Inhabitr is hiring for 3 positions
PartySlate is hiring for 9 positions
Flywheel is hiring for 2 positions
Skillit is hiring for 1 position
NextGem is hiring for 2 positions
Backhouse Brands is hiring for 1 position
Yardstik is hiring for 9 positions
Micruity is hiring for 6 positions
Omnia Fishing is hiring for 11 positions