$2M Startup Competition for Black Founders, Winning Startups to Watch, and Twin Cities Startup Week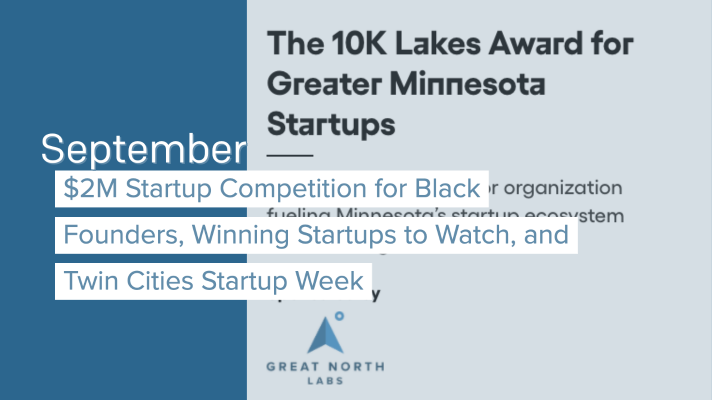 It's a wrap for Twin Cities Startup Week (TCSW), Minnesota's largest annual startup event. How big is it? In 2019 the event attracted 17,000 people to over 200 sessions. This year, the event stretched nearly a month as it went virtual for the first time.
Startup Competition Winners
One of two big competitions during TCSW is the MN Startup Awards, a joint venture between Tech.MN and TCSW. The winners this year included Canomiks (Emerging Startup), Maddy Kennedy (Impact Award), BetterYou (Operational Excellence) SayKid (Voyager Award), Black Tech Talent (The Inclusive Evolution Award), and Target Accelerators Team (Corporate Champion).
Great North Labs sponsored the 10K Lakes Award for Greater Minnesota for the second year in a row, which recognizes work supporting startups in Greater MN. MN Cup took home the award this year!
We are proud to support MN Cup through our Founders Pledge, where Rob Weber also judges the High Tech division, and are pleased with the recognition of their success. MN Cup wound up their own competition on Sept. 23rd, with top honors going to BlueCube Bio.
The other big competition of TCSW is the BETA Showcase, which routinely attracts 800+ attendees. This year featured 21 startups, including 7 startups from Greater MN. The winner of the coveted Golden iPod was Bibliate, a Minneapolis-based provider of academic research summaries.
gBETA Greater MN-St. Cloud
The accelerator program gBETA Greater MN-St. Cloud has announced its fall class. The class includes startups from around the state. Sproutary is from Kimball, Shrpa is from Rochester, LegalMaps is from Edina, and Live.Give.Save is from Red Wing.
This class has some accomplishments under its belt already, as Shrpa took home 2 dedicated awards form MN Cup this year, and Live.Give.Save is the winner of last year's inaugural 10K Lakes Award.
$2M Pitch Competition for Black founders
Revolution's Rise of the Rest (ROTR) is partnering with Opportunity Hub, 100 Black Angels & Allies, and Morgan Stanley's Multicultural Innovation Lab to fund Black-founders via the "Rise of the Rest Virtual Tour: Equity Edition". $2M in investments will go to the top 3 companies.
Please share this event with your network! It's a great opportunity for Black founders in the Upper Midwest to connect with investors and resources, and to have a chance at a big check! Great North Labs has partnered with ROTR to help connect capital with Black founders, and Rob Weber be taking pitch meetings during the event.
Great North Labs + Vikings Football = $$ for Minnestar
For every point the Vikings score this season, we are matching up to $5 in donations to Minnestar! Give as little as 10 cents per point, and know that it will be matched, benefitting one of Minnesota's top startup support organizations.
The campaign started on September 1st (when the Vikes were 0-0) and continues until the day after the Super Bowl, because hey, you have to believe! This campaign is through local startup ScoreSide, which connects sports with philanthropy.
It's important to support the organizations that support our startups. Times are challenging. While we believe there's a shortage of early-stage capital in the region, we also think that right now is a great time to build a startup.
Events
Here is a mix of upcoming events, for investors, founders, and/or ecosystem supporters. All events are virtual unless otherwise noted.
Portfolio News
River's Edge participates in new robotic technology pilot program for screening COVID-19. Misty the robot is being used to screen hospital employees for COVID-19.
PrintWithMe Announces National Partnership With Trammell Crow Residential. PrintWithMe has inked a deal with one of the nation's largest developers of multifamily apartments.
Job Board
Dispatch is hiring a Business Development Representative and Manager, Account Management in Bloomington, MN; a Ruby Developer and Senior Ruby Developer for Remote work. Also Territory Sales Managers in Arlington, VA, Baltimore, MD, and Washington D.C.
FactoryFix is hiring a Team Lead – Full Stack Developer, Full Stack Developer, and Infrastructure Developer- DevOps in Madison, WI; and a Sales Development Representative in Chicago, IL, Indianapolis, IN, or Madison, WI.
PrintWithMe ishiring Regional Sales Directors on the East Coast and in Texas; AR/AP Specialist and Operations Lead in Chicago, IL; VS/SVP of Operations, Marketing Director, Part-Time Customer Service Representative, Inside Sales Executive and a Fall 2020 Strategy Intern (MBA) for Remote work.
Parallax is hiring an Experienced Product Designer in Edina, MN.
Branch is hiring a Data Platform Manager, Senior Software Engineer, Customer Success Manager, Customer Support Rep, Enterprise Support Specialist, and Fraud Agent in Minneapolis, MN.
Inhabitr is hiring a Chief Growth Officer/Head of B2C Growth, and a Sales and Customer Experience Associate in Chicago, IL.
NoiseAware is hiring a VP of Global Sales & Customer Experience, Embedded Developer, QA Technician (independent contractor), Account Manager, and a Customer Advocate in Dallas, TX.