Nick Moran, New Stack Ventures: Episode 3, Execution is King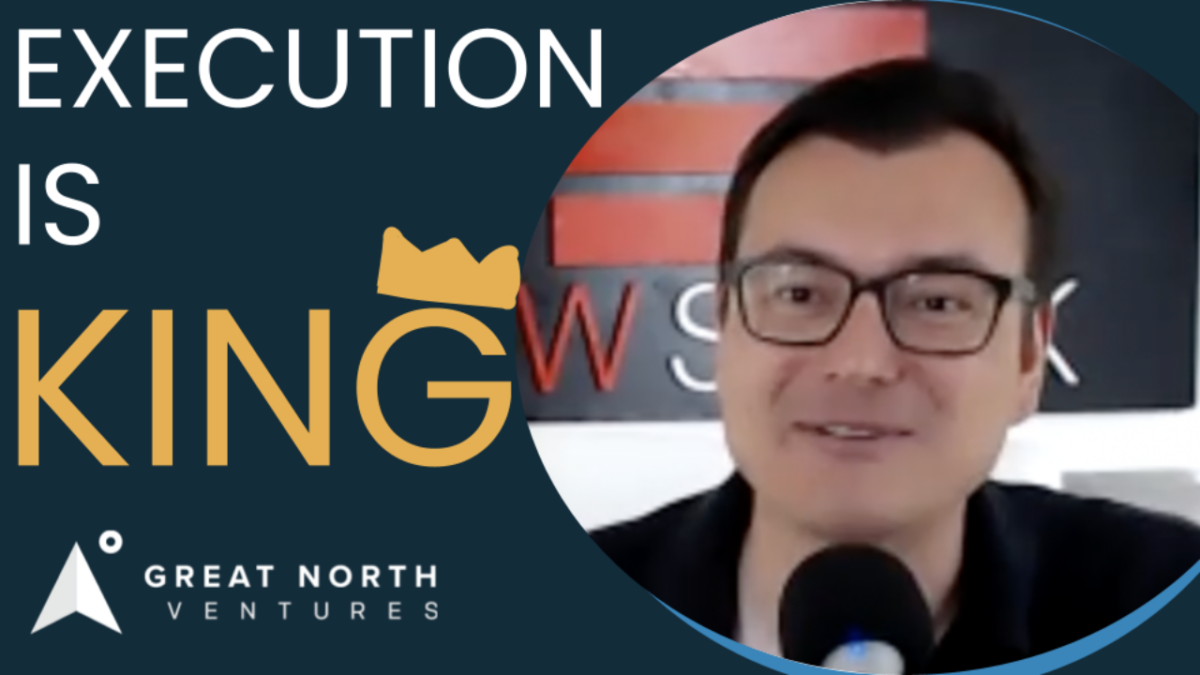 Rob and Josef talk podcasts, and comes clean about his awkward intro to Nick Moran.
Nick talks about his path to becoming a General Partner of New Stack Ventures and the host of The Full Ratchet podcast. We talk decision-making as investors, and advice for founders, including the most common mistake: building a product then trying to find a market for it. Then dive in to address the problem of matching opportunities to investors, whether it's founders pitching VCs, or VCs pitching institutional investors.
Rob and Nick connect as founders-turned investors, while Josef jokes about the Insane Clown Posse in a truly additive and valuable fashion.
Not really.
Who does Nick see executing? He calls out two companies that have pushed through the pandemic, Flamingo and Tripscout.
Full Transcript Below:
00:00
Welcome to execution is king, the Great North ventures podcast. Today we're joined by general partner of new stack ventures, Nick Moran. He's also the host of the full ratchet podcast. With me today also his general partner of Great North ventures Rob Weber. Thanks for having me, guys. This is such a pleasure to be here, Rob. Always good to see ya. Thanks
00:21
for joining us, Nick. First starters, talk a little bit about how you became a venture capitalist. And also tell us about a little bit about your work with the full ratchet.
00:31
Yeah, you got it. I mean, we've talked in the past, it was a bit accidental. This is my second career. So I started out in corporate America, doing m&a, you know, scouting out early stage tech companies to buy through a roundabout series of events, I ended up being an entrepreneur within this organization taking a product to market over three years, working with a large r&d team of 30. And we had sort of extraordinary success with that product. I was a beneficiary of that success and was able to sort of leave corporate america and, and figure out my next path in life as a young man when I was about 32. So I moved back to Chicago with my wife, I started angel investing and, you know, fell down this rabbit hole of venture and startups and, you know, how do you build the next transformational multibillion dollar tech company? And yeah, through that series of events launched the full ratchet, I think it was, maybe at best a clever hack to network with some folks on the coast. At worst, you know, it was just kind of a fun program for me to learn. And it really worked out. I mean, I think I was early to the podcast thing and got lucky. The audience sort of exploded, you know, before there were 1000s and 1000s of podcasts. And that resulted in a lot more deal flow than I knew what to do with and sort of snowballed into this investing for newstagged. ventures.
02:06
And you're up to almost, is it almost 300 podcast episodes so far? Is that right?
02:11
Yeah, I think so. It's probably more than that between we do these special segments in between episodes. So I can't imagine how many we have total. But I would bet how it gets it's more than 500 at this stage.
02:22
Yeah, it's really impressive. I was just talking with Nick before the show about these great episodes he does with investor stories, that are just great little bites. So if you have a minute, check out the podcast, that episode I'm talking about the last one is about 11 minutes long. And it sees for investors giving post mortems on these companies that failed. And it's just as super interesting, especially like the example around the one that failed due to COVID. Because it just this excessive headwinds and stuff. But there's some great points from Great Investors on that podcast, urge you guys to check it out.
03:00
Yeah, I think part of the context that makes your experience, Nick, as he talked about it, you know, so interesting is having been on both sides of the table, you know, building a product, and then spending all this time interviewing all these investors, and then, you know, actually running a fund. But you know, especially as we think about, like, the product side, that's kind of the background that my brother and I had before we started getting more adventures, you know, after, you know, spending so much time in this space. What are some of the takeaways you have, you know, for new founders, you know, in terms of product development? What are some of the common mistakes that you see, or what advice would you have, and I know, your fund is kind of in the pre seed seed stage was very early, in fact, earlier than probably a lot of other venture funds. What would be some of the advice that you would give to, you know, a first time founder who's building their first product?
03:52
It's a good question, I think, sort of classic mistake that still the majority of entrepreneurs make, even though we've we've said this advice over and over again, Rob, you and I have talked about it is, you know, they build a product and then look for a market later. Actually, just last week, we were talking about this episode I did with Dharmesh stacker from battery, right. And he was saying one of the weaknesses with doing investments in serial entrepreneurs. So folks that started and had success with a tech company from a previous generation is often those types of founders from you know, that learned in an old generation of tech, they often want to build super powerful tech, and then go out and you know, find a market for it. try and convince customers that this is the solution to all their problems. And in the modern world, in the modern tech world. That's just not how things work. You need to prove value up front. You need to deliver ROI and value super fast. I think Dharmesh, his rule is in 90 seconds or less, you know, the end user needs to understand why this is transformational for them and makes their life better. And so we've seen this big shift to a focus on customers focus on needs, you know, what are the key problems that you're facing in your work life or in your consumer life? And then how do we reverse engineer a solution that really delivers on on that problem? So if I were to give advice to the early stage founders, it would be you know, become obsessed with your customer, find your ICP, your ideal customer persona, spend time in a market, discover the key insights, you know, what are the key challenges facing that market, and then figure out how to build a solution that meets the need, you know, don't just just because you're a developer, and you're a talented builder, that doesn't mean you should go out and build some super powered tech, and then just assume that the market is going to love it.
06:02
Do you think that's a consequence of tech really exploding out of, you know, the confines of being its own sector, and just kind of taking over every sector? that that that shift away from just being able to build something great, and then figure out a way to sell it, versus having to build to actually fulfill these needs?
06:22
Is that Yes, I think so. Joseph, I think it also goes a little deeper. I think it's a mindset issue. And I think it's, it's the victim of arrogance, right. So we all have a bit of confidence, and maybe maybe a shred of arrogance, some more than others. But when you are arrogance, you believe the world operates like yourself, you believe that the mindset of the consumer base is much like yourself. And so you think that if you can build something, that's your ideal product, right? That's your ideal technology that ever the market will come? Right? If you build it, they will come? The reality is that, you know, if you've met one consumer, you've met one consumer, right? There's a lot of shapes and sizes, there is no one size fits all anymore. That just doesn't work. And so you need to figure out, you know, what are the segments within the market? What are the consumer groups, or the buyer groups within b2b that have a similar philosophy or ideology or buying behavior or need set, and you need to you build products that really serve a problem and serve a need. So I think it's a problem of mindset. And it's folks thinking that the rest of the world operates like themselves. And that's just not the case.
07:42
It's interesting, I do think there's a sort of fine line between self confidence and being open to feedback, right. And I think in entrepreneurship, like you kind of have to have a balance, I think the best entrepreneurs app have developed that strong customer empathy. So they can kind of wreck, you know, they can take the feedback loops, and kind of, you know, bake that into their product development. It does take a degree of self confidence, though, because you can't have every, every single feedback session or artifact, you know, can completely push you off your strategy. So it's kind of a fine line of being a good listener, but also having, you know, some confidence in finding the right path forward. Right. And when you are building out your products in the past, like how much do you stock? Do you put in just like the systems for startups? Like, are your real vocal proponent of kind of lean startups and all the, you know, systems behind that? Or are you kind of take a more like open approach to, you know, in terms of the systems that these entrepreneurs are utilizing to kind of bake their strategy or their product development?
08:50
Yeah, that's a tough one, I would say, Yes, I am a proponent of the lean startup, but more at the theoretical and philosophical level, I think some entrepreneurs can get maybe too caught up in the tactics, and you know, the details with that and chase their tails a bit. I mean, to your point before, you can't be so wishy washy, that all feedback from customers finds its way into the product. Right? We like to say that when we're selecting founders, or we're investing in founders, we like to find people that are incredibly stubborn about their vision, but incredibly flexible about the path to get there. Right. So you need to have a really strong vision, here's where we're going. But you need to be incredibly receptive to the market in the customers and how the product actually manifest in the path. To tie this back to my experience with the product. I'll give you a simple example. Right? I was building a handheld device, right? It was a handheld device for measuring compounds in drinking water. So things like monochloramine or chlorine or nitrate or iron, right. And a huge number of the customers That I did testing with said, I would like this to be touchscreen. Right? We launched this product in 2013 ish timeframe. And there was a big proponent of customers that said, I really need this to be touchscreen, right in the markets that we're testing. Well guess what the reality is, there's a lot of cold weather climates, where people are doing this testing on the back of a pickup truck in sub zero degree temperatures in places like Minneapolis, or Chicago. And they're doing it with huge gloves, and big parkas and a hat and goggles. And you can't have a touchscreen device in that environment. So this is just one simple example of the overwhelming feedback was we want touchscreen. But when you look at the markets we're going to sell this product into it was not a viable decision for the product, right. And so that's just one small thing. Like you need to collect all the different information from the customers, but it's the job of the product manager to decide on the solution. Right? It's the customers that surface the problems, the product manager needs to find a solution that most appropriately services the market.
11:13
That's really interesting. Well, yeah, bringing up, you know, kind of the Midwest in Chicago. I know, that's where you're based. Can you describe a little bit about your experience, since you moved back to Chicago? What is the startup ecosystem like there? For those who are unfamiliar?
11:29
It's exploding. I mean, I'm not on the ground in Minneapolis, I'm sure you've seen things really develop and evolve in your ecosystem. But in Chicago, I got back in 2012 2013, in 1871, had just opened, which is sort of the incubator startup Mecca. Within Chicago, we were really just finding our footing on becoming, you know, a real sort of call it a second tier tech ecosystem, not not on the level of San Francisco, New York, but a major player, right, we had had some big exits, we had some big successes, and that had spurned some talent in the ecosystem that went and started more companies. So now, you know, during the past almost 10 years, geez, it's developed quite a bit, you know, there's more venture capital firms than ever before. There's more startups being funded than ever before. we've really seen the ecosystem progress for the better, and sort of hit its stride. So I think Chicago is only going to go from here. But you know, if you go back to the time I started investing, there was very few pools of capital. And we kind of, we had our choice of the startups we wanted to invest in now. It's, it's, it's more competitive, which is better for everyone involved.
12:55
I was really impressed. When I went back to Northwestern in February, pre COVID. For venture capital events. I had gone to school at macdill. So I haven't spent a lot of time at Kellogg, but when I went there, they have this fabulous new building, which they were just building when I was at Northwestern. And it was just a beautiful setting right there on the lake, the field. And it was full of all kinds of people. Betsy Ziegler was there from you mentioned 1871, some other people, all kinds of great funds represented there, mingling with just these top level up and coming VCs, out of Kellogg, and just being in that spot. And that's not even that's up in Evanston. That's not in the heart of anything, which, from my experience is more towards 1871 would be kind of the heart of a lot of this action, while at least downtown in general will be more towards the heart of it. But it was super impressive. It really gave me some hope for what what we can aim for here. You know, like getting that vision, getting that idea, that vision for Minneapolis and what the ecosystem can aspire to be.
14:04
Yeah, it's really great. I mean, you've cited the university's Stanford and MIT their efforts are well documented and the stratix accelerator at Stanford, you know, one of the most prominent in the country. But look, look at Northwestern, you mentioned them, they've got the Wildcat challenge and look at Chicago Booth. They've got the NVC the new venture challenge, which I believe kicks off tomorrow on the third of June. This has become the Chicago Booth one has become one of the preeminent accelerators in the country. That ranks right up there with the YCS and Angel pads, right? The successes from that program, you know, the winners of Chicago, Booth NVC, our grub hub, Braintree tovala, I mean, you know, hundreds of millions, if not billion dollar companies that have been enormously successful. So it's it's really nice to see that the academic academic institutions have structured themselves in a way to really promote true Entrepreneurship, that is the challenge when you get into academia, you know, is this going to be more of a research or learning exercise, there's this really, you know, a capitalist endeavor. And I think what we found is the Chicago based institutions have figured it out, and, you know, created some really transformational, you know, large scale tech companies. So we're looking forward to meet and some more tomorrow at the competition, and at a future Northwestern event as well.
15:29
I think it's really interesting, Nick, I've been building software companies, either as an was started off as an entrepreneur, and then an investor, the last, you know, I don't know, 15 years, but 25 years as entrepreneur, all in Minnesota, and really, you know, from when I got started, there was very little support, there weren't organized, you know, communities for startup competitions, accelerators, you know, maybe there was one or two venture funds, you know, now there's, you know, just in the Twin Cities market, there's well over a dozen early stage funds. And then we have, you know, it's a little different in Minnesota, the University of Minnesota, I think it's a little over 10 years old, we have a Minnesota cup, which is actually kind of built for all startups in Minnesota, it sort of lives, you know, on the campus of the University of Minnesota, but it's not just for the U of M students. So it's kind of interesting, I think it's, it's evolved a bit differently. But in many respects, I think the last decade is really brought just incredible wealth of support for entrepreneurs starting to build things. Of course, I think one of the main areas that entrepreneurs that are looking to get discovered are looking for support is on fundraising. And you know, despite the emergence of what 1500 plus venture funds around the country, you know, getting that first round of capital for many is still really challenging. And I know you're, you're one of the few funds that you know, invests in kind of pre seed, and then also what I've called, like, really early seed stage companies in the Midwest, I know you invest all around the country, what are some of the signals you look for? Or what are some of the things that you would in terms of advice would pass along to founders, you know, in terms of raising that first round of venture capital?
17:08
Well, first of all, you need to know where to aim. Right? Like before you launch a process, and before you start pitching. And before, you know you do your dog and pony show with a bunch of investors, you have to understand your ICP. Just like if you're launching a product into a market, right, who's your ideal customer persona. And for a fundraise is the same Rob, you just mentioned, like in the Midwest, there are seed stage investors series A investors pre seed, some will do pre traction, some won't. Some will invest in hardware, others won't write some, like consumer, some have a preference for b2b. We've got a whole crop of Life Sciences folks, right? There's a lot of shapes and sizes to these investors. And if you just roll out of bed with a really cool product, and you know, a little bit of sales, and do your rounds in sort of Minnesota ecosystem with whoever you can get an intro to, you're probably going to find some mismatches, right? It's like the dating app. And you know, you're you're dating somebody from a different culture that doesn't speak your language. And it's like, where do we even begin here? So you kind of have to know where to aim. Figure out what type of startup you're building, right? What are the sectors you appeal to? What are the technologies that you're building around, you know, Ai, blockchain, etc? Who are the markets that you're serving? Right? Are you serving certain demographics with your startup, let's say, the boomers or Gen Z, for instance, or you know, maybe your startup is focused on women. And then the stage, of course, the stage is important, the geo is important. So there's all these filters and structures that investors use to kind of think about your startup. Here. Again, it's like sector, market technology, geo stage. And if you are honest with yourself about which boxes you check, you can find the ideal set of investors that is just well designed for your startup. Right. There are generalists that just invest in Minneapolis startups, there are specialists that just invest in AI powered startups, right, you need to know who those investors are first. Rob, you and I have discussed this tool that we built VC dash rank.com. It's a simple questionnaire that startup founders can fill out in five minutes or less about their startup. And they generate a customized list of all the ideal early stage investors for their startup. I think we have somewhere from 15 to 30. Startups filling that out every day. So it ends up being you know, you add those up over time, there's a lot of startups out there looking for investors, but if you're aimed in the wrong direction, you know, you're gonna waste a lot of your own time. In founders time is the most important thing when you're building an early stage startup.
19:57
I think that that's a lot a source of a lot. VC hate that you see, I mean, there is plenty of legitimate criticism about VCs, there's there's bad behaving VCs, don't get me wrong. But I think that that point you just made, that it just being a mismatch, that people going into every what should be a speed date with the intention that they want to get married, without actually realizing that they need to make sure that that's going to be a good match. I think that that manifests itself and justly so in people getting incredibly, you know, frustrated by that process, and then taking it out against just the industry in general. It kind of obfuscates a lot of the legitimate criticism of the industry, though, and and makes people you know, it makes it harder to uncover. Because when the problem is that source, what's the real problem? It's hard to uncover when it's just simply a mismatch from the beginning.
20:54
100% Joseph, and I'm getting a taste of my own medicine, right, because as we embark on on raising our next fund, we're not raising currently, but as we do that, we need to meet with the right investors for us, right. In our industry, we call them LPs limited partners. But I need to know who are the institutions that like to invest in emerging funds, right? Who are the institutions that like funds in the $50 million size range? Who are the institutions that have an interest in the middle of the country investing versus coastal, right or international, right, if I don't do my homework, on my own ICP, then I end up spinning my own wheels with a bunch of folks that you know, want to cut billion dollar checks in the multi billion dollar funds that are focused only on San Francisco, and I've just wasted their time in my own. So, you know, this, this has got many different levels of extra abstraction, whether you're a startup selling a product, you know, founder trying to, you know, sell your business, sell equity in your business, or a venture capitalist that's, you know, trying to raise a fund.
21:55
And just some advice to anybody out there who's going to turn around and Google ICP to figure out how to proceed, ignore the first results, or any results with pictures of crazy clown makeup. That's the wrong result for you. Wow, flashback there. Now we're showing our age.
22:12
It's really interesting, Nick, when I was a sort of founder turned investor, you know, I was like you as an angel investor for a while, while while I was sort of founder, took the success as an angel investor became a VC. And the number one request we have, from founders we back is, can you help me complete my round? Or can you help me connect other capital sources, and to me is like a founder turned investor, it's like, the least interesting thing I could help a founder with, is just finding more capital, I'd rather go deep on like product goes to market, you know, human resource and operations, like how do you scale the growth of the company? Not so much like, Hey, can I i've this spreadsheet, I started with 200. Plus, it's just people in the last four years that I've talked to you that are involved in the VC game, and I did use the VC dash rink comm tool that you built for internal startup we had been incubating called next jam, it's really, really useful to kind of filter down across these different dimensions, who are the funds that we should be talking to? And I think a lot of founders, it's not even so much as like getting an intro to the funds, like, I know that a lot of the funds that we should be talking to, but they weren't necessarily the ones top of mind for me. So just having a filter to say yes, these are the ones that based on, you know, some kind of database are probably the ones that are right for you and make some ton of sense to me. So I think it's super valuable. I'd love to see more startups using this. And it wouldn't solve this, like signal and noise issue when what you really want is like relevant deal flow that can make right you know, the speed for fundraising faster, right. 100%.
23:46
I mean, it's, it's amazing to your point, how network driven and opaque the whole fundraising landscape still is, it's always based on referrals. And you have to have the right networking etiquette. I mean, if you go back to the origins of VC, it was a little cottage industry, you know, country clovers, and people that were insiders, Sharon deals. And that's kind of where this industry began. But, you know, as we move forward in time, it's institutionalized. I mean, tech is no longer, you know, a footnote in the asset class universe tech is sort of leading and driving the returns, both in privates and publics. And so I think we're gonna see our industry, our asset class, really professionalize and become more tech fold. Right? It shouldn't be this old insider game of who you know, and who can I get an intro to and, like, you know, can I can I get the royal treatment from the investors at benchmark I mean, amazing, firm, right benchmark, but they they don't have a website, right? You have to know somebody to kind of get in there. And honestly, I think that's the model of the past. I think it's gonna die. The future is about you. Technology Solutions media, you know, having a systematic process, it's it's not about who you know, it's about what you can build.
25:08
And increasingly, it's not about where you're located either. I mean, that's starting to not matter at all, which used to be hugely important for VC. And even when you look at VCs who do business all over the world or across the country, you know, that geography that they do more deals, where they're located, then states further away, like if you're based in DC, or even if you're based in Chicago, you know, there might be a way more deals in Silicon Valley, but you're going to be doing more deals in Chicago, just because that's who you run into. But increasingly, that's becoming less and less important.
25:44
Well, I think, you know, one of the effects of COVID is no longer do I have discussions with investors that say, oh, middle of the country, investing the Tam's too small, like the outcomes aren't going to be big everyone? Well, not everyone, but the vast majority of folks out there realize, wow, there's talent everywhere, you know, whether it's talent that left the coast that moved other locations, or just the reality that great, huge, multi billion dollar tech companies are being built everywhere. We're seeing that more and more every day, which is, it's nice not to have to face that objection anymore. Oh, Minneapolis. Oh, yeah. No good tech companies are gonna come out of there. Chicago. Yeah. You know, you guys have your strengths, but it's not technology. Yeah. Okay. Let's look at you know, the cameos of the world and, and you know, these other huge successes. So it's no longer an objection, we really have to face which is nice.
26:39
So Nick, I know, you take a very systematic approach to venture capital, kind of pioneering how to use tools and technology to make the process more efficient. I saw this survey a few months back that ranked from founders seeking capital, the number one criteria or attribute that they cared about the most was speed. Yeah, and I know you've interviewed a lot of funds, are there, you know, from a systematic standpoint, are there certain things you found to really speed up the investing process? Or is there any any other venture funds that, you know, obviously speeding, making a quality decision that times are enemies of each other? Right? Like, you know, how do you have you? Have you found ways to move faster in decision making, or across the VCs that you've interviewed? Any that really stand out to you on this dimension of speed?
27:27
Wow, that's a tough question. Yes, we have implemented a lot of systems and processes, I can talk about that when to your ladder question on any VCs in particular, I would say that the VCs that stand out, as being great at making decisions quickly, are solo capitalists, largely, you know, when an individual is doing the meetings with the founders and can decide at first meeting or second meeting. Look, this person has the right ingredients, you know, like you're taking all these data points, they're mixing up in your head, we talked about this abstract concept, pattern recognition. But honestly, a lot of at bats in this industry over time, you start to figure out here are the things that I like, and you process all these data points, and you make decisions. So it's the solo capitalists that can move quickest, because, you know, there's no infrastructure, there's not multiple people, there's not, you know, a whole series of diligence. When it comes to our firm. We are not that, right. So we have a number of people at our firm that can do deals. It's not just Nick Moran, right. And I've been very clear with my folks here in New sec from the beginning, this will not be the Nick Moran show. This is newstagged ventures, we are building a scalable venture capital firm. And so what we've had to do is get very, very clear about what we're looking for. We kind of divided up into three segments. So when we're looking at a deal, we look at the who, the what, and the how. So the who is the foundation, that's the people behind it, the talent, their raw capabilities, their you know, their raw mindset. The what is kind of the business is the business, the industry, the sector, the product, is it, you know, scalable? Is it venture scale is an interesting does it have tailwinds and then the How is sort of the framework that the founders are using to access that market, build the right product. Think about you know, how we wedge into the market? How are we focused on customer needs? To that point, we did you know at the top of the interview or are we tech first. So the How is like the process that the founders are going about to access the opportunity. And then you know, at New stack we think very specifically about what are our must haves. What are important to have and what are nice to haves and across each of those three, the who, what and the how we've been very specific about what those three are. So we have must haves on every deal. If a must have Isn't there we pass, we have our important hands on every deal, if a certain percentage of important to haves aren't there, we pass. And then we have our nice to haves as well. And so that's our attempt at taking all these patterns and all these factors that we're vetting for, and actually codify them into a process that can be taught to young folks, you know, as we have this fellowship program of 20 young folks across the country, undergraduates, and it's too hard to spend the next you know, five years with all of them and try and teach them all these abstract patterns, we have to codify them, we have to get very specific about here are the factors to be looking for, so that their learning curve, you know, moves quicker. And the end effect of that, Rob, is that we should be able to make a decision on a founder, and investing in that founder in less than two weeks, hopefully, less than one week. But if we know what we're looking for, and who we are as a firm, and you know, what types of founders are positioned to succeed in a partnership with the SEC, then we can move more quickly.
31:04
I just said one more kind of a more narrow question around this process and system you have I know, one of the things they talk about in venture capitalists kind of decision making is this notion. It's like a psychology notion of, they call it confirmation bias. And I know I've experienced I've had to sort of fight myself against is that time where I see it, even in our partnership, like the more time you spend on a deal, there's a tendency to look for evidence to support, you know, your initial interest in that deal. And so you have this self fulfilling kind of confirmation bias to do a deal as you dig in more and more and more. Have you had any, you know, with this sort of more in this sort of system that you have? Do you have any sort of guardrails against like confirmation bias? Or have you ever felt like you've experienced that? And, you know, or how do you avoid confirmation bias?
31:53
It's a good question. I don't know, if we have an answer to that, if I'm being honest, I do know that we've gotten incredibly late stage in diligence on deals. I mean, I even flew with, with my deal lead to Colombia, the country to do diligence on a deal and spent two entire days, you know, in the field, like meeting with customers and whatnot, we ended up passing because something came up late stage and diligence that violated my staff. And we had to have a real honest conversation about that. And, you know, as I think about scaling this firm, I think about, you know, we need to use these moments as teaching moments of how we got to make decisions. And even if it's even if it's so much easier to proceed with the investment at that point, because the sunk cost is there. And the confirmation bias, is there. the right decision, if we really want to build a best in class firm, that's going to produce great returns, and teach folks how to say no, even when you're over committed, is you got to say no, when, when it's right to say no. And I learned that the hard way working for dinner for years in m&a, a very aggressive acquire My god, I would do diligence on 1000s of companies, I would spend, in some cases multiple years, getting to know founders of different companies and visiting them in Spain and Italy and all around the states. And then those deals would fall apart. And so yeah, that was a painful reality in our business. I mean, we're meeting with founders, you know, for weeks or months. And so to pull the plug on those for me is like, you know, that's nothing. It might be harder for the younger people. But for me, it's nothing compared to multi year. relationships.
33:39
Yeah, totally. You bet that your prior experiences is super helpful in that regard. So I think Joseph, you had a kind of a final question, right? Oh, yeah.
33:49
Yeah. So our last question here, like to ask all of our guests who come on the show, can you tell us about someone or a startup that you've observed executing at a really exceptional level, maybe someone in your portfolio or someone outside of your portfolio, but someone you've seen maybe who isn't getting recognition for that, but who's really killing it? There's too many to choose from.
34:15
Maybe I'll pick a couple that were slammed hard by the pandemic. I mean, terrible categories for the bat pandemic. One is Jude chewy, he runs a company called Flamingo. Flamingo serves the multifamily property industry. And it's a it's an events focused platform. And that thing, I mean, the events out of the business went to zero effectively last, I think, April or May. This guy is just a rock star. He built a SaaS business alongside his events business during the pandemic, grew it to the size of the events business. I mean, remarkable MRR and now the events have come back and so now he's got I mean, it's kind of amazing but he's got a you know, two sided, you know, dangerous multifamily software business that does both events and, and software as a service, which are super complimentary for what he's working on. And it's just been amazing to see the resiliency. I mean, it would have been very easy for him to shut it down. And many of my LPs reached out and said, Is God gonna survive? And I said, if you ask him, there is no quit here. There is no, you know, pulling this business up and just super proud of him. Another one is Conrad Wallace Xu scheme in MDX at at a business called trip scout. This is a travel business that serves consumers and just got crushed, absolutely crushed by the pandemic. Many travel companies went out of business, many large travel public businesses just are on the ropes like the TripAdvisor is of the world. And these guys have just made magic of, of the situation. It's, it's unbelievable, how they doubled down created more content and special guests. You know, created a almost like an Anthony Bourdain, like series on travel during the pandemic, travel from home, you know, everyone's stuck inside. How do you get the experience of being on a trip when you're at home? And coming out of the pandemic? they close? I think they recently closed 4 million bucks from accomplice, I mean, tier one VC there. I mean, they are on this upward trajectory, like I haven't seen. And it's it's kind of amazing. You know, there was never quit, there was never hesitation. There was optimism, despite a really tough situation. So those are two I would, I would just, you know, tip my cap to them. I'm glad and proud to be an investor in people like that more so than than anything. Trip scout and Flamingo. We'll have to check those out. All right. Well, thanks
36:53
a lot for joining us today, Nick. It's been a pleasure and best of luck as you continue to grow, you know, new stack and thanks for you know, launching VC dash rank.com. And the other work you do to support entrepreneurs and founders and of course, the podcast, which is one of my faves. So thanks for joining us today.
37:12
Yeah, thanks, Nick. Make sure you check out the full ratchet, visit the new stack website. They've got some great tools for founders on there.
37:20
Such a pleasure to be here guys. Thanks for having me and love the pod Keep it up. Can't wait to see who the next guest is.