Recessionary times, a record-setting IPO, and Minnesota's Resilient Startups
Great North Ventures

Aug 04 2020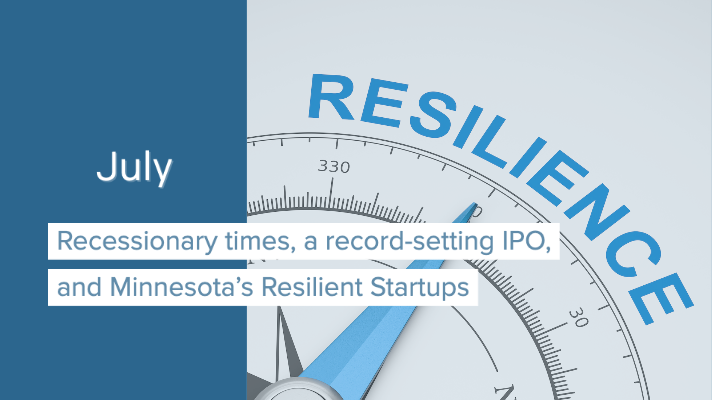 Today it was announced that last quarter's drop in GDP was the second largest ever recorded. Overall US economic output fell by 9.5%. This dire news comes on the heels of fantastic news for the MN tech startup community: the largest IPO from a Minnesota company ever, Jamf's $468M IPO and $4.7B market cap. 
Minnesota's Resilient Startups

In good times, founding a startup is hard. Being a successful operator is even harder. Add in the challenging times and limited resources of a recession, and you wind up with a pressure cooker that will test teams, products, and people to their limits. 

There is a history of successful companies weathering recessions, however. While some startups crumble under the pressure, others become diamonds. We compiled a list of Minnesota's Resilient Startups to showcase some of our state's startup successes that not only weathered tough times, but were formed during recessions. 
Leveraging Resilient Founders

It's no coincidence that many of our operating partners appear on that list. We believe that successful founders and operators make the best early stage investors because they've had to scale an emerging technology company before. Leveraging that experience to identify, invest in, and support startups is what makes Great North Labs unique compared to most seed funds.

Tech.MN recently interviewed Managing Partner Rob Weber about his own experience as a founder of a NativeX, which was founded in the wake of the dot-com bust. Rob also talks about what led him and Ryan Weber to found Great North Labs.
"For us, I have gotten to know a lot of other founders in Minnesota and the surrounding region and many of them, either through their business model or whatever, required more early-stage capital than we did. And I heard about how terrible it was for them to raise money the last 10-20 years.

I just thought, 'We can do this. We can invest in these companies and we can make money doing so.'

And that's what compelled me to write checks. It was almost a feeling of obligation. We got a little bit of capital, and great mentorship, from these guys from Silicon Valley and I just thought, 'We could do this here.'" – Rob Weber
Even with the challenges of a recession, we are positioned to continue contributing to a cycle of growth. We continue to build capacity in the innovation ecosystem by cultivating, capitalizing, and contributing to startup successes in Minnesota and the Upper Midwest. 
Events
Here are some interesting events rounding out the summer lineup.
Aug. 12th is the virtual OnRamp Healthcare Conference. "The conference highlights innovations disrupting health care and the future of medicine, the health care leaders making such innovations possible and how new technologies and business models will reinvent the industry."
Aug. 13-20th is ForwardFest in Madison, WI. This year's event is virtual and free."Join fellow entrepreneurs, nerds, geeks, hackers, foodies, and creatives from the Midwest in an 8-day celebration of innovation and entrepreneurship."
Sept. 7 – 25, 2020 is Twin Cities Startup Week. This is the biggest annual tech startup event in Minnesota. 2020's event is virtual, and will be spread over a month with sessions, networking, and education for founders, investors, and innovation-minded professionals.
Portfolio News

"CCRCs to participate in $3 million test of robots to curb resident loneliness, apathy"– Misty is encouraging social interaction in retirement homes in this study with Misty Robotics.

"The Lowdown on Discounts"– OSU campus publication featuring discounts from Plyo.

"PrintWithMe Announces National Partnership With Invesco Real Estate"– PrintWithMe agreement with 28th largest apartment owner in the US.

"Property risk increases as booking behaviour changes" – Problem trend, with success stories from NoiseAware.
Dispatch is hiring a Business Development Representative, Driver Engagement Agent, Inbound Marketing Specialist, Cloud Engineer, Data Engineer, Manager-Software Engineering, Quality Assurance Engineer, Software Engineer, and Support Engineer in Bloomington, MN.
FactoryFix is hiring a Team Lead – Full Stack Developer, Full Stack Developer, and Infrastructure Developer- DevOps in Madison, WI; a Recruiter, Sales Development Representative, and Account Executive in Chicago, IL.
PrintWithMe is hiring a Regional Sales Director on the East Coast; AR/AP Specialist, Inside Sales Executive in Chicago, IL; ; a Software Engineer, Account Manager, and Marketing Director for Remote work.
Parallax is hiring a Growth/Experienced Business Development Representative in Minneapolis, MN.
Branch is hiring a Data Platform Manager, Senior Backend Engineer, and Solutions Engineer in Minneapolis, MN or Remote; and a Customer Success Manager in Minneapolis, MN.
Inhabitr is hiring a Chief Growth Officer/Head of B2C Growth, a Chief Growth Officer/Head of Growth, and a Sales and Customer Experience Associate in Chicago, IL.
NoiseAware is hiring a COO, VP of Global Sales & Account Management, Back-end Developer, QA Technician (independent contractor), Account Manager, and Customer Advocate in Dallas, TX.