August: Great North Labs Startup Ecosystem Kickoff, ZAPinfo, and the necessity of advice and capital availability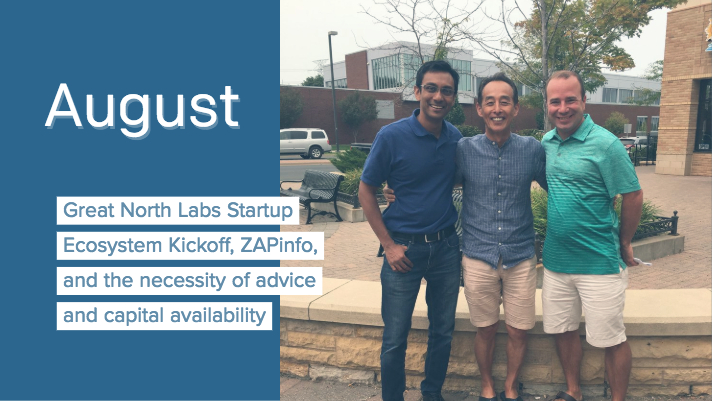 Great North Labs's August Update
Fostering Midwest success means making guidance and capital available for tech startups
Great North Labs got the front-page treatment in the Star Tribune Business section this Sunday. Former investment banker, consultant and corporate officer (and current business journalist) Lee Schafer talked about building successful tech companies with Ryan and Rob Weber– including the importance of providing advice and mentorship in addition to capital.
Rob also caught up with former advisor and mentor Young Sohn, President of Samsung, and former advisee and investee Mynul Khan, CEO of FieldNation. They illustrate the success that can come with "a little bit of money and a lot of advice".
If a startup is considering moving from the Midwest to find that success, as Rob says in the article, "It shouldn't be because the capital can't find you. It shouldn't be because you can't get the mentorship you need."
Events
September 17th, St. Cloud – Great North Labs Startup Ecosystem Kickoff. This invite-only event is THE annual event for Great North Labs! We will hear from:
Mary Grove, Partner at Revolution/Rise of the Rest Seed Fund, formerly Director of Google for Entrepreneurs
Margaret Anderson Kelliher, President/CEO of Minnesota High Tech Association
Matt Lewis, Director of Make It MSP @ Greater MSP, team member at Forge North
Mynul Khan, founder/ CEO of FieldNation
Corey Koskie, former Minnesota Twin, Founder at Linklete
Mark Ritchie, former Minnesota Secretary of State
Talks include "Why the Future is Bright for Startups Across America" and an "Outlook for Minnesota Technology & Innovation".
A panel discussion on Sports Tech features local startup executives from SportsEngine, SportsRadar, SportsHub, and Starting11, while an Outstate Entrepreneurship panel will feature leaders from local accelerators, investors and entrepreneurs who are actively involved in outstate, upper Midwest ventures.
Great North Labs portfolio companies will give updates, and will be available to connect with. These include: Dispatch, Structural, Pitchly, ZapInfo, TeamGenius and FactoryFix.
This is about building the startup ecosystem, so there will be plenty of time for some high-quality networking and hors d'oeuvres.
If you haven't received an invite, go here to request one. Tickets are free, but the invite list is filling up fast! After you receive your invitation, tickets for you and up to 2 guests can be claimed via Eventbrite.
October 8th-14th, Greater Minneapolis-St.Paul Area. Twin Cities Startup Week. With too many events scheduled to list, we'll just focus on our own:
Great North Labs Pre-TedX Happy Hour, St. Cloud. From 5-6pm October 11th, we'll gather at Great North Labs's headquarters for a happy hour ecosystem talk and networking, before TedX St.Cloud 2018: Cultivating, which will be held only a few blocks away, at the Paramount in St. Cloud.
Past Event: Forward Fest was a great event this year, with Ryan Weber in Madison for two days (Aug. 20-21) of the annual week-long Wisconsin startup gathering. The fun started at Starting Block Madison, where GNL Advisor Nick Kartos ( CEO-GymDandy) helped facilitate a meet-and-greet happy hour. The event pitted MN and WI microbrews against each other, while entrepreneurs and investors had a chance to check out Starting Block's space and hear about Great North Labs. The next day, Ryan moderated a panel on Startup-Corporate Partnerships at the Forward Technology Conference (Forward Fest's "headline tech conference"). Thanks to everyone who came out, and thanks for the help, Nick!
Portfolio action
ZAPinfo is new to the Great North Labs portfolio. Formerly WebClipDrop, ZAPinfo is an information automation and productivity tool that helps recruiters and sales professionals be more productive by capturing, enriching, and sharing data easily across the web and any web based applications. With one click, users can gather a plethora of information about candidates from a variety of web sources, and with another click export it to any web form or app, or to a CSV, PDF, or other data file.
ZAPinfo is led by CEO/founder Doug Berg, who previously founded Jobs2Web and techies.com, and is an expert on workforce and career trends.
New advisors
Great North Labs welcomed two new advisors in August:
Daine Billmark, Senior Manager at TransUnion (formerly eBureau).
Wade Beavers, President of Mobile at Newscycle Solutions.
Welcome to the team!
Job Board
Dispatch is hiring Drivers in Cincinnati, Chicago, Dallas, Kansas City, Orlando, and Minneapolis.
Structural is hiring an Account Executive and a Senior Software Engineer.
Team Genius is hiring a Lead Full-Stack Engineer.
Pitchly is hiring a UI/UX designer and Core engineer- watch for postings or contact directly for details.