March: Minnebar, Hockey + Hustlers, and Innovation Workshops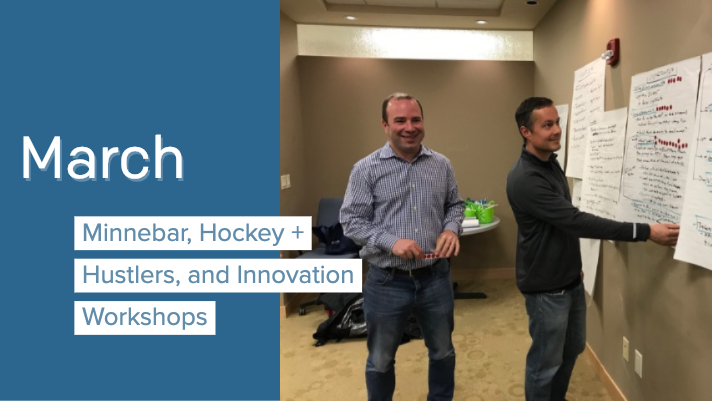 Minnebar is almost upon us and this year is going to be great. The annual event will take over Best Buy's headquarters for the fourteenth time, on April 27th. As always, it features local tech and startup community members, and an agenda of user-generated content that is vetted and voted on by said community. Both Ryan and Rob Weber are presenting and you can view their sessions (and vote for them!) here.
Ryan and Nick Tietz will be presenting an interactive talk called Developing A Moonshot Idea – Broadening Perspective & Thinking Creatively:
"This session is an interactive session designed to help you learn new skills to strengthen your adaptiveness! The two techniques you'll learn in this session are Question Storming and Future Wheels along with an intro to how these could be paired with exponential tech to come up with a Moonshot!"
Tietz has partnered with us recently on educational workshop content around innovation, and both Weber and Tietz are leaders of SingularityU Minneapolis-St. Paul Chapter.
Pictured: Great North Labs recently partnered with Nick Tietz of The Sota Enterprises to put on an Innovation Workshop. Find out more info about our Innovation Workshops here.
Moonshots are a key part of Singularity University's approach to solving huge global problems using rapidly growing (exponential) technologies. Ryan's other talk will elaborate the mission of SingularityU, and talk about exponential technologies and their future disruptive impact.
Don't miss SingularityU Minneapolis-St. Paul Chapter Intro to Exponential Technology & Leadership:
"Humans evolved based on a linear way of thinking and so it's difficult for most to imagine the impact that will come along with each of these technologies. There are currently about 20 exponential technologies have the potential to disrupt our lives as much as the internet and mobile did over the next 20 years. While disruption is certain, the future is up to us, to define how these exponential technologies impact the world."

This talk was one of the most popular talks last year, so sign up early! If you're interested in exponential technologies and using them to solve pressing global problems, check out the local chapter here.

Rob Weber will be holding a one-man pitch session with his VC Reverse Pitch- Learn a VC's investment criteria talk:

"Sick of pitching? Let's turn the tables so you can stop sweating it out over your pitch deck. I'll tell you what we look for, so you can decide whether your startup should get our investment."

It's a great opportunity for founders who want to know what VC's look for, without the pressure of a meeting.

Tickets go on sale April 11th at 2pm and sell out quickly!
Events
April 2nd, Sioux Falls, SD. Hustlers + Hockey, Sioux Falls Stampede vs. Lincoln Stars. Join Great North Labs for a special game-long happy hour as the Sioux Falls Stampede take on the Lincoln Stars. It's your basic venture- and startup-centric happy hour, but from a club-level bar/lounge at center ice. Thanks to our advisor Brian Schoenborn for the opportunity and his work organizing!

April 3rd, Sioux Falls, SD. Great North Labs is holding a Lean Startup Lunch and Learn at the Zeal Center for Entrepreneurship. Ryan Weber gives a practical overview of Lean, distilled from the material from the Great North Labs two-day Lean Startup Bootcamp. Join us at the Zeal Center for Entrepreneurship in Sioux Falls, for lunch, networking, and a chance to learn about creating, running, and growing efficient startups. Thanks to Andy Jorgenson and Thad Giedd for setting this up!
April 27th, Richfield, MN. Minnebar14. Held every year since 2006, Minnebar is a rite of passage for Twin Cities startups. "Minnebar is a user-generated conference that is participant-led. There are no keynote speakers or formal workshops, and all sessions are led by people from the tech and business communities. This event is free and open to anyone with a passion for technology!"

April 11th, Minneapolis, MN. OnRamp Insurance Conference. The OnRamp events were started by gener8tor to give startups access to corporate execs and late-stage investors. They have evolved into a series of vertical-specific events, including this one focused on Insurance. "The conference highlights innovations disrupting the insurance industry, the leaders making such innovations possible and how new technologies and business models will reinvent the industry."
April 13-17th, Minneapolis, MN. 33rd International Conference on Business Incubation. "The agenda will feature more than 30 educational sessions, multiple powerful keynote speakers, and several unique opportunities to meet, connect, and collaborate with peers from around the globe. ICBI will also provide unprecedented access to important resources and exciting networking opportunities with executives from some of America's largest corporations, all of whom are looking to connect with innovative entrepreneurs and the organizations that support them." Mary Grove, the local partner in Revolution's Rise of the Rest Seed Fund, is speaking.
Advisor News
Two Great North Labs advisors are new to the website!

Shawntera Hardy is the former Commissioner of the Minnesota Department of Employment and Economic Development (MN DEED). She is currently the Co-Founder/Head of Strategy of Civic Eagle, a SaaS platform that leverages artificial intelligence to help enterprises and non-profits identify, track, and analyze legislation and regulations. Shawntera is also Co-Founder of Fearless Commerce, a publication and platform focused on elevating Black Women business owners.
Casey Allen is the founder of Enterprise Rising and Health Rising, and the former co-founder and partner in the Skyway Fund. Enterprise Rising is an annual conference and community for Midwest enterprise startups. It will be downtown Minneapolis July 17-18 this year.
Job Board
Dispatchis hiring all over the country for Field Sales Representatives and Drivers and locally for Software Engineers and Biz Dev.
Structural is hiring a Customer Implementation Specialist Intern
TeamGenius is hiring a Sales Associate in Minneapolis.
FactoryFixis hiring a Software Engineer in Madison, and a Business Development Specialist and an Account Managers in Chicago.
Misty Robotics is hiring a Developer Writer and Head of Hardware in Boulder.
2ndKitchen is hiring a City Lead and Full-Stack Developer in Brooklyn.