The Dollars and Hours of Capacity Building, Ethical Entrepreneurship, and Impact Metrics to Date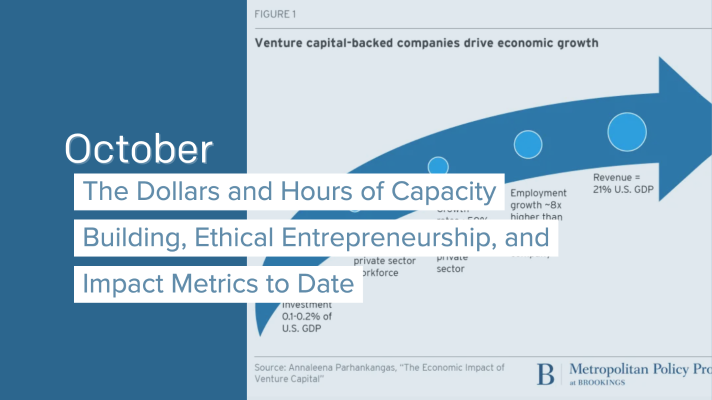 The world is changing, and a new wave of tech entrepreneurs are shaping the new normal. The tech sector is performing well as the need for innovation, necessitated by the pandemic, becomes more urgent.
As digital transformation accelerates in all sectors, and our country re-establishes its economic future, we are working to cultivate tech entrepreneurs in the Upper Midwest. By increasing the capacity of our innovation ecosystem, we can produce more startup successes locally. This benefits not only current founders and investors, but contributes to a sustainable economic future of the entire region. 
Building Capacity
We build capacity by donating time, money, and equity to organizations that support founders. Not every organization, but the ones we see as most impactful. By donating to those organizations, we support founders, the startup ecosystem, and the entire innovation economy.
Startups are fantastic drivers of economic activity. They are growth engines that take in capital and put out jobs – as well as create their own value. That's why it's so important to support them- and the organizations that encourage, enable, and enhance their existence.
So have we put our money where out mouth is? Any returning newsletter reader can attest that we certainly talk about building up the ecosystem enough. Well, now it's time for us to shut up and put up. Check out our complete cash, equity, and time donations to date, along with the organizations we donate to.
If you are a founder or startup employee that is interested in rising to the challenge, check out our Founders Pledge. It is as simple as pledging to donate 1% or more of equity to the nonprofits that you find worthwhile. If you eventually have a big exit, that donation can mean MAJOR impact for a nonprofit organization. Our founding partners have pledged at least 2% of their personal interests in our debut fund, and we look forward to sharing our success with these impactful nonprofits. 
Ethical Entrepreneurship
"The question 'does this make for a better society?' is a question we don't typically ask entrepreneurs to think about, but they should be" says Laura Dunham, Associate Dean of the Schulze School of Entrepreneurship at St. Thomas University. Dunham was recently featured on Stanford Innovation Lab's podcast, eCorner.
Dunham speaks specifically to ethical behavior among entrepreneurs, but the same principle applies to us. So, does our investing make for a better society? Do our capacity building efforts bear fruit?
Time will tell on the tech side of things, but we can share some impact metrics. So far we have invested in 22 early-stage startups. They have attracted $138.4M in total funding, and have created ~750 jobs. Of those startups, 2 have rural presences (HQ or significant office), 4 have female founders, and 3 have minority founders and combined. These startups from underrepresented categories account for 30% of our invested capital to date.
Events
Here is a mix of upcoming events, for investors, founders, and/or ecosystem supporters. All events are virtual unless otherwise noted.
Portfolio News
Airbnb to Ban or Cancel One-Night Stays on Halloween Weekend to Deter House Parties. NoiseAware has a new deal with Vrbo, as Halloween brings a round of pre-emptive, "possible Halloween party" cancellations to AirBnB.
PrintWithMe Announces National Partnership With Trammell Crow Residential. PrintWithMe has inked a deal with one of the nation's largest developers of multifamily apartments.
BabyQuip and Inhabitr Form Strategic Partnership to Provide Long Term Baby Gear Rentals to Millennial Families. Inhabitr has a new partnership to provide baby gear rentals through its furniture rental platform. 
Dispatch is hiring a Business Development Representative, Account Executive, and Customer Service Representative in Bloomington, MN; a Ruby Developer and Senior Ruby Developer for Remote work. Also Territory Sales Managers in Baltimore, MD, and Washington D.C.
FactoryFixis hiring a Team Lead – Full Stack Developer, Full Stack Developer, and Infrastructure Developer- DevOps in Madison, WI; and a Sales Development Representative in Chicago, IL, Indianapolis, IN, or Madison, WI.
PrintWithMe ishiring Regional Sales Directors on the East Coast and in Texas; Operations Lead in Chicago, IL; VS/SVP of Operations, Marketing Director, Inside Sales Executive, and Director of Revenue Operations for Remote work.
Parallax is hiring an Experienced Product Designer in Edina, MN.
Branch is hiring a Data Platform Manager, Senior Software Engineer, and Enterprise Support Specialist for remote work.
Inhabitr is hiring an Operations & Customer Experience Director – B2B Team in Chicago, IL.
Clinician Nexusis hiring a Customer Success Manager in Minneapolis, MN.
NoiseAwareis hiring a Director of Finance, QA Technician (independent contractor), Account Manager, and a Customer Advocate in Dallas, TX.
PartySlate is hiring a Senior Growth Marketing Manager in Chicago, IL.