How Founders Spend Big Exit $$$, Flywheel, and St. Thomas: Innovation sans Full-Time MBA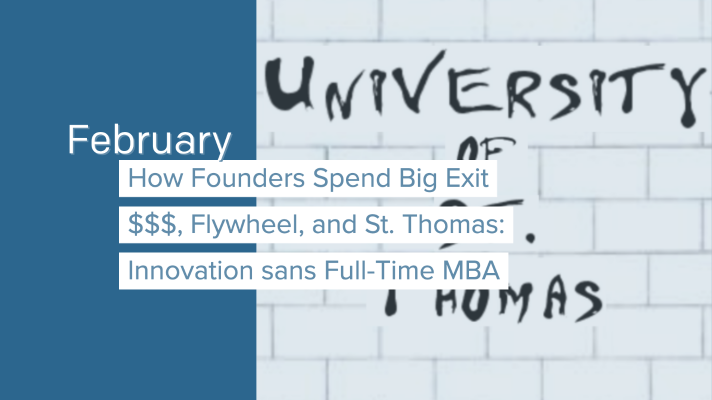 Welcome back to the Great North Labs newsletter!

With so many great startups getting acquired or going IPO lately, one wonders: What do founders do when they score these big windfalls?

How Do Founders Spend Their Cash?
Rob Weber was curious, so he asked other successful founders from the region about their post-exit strategies. Do they do the kind of flashy things coastal entrepreneurs do? You know, like buy an island or a 100-foot yacht or something?

From Lamborghinis to Hamm's beer signs, traveling the world to giving back to their local entrepreneurial communities, these founders have quite the stories.

Read the full article in BuiltIn Chicago,
"The Weird and Wonderful Things Midwest Founders do After They've Had a Big Exit".

How University of St. Thomas Raises Up Startup Entrepreneurship

The University of St. Thomas (UST) has ~10,000 students, with over 34,000 business school alumni around the world. Recently, UST announced the end of their full-time MBA offering. At first glance, that may seem like a blow to the future of entrepreneurial development at the university. We dug into the details to get a better of picture of what's going on at the university to support innovation, startups, and entrepreneurs.
Our Senior Analyst, Mike Schulte (JD/MBA '17), shared his experience and insights into the university including these highlights:
The Aristotle Fund provides real investing experience to students
Servant Leadership creates ethical behavior in entrepreneurs
The Schulze School of Entrepreneurship pays students to work at early-stage startups
gBeta St. Thomas program supports alumni founders
Mentor Externships give you a dose of the day-to-day reality, before you're committed to it
Students gain real consulting experience with real clients
Events
Here is a mix of upcoming events for investors, founders, and/or ecosystem supporters. All events listed are virtual unless otherwise noted.
Mar. 17th, Wisconsin Tech Summit. "The goal of the Wisconsin Tech Summit is to bring together major companies and emerging firms in a setting that allows them to meet and explore likely business relationships around technology needs and innovation."
Mar. 23-25th, midwest.tech. "One-on-one meetings for Midwest-based or Midwest-linked startup founders, VCs, angel investors, incubators, and accelerators – focused on Pre-Seed, Seed, and Series A stages".
Apr. 27-28th, InvestMidwest Venture Capital Forum. "InvestMidwest highlights startups in the Midwest region with the most promise for success that are currently seeking Series A or B funding of $1M to $20M."
Portfolio News
Flywheel is new to the Great North Labs portfolio! Flywheel is the leading research data platform that provides the tools needed for data import, automated curation, image processing, machine learning workflows, and secure collaboration. By leveraging cloud scalability and automating research workflows, Flywheel helps organizations scale research data and analysis, improve scientific collaboration and accelerate discoveries.

Allergy Amulet launched their product! "The world's smallest & fastest consumer food allergen sensor" quickly sold out. Sign up on the Allergy Amulet website to receive info on future release dates.

"Flywheel raises $15 mn co-led by Beringea and 8VC". Flywheel's series-B round included Great North Labs as well as well-known global VCs.

"Venture capitalists invested a record $1.9B in Minnesota in 2020". The $1.9B in VC included EmpowerU's recent raise, along with Bright Health, Arctic Wolf, and Revol Greens.