April: Minnebar Recap, ZenLord Pro, and Supporting Entrepreneurs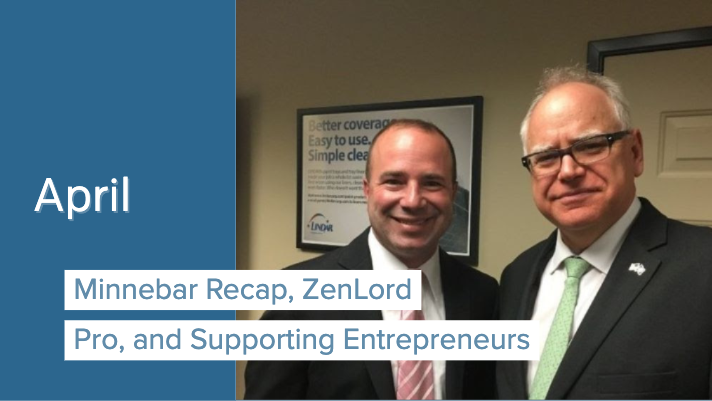 Is it spring already? Where is the late-April blizzard? Ah well, there's always a surprise October snow to look forward to.
MinneBar 14 was this past weekend, with 1700+ tech enthusiasts gathering at Best Buy HQ for the best local tech event this side of Twin Cities Startup Week. As they say, a good time was had by all. Our recap will walk you through the highlights and show you why we love it.
Speaking of Twin Cities Startup Week, mark your calendar for this October 9-16th. It's going to be a good one this year. And hopefully snow-free!
Rob Weber has been supporting entrepreneurs in St. Cloud and hanging out with the Governor. Read all about it on the Greater St. Cloud Development Corporation's website.
While you're at it, do a little supporting yourself by contacting your state rep about supporting the Minnesota Innovation Collaborative. Steve Grove, MN DEED's commissioner, has some big plans, and he knows a thing or two about both public policy and supporting entrepreneurship.
Mary Grove does too, as the former director of Google for Entrepreneurs. She was on-hand at MinneBar to present "VC Reverse Pitch" with Rob Weber, where they shared metrics and qualifications they look when investing as VC's. Mary, a partner in Revolution's Rise of the Rest Seed Fund, also spoke about partnering with Great North Labs, "One of the reasons we like co-investing with Great North Labs is because Rob and Ryan have the experience of building, growing, and exiting a company."
Speaking of ecosystem building, a great article came out comparing Sioux Falls and Fargo. Sioux Falls and Fargo: Two Approaches to Building Startup Ecosystems. It's a great intro for anyone interested in the tech and entrepreneurship communities in the two cities, or for anyone interested in practical examples over theory.
Upcoming Events
Beta Showcase Spring 2019-May 8th, Minneapolis, MN. It is "a science fair for startups, with beer and music".
Minnesota Entrepreneur Kickoff – May 14th, Fort Snelling, MN. This annual event is devoted to growing the MN entrepreneur ecosystem. Ryan Weber will be presenting on Exponential Technology.
5 Lakes Forum– May 14th, Milwaukee, WI. "5 LAKES Forum is a launchpad for tech and startup leaders from the Great Lakes region to create meaningful connections and navigate high-level business and technology topics."
EntreFest – May 16-17th, Cedar Rapids, IA. A two-day conference for entrepreneurship and innovation professionals. Ryan Weber will appear on two investor panels, and will also be speaking on Exponential Technology.
Drone Focus – May 29th, Fargo, ND. This conference is expanding their focus to include the infrastructure, software, systems, and resources for autonomous systems. It is put on annually by Emerging Prairie.
Lean Startup Bootcamp – May 29th-June 19th, St. Cloud, MN. Join Great North Labs for our Lean Startup Bootcamp to level-up your skills as an entrepreneur, a product manager, or student of innovation. This work-friendly training is from 6-8:30 p.m. for four consecutive Wednesdays.
SingularityU Minneapolis-St.Paul Chapter Kickoff – June 4th, Minneapolis, MN. Join chapter co-ambassador Ryan Weber for the inaugural event of this organization, one of only 2 Midwest chapters of a total 142 chapters in 66 countries worldwide. SU-MSP is focused on education, networking and community, with a mission to work to solve the world's most pressing problems with exponential technologies. (Signup and Speakers TBD).
Portfolio Action
ZenLord Pro is live with a new website. The landlord management software startup also has a flashy new explainer video, in case you're looking for an easy way to manage your rentals or just need to understand what it is, exactly, that they do. 
New Advisors
Six Great North Labs advisors are new to the team.

Nick Tietz is the former Director of New Business Development and Innovation at Life Time Fitness, and is a co-founder of VariAware, LLC and Vitals Aware Services. Nick is the founder of The Sota Enterprises, where works with companies and startup founders to turn ideas into assets. Among other things, he partners with Great North on Innovation Workshops.


Aaron Kardell is Founder & CEO of HomeSpotter, which is a "relationship engine" for brokers, real estate agents, and clients. 
He is the former founder & CEO of Mobile Realty Apps, and co-founder of Deals.by.


Casey Carl is CEO and founder of North Coast Ventures, a strategic advising and early stage venture investment company. He is also the Chairman of the Board of Directors at Minnesota health nonprofit MATTER.


Thompson Aderinkomi is co-founder and CEO of Nice Healthcare, which is a primary care clinic that provides care through in-home and remote video visits. He also co-founded Relate, and is a former co-founder and board member of Healthcare.mn.


Bryan Laskin is the founder of Operability, LLC, which is leading development for cloud based communications for the healthcare industry. He is also the SVP of Innovation for Dental Care Alliance, and co-founder of Talentship.


Scott Resnick is theCOO of Hardin Design & Development, and is the current Entrepreneur is Residence at StartingBlock Madison. He is also the former Executive Director of StartingBlock, which is an entrepreneurial hub in Madison (similar to 1871 in Chicago).
Job Board
Dispatch is hiring all over the country for Field Sales Representatives and Drivers and for a variety of positions in Bloomington, MN. 
Structural is hiring a Digital Marketing Specialist in St.Paul.
TeamGenius is hiring a Part-time Customer Success Associate in Minneapolis. 
FactoryFix is hiring a Software Engineer in Madison, and a Business Development Specialist, Business Development Manager, and a Key Accounts Manager in Chicago.
Misty Robotics is hiring a Head of Hardware and a Manufacturing and Repair Engineer in Boulder. 
Pepr is hiring for Business Development – Outbound Sales in Minneapolis. 
2ndKitchen is hiring a City Lead and a Full-Stack Developer in Brooklyn, NY.