Taking the Founders Pledge, Inhabitr, and gBETA Pitch Night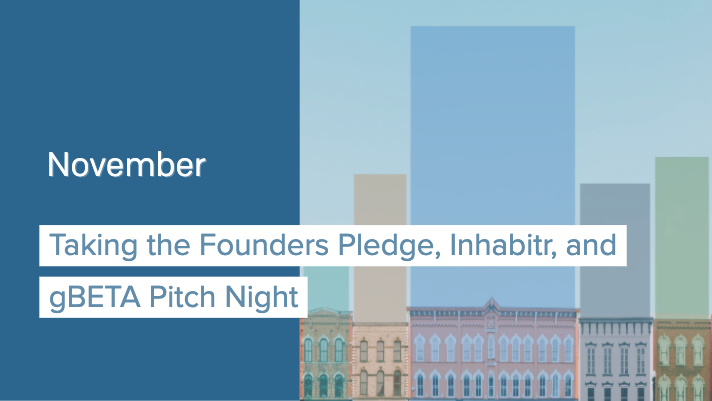 Happy Thanksgiving, and welcome back to the Great North Labs newsletter!

This is the perfect time of year to reflect on what we are thankful for, and for giving back. We are most thankful for our investors, our advisors, and our portfolio companies, of course! They are the reasons we exist, work, and succeed.

We are also thankful for the developing startup ecosystem in Minnesota and the Upper Midwest. There have been great developments recently like the Launch MN Initiative, the first Greater MN accelerator, and one of the largest seed funds ever raised in the Midwest! 

There is still a need to improve. There are valid and pressing worries about the creation, automation, and distribution of jobs. Innovation and startups are increasingly important to our future. Did you know that from 1980-2010 about half of all jobs created in the US were from high-growth startups? 
 
Founders Pledge

That is why we are challenging founders in Minnesota to make a Founders Pledge! The Founders Pledge is an international movement of founders dedicating equity to support nonprofits. This is a way for cash-strapped founders to provide impactful contributions to organizations they find important.
There are several existing structures and organizations, but basically, to make a Founders Pledge startup founders donate a portion of their future proceeds to local nonprofits. They give support to the organizations that support them. If the Founders Pledge becomes ingrained in the culture of our startups, it will create a virtuous cycle between successful startups and the people and organizations that help them succeed.
Supporting the Startup Ecosystem

According to research on early-stage entrepreneurship from the Kauffman Foundation, Minnesota is lagging behind on 4 key indicators of success. Our rate of new entrepreneurs, opportunity share of new entrepreneurs, startup early job creation, and startup early survival rate are all below average, with our composite score putting us at 46th compared to the rest of the US.

Nonprofits are a vital part of supporting early-stage entrepreneurship, and creating favorable outcomes for founders. By contributing to their success, founders can increase the chances of their own and future startups' success. Join the movement and Great North Labs in making a Founders Pledge!
Events
The holidays are a busy time for everyone! If you find some time between family and friends, here are some events worth attending:
Portfolio News
Inhabitr closed a $4M dollar series A round, led by Great North Labs. The news of the Chicago-based furniture rental platform was covered in TechCrunch, and in this piece by ChicagoInno.
2ndKitchen closed a $4.35M round. This startup connects restaurant kitchens with kitchen-less venues, such as bars and breweries. Investors included Hyde Park Venture Partners, Math Ventures, and M25.
Dispatch was named to CNBC's Upstart 100, which includes "100 of the world's most promising start-ups to watch in 2019". Congratulations to the Dispatch team!

Job Board
Dispatch is hiring all over the country for Part Time Drivers and in Bloomington, MN for a Biz Dev Representative, HR Manager (Remote OK), Data Scientist, and CFO. 
Structural is hiring an Associate Software Engineer in Indianapolis or St. Paul, MN. 
TeamGenius is hiring a Sales Associate in Minneapolis. 
FactoryFix is hiring a Software Engineer, Product Designer, and UX Designer in Madison, and a Biz Dev Specialist and Account Manager in Chicago.
2ndKitchen is hiring a Customer Success Manager, Account Executive, and Director of Sales in Chicago. 
PrintWithMe is hiring a Customer Success Associate, Network Operations Specialist, and an Operations Lead in Chicago; Super User Technicians in Portland and Houston; and a Regional Sales Director for the West Coast.
Parallax is hiring a Customer Success Specialist, Quality Assurance Engineer, Senior Software Engineer, and for a Growth/Customer Acquisition role in Minneapolis. 
Branch is hiring a Content Marketing Manager, Settlement Analyst, Customer Support Agent, Customer Success Manager, and Senior Backend Engineer in Minneapolis.