Oct.-Nov.: Singularity University, Exponential Tech, and the State of Innovation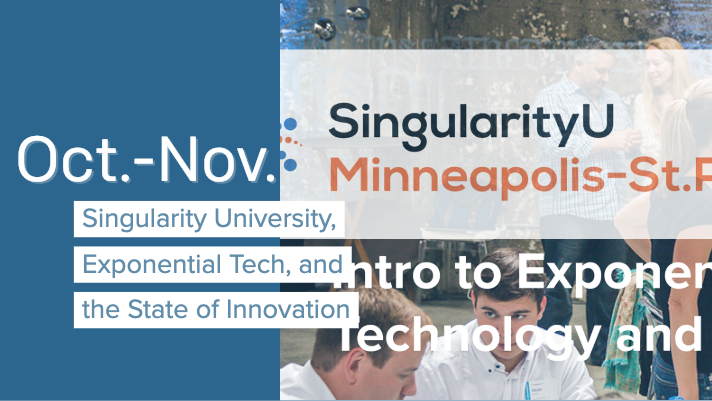 Exponential Tech with SingularityU Minneapolis-St. Paul
Great North Labs Managing Partner Ryan Weber is now co-ambassador for Singularity University's chapter here in the Twin Cities! SingularityU Minneapolis-St.Paul is one of 126 SU chapters in 63 countries.

Singularity University is a global learning and innovation community using exponential technologies to tackle the world's biggest challenges. Through their Grand Challenges, SU provokes moonshot thinking with global impact. Headquartered at NASA in Silicon Valley, SingularityUniversity empowers individuals andorganizations across the globe to learn, connect, and innovate breakthrough solutions using accelerating technologies like artificial intelligence, robotics, anddigital biology.

"In venture capital, we are looking at the next ten years- Singularity is looking beyond that at the next hundred." – Ryan Weber

Great North Labs is excited to be part of this accomplished global community of innovators, and we think Singularity University is an important addition to the local techand venture ecosystem. Like Ryan and Rob Weber's (and our advisors') involvement in local incubator/accelerator mentorship programs, this venture will help develop and support the tech andstartup ecosystem in Minnesota andacross the Midwest.
Technology is changing at an exponential pace, and bringing exponential changes with it (think cell phones, or the internet). There are people on the coasts at thebleeding edge of this new tech, generating patents and research, and many of these advances can be used here to create value with new products and startups.  

"The Midwest is in a unique position because of the large incumbent industry players, so that even if most of the research and patents are being created on the coasts, we are in the best position to create applications to harness these technologies." -Ryan Weber

For example, while it may have been a Stanford team that led the charge to create the first self-driving vehicles, guess where they are building self-driving tractors? In Fargo, the Grand Farms initiative has applied for a grant to build thefirst fully-autonomous farm by 2025. One of the leaders of this moonshot initiative is Greg Tehven, executive director of Emerging Prairie and a Great North Labs advisor. 

Tomorrow, Nov. 9, Ryan Weber is partnering with Tehven to bring Great North Labs and SingularityU Minneapolis-St. Paul to Fargo with an Intro to Exponential Technology & Leadership. The talk is from 3-4 p.m. at Prairie Den. If you're in Fargo andwant to meet with Ryan one-on-one, sign up for a meeting time. 
Events

Nov. 27th-28th, IoT Summit Chicago, Chicago. In its sixth year, IoT Summit Chicago is a convergence of IoT thought leadership and innovation from across the region.

Nov. 29th, 2018 Tekne Awards, Minneapolis. "Each year the Tekne Awards shine a spotlight on Minnesota's science and technology community by honoring innovation across numerous industries."

Dec. 4th, December "State of Innovation" Meetup, Minneapolis. MinneInno's periodic exploration of Twin Cities startup and innovation scene features food, drink, and networking in addition to a speaker, panel, or showcase.

TBD, Anderson Center Governance Forum, 2019 dates and locations are forthcoming for this St. Cloud-based, 3-day forum aimed at improving theperformance and effectiveness of directors and board members. Visit thewebsite for inquiries.


Portfolio action
Dispatch is enjoying some remarkable growth, including mulit-city expansion, which has also led to increased investor interest.

Great North Labs is considering multiple investments for Q4, as well as follow-on investments with existing investees. More exciting announcements are to come!

New advisors

Great North Labs recently welcomed four new advisors:

Ann Rupnow is the Entrepreneurship and Economic Development Coordinator at University of Wisconsin-Eau Claire.

Greg Tehven is the co-founder and director of Emerging Prairie, an adjunct professor at North Dakota State University's College of Business, curator ofTEDxFargo, and host of 1 Million Cups Fargo.

John Sheehan is the VP of Product Management at CA Technologies. He formerly was the co-founder Runscope, and headed Developer Evangelism at Twilio.

Daren Cotter is the founder & CEO of InboxDollars.

Welcome to the team!


Job Board

Dispatch is hiring Drivers in Cincinnati, Chicago, Dallas, Kansas City, Orlando (and Ft. Mary), Fort Worth, and Minneapolis (and St. Paul and Golden Valley).
Structural is hiring an Account Executive and an Office Administrator.
FactoryFix is hiring a Vue.js Developer, and a Business Development Rep.
Team Genius – watch for postings on the Team Genius website.
Pitchly – watch for postings on the Pitchly website.
ZAPinfo – watch for postings on the ZAPinfo website.