The world is changing, and a new wave of tech entrepreneurs are shaping the new normal. The tech sector is performing well as the need for innovation, necessitated by the pandemic, becomes more urgent.
As digital transformation accelerates in all sectors, and our country re-establishes its economic future, we are working to cultivate tech entrepreneurs in the Upper Midwest. By increasing the capacity of our innovation ecosystem, we can produce more startup successes locally. This benefits not only current founders and investors, but contributes to a sustainable economic future of the entire region. 
Building Capacity
We build capacity by donating time, money, and equity to organizations that support founders. Not every organization, but the ones we see as most impactful. By donating to those organizations, we support founders, the startup ecosystem, and the entire innovation economy.
Startups are fantastic drivers of economic activity. They are growth engines that take in capital and put out jobs – as well as create their own value. That's why it's so important to support them- and the organizations that encourage, enable, and enhance their existence.
So have we put our money where out mouth is? Any returning newsletter reader can attest that we certainly talk about building up the ecosystem enough. Well, now it's time for us to shut up and put up. Check out our complete cash, equity, and time donations to date, along with the organizations we donate to.
If you are a founder or startup employee that is interested in rising to the challenge, check out our Founders Pledge. It is as simple as pledging to donate 1% or more of equity to the nonprofits that you find worthwhile. If you eventually have a big exit, that donation can mean MAJOR impact for a nonprofit organization. Our founding partners have pledged at least 2% of their personal interests in our debut fund, and we look forward to sharing our success with these impactful nonprofits. 
Ethical Entrepreneurship
"The question 'does this make for a better society?' is a question we don't typically ask entrepreneurs to think about, but they should be" says Laura Dunham, Associate Dean of the Schulze School of Entrepreneurship at St. Thomas University. Dunham was recently featured on Stanford Innovation Lab's podcast, eCorner.
Dunham speaks specifically to ethical behavior among entrepreneurs, but the same principle applies to us. So, does our investing make for a better society? Do our capacity building efforts bear fruit?
Time will tell on the tech side of things, but we can share some impact metrics. So far we have invested in 22 early-stage startups. They have attracted $138.4M in total funding, and have created ~750 jobs. Of those startups, 2 have rural presences (HQ or significant office), 4 have female founders, and 3 have minority founders and combined. These startups from underrepresented categories account for 30% of our invested capital to date.
Events
Here is a mix of upcoming events, for investors, founders, and/or ecosystem supporters. All events are virtual unless otherwise noted.
Portfolio News
Airbnb to Ban or Cancel One-Night Stays on Halloween Weekend to Deter House Parties. NoiseAware has a new deal with Vrbo, as Halloween brings a round of pre-emptive, "possible Halloween party" cancellations to AirBnB.
PrintWithMe Announces National Partnership With Trammell Crow Residential. PrintWithMe has inked a deal with one of the nation's largest developers of multifamily apartments.
BabyQuip and Inhabitr Form Strategic Partnership to Provide Long Term Baby Gear Rentals to Millennial Families. Inhabitr has a new partnership to provide baby gear rentals through its furniture rental platform. 
Dispatch is hiring a Business Development Representative, Account Executive, and Customer Service Representative in Bloomington, MN; a Ruby Developer and Senior Ruby Developer for Remote work. Also Territory Sales Managers in Baltimore, MD, and Washington D.C.
FactoryFixis hiring a Team Lead – Full Stack Developer, Full Stack Developer, and Infrastructure Developer- DevOps in Madison, WI; and a Sales Development Representative in Chicago, IL, Indianapolis, IN, or Madison, WI.
PrintWithMe ishiring Regional Sales Directors on the East Coast and in Texas; Operations Lead in Chicago, IL; VS/SVP of Operations, Marketing Director, Inside Sales Executive, and Director of Revenue Operations for Remote work.
Parallax is hiring an Experienced Product Designer in Edina, MN.
Branch is hiring a Data Platform Manager, Senior Software Engineer, and Enterprise Support Specialist for remote work.
Inhabitr is hiring an Operations & Customer Experience Director – B2B Team in Chicago, IL.
Clinician Nexusis hiring a Customer Success Manager in Minneapolis, MN.
NoiseAwareis hiring a Director of Finance, QA Technician (independent contractor), Account Manager, and a Customer Advocate in Dallas, TX.
PartySlate is hiring a Senior Growth Marketing Manager in Chicago, IL.
Entrepreneurship is a proven, capital-efficient way to build economic value and transform regions. It doesn't just happen, though. Developing talent, supporting founders, and delivering capital and connections to promising ventures are all key. They are all necessary for driving innovation, which drives value creation.
According to Brookings, "Annually, venture investment makes up only 0.2% of GDP, but delivers an astonishing 21% of U.S. GDP in the form of VC-backed business revenues."
These key functions of a productive startup ecosystem don't just happen. They need to be built and executed, and supported themselves. We founded Great North Labs to deliver the capital and connections, but other organizations are needed to provide the additional support.
We are committed to doing our part to support these organizations.
So what does that actually mean? What are we actually doing?
Our Contributions
We donate equity through our Founders Pledge, lean in with hands-on support, and our Partners donate cash. Here is an accounting of what we have contributed to date since our 2017 inception.
To put that in context, that's roughly 41% of our annual management fee given in cash, and 45 work weeks worth of labor. Through our Founders Pledge, our founders have pledged to give at least 2 percent of our own personal interests from our $23.7M debut venture fund to local nonprofits. In other words, we are serious about this.
Who we Support
Great North Labs has committed to supporting the organizations that we see impacting startups, and we challenge others to do the same with donations of time, money, or equity. To back up that challenge, we believe in being transparent about our own donations.
Supporting an Innovative Economy
We believe in supporting organizations that are impacting local startups. We believe in building up the ecosystem to produce more winners.
The Midwest has a rich history of generating winners, even during difficult economic times. We have hard-working, educated talent, we have the capital, and we have the networks capable of supporting breakout startups.
Whether you call it digital transformation, disruptive innovation, or the 4th industrial revolution – the fact is that technology is driving changes that affect every facet of our lives and economy. The pace of transformation is only increasing as the pandemic accelerates the need for tech innovation and drives tech sector growth and consumer adoption.
Currently, Silicon Valley and the east coast attract the lion's share of startup funding, develop the biggest companies, and create the most value in their economies from startups. They are harnessing innovation to drive their economies. With the right systems in place, we can do it here, too.
On July 4th, 239 years ago, a group of entrepreneurs, visionaries, and leaders came together to free themselves from a politically oppressive system that they found socially and economically limiting. The country they founded promised life, liberty and the pursuit of happiness- free from tyranny and organized in a way "most likely to effect their Safety and Happiness".
The American Dream is one of a meritocracy- work hard and be rewarded. This remains a dream for many who are hobbled by systemic barriers. Their success isn't solely dependent on their talents and hard work, but on factors outside of their control like where they are born, who their parents are, and what color their skin is.
The murder of George Floyd has exposed some of these barriers in a horrifying way. Not all people are safe and happy. Many are being denied the pursuit of happiness, liberty, and their very lives. For these citizens, our country isn't a meritocracy. For these citizens, our country isn't living up to its founding principles.
As entrepreneurs and investors, we characterize the issues in terms we can understand and work with. We see the root problem as economic deprivation. Existing inequalities are the symptoms of this problem, and the solution is to give everyone a fair chance to succeed. That's why our team works to provide equitable opportunities for success through charitable giving, training, and mentorship. We help entrepreneurs to have a chance at success, and we put in the effort to make it happen.
As a venture fund we have only one KPI: returns. Our investing is driven by profits for shareholders. We make investments almost exclusively off referrals- from our advisors, investors, other funds and ecosystem partners. While we believe our efforts are equitable, we don't currently measure demographics in our deal pipeline. In the words of Peter Drucker, "you can't manage what you can't measure".
So moving forward, as we log opportunities for observation and investment consideration, we will be tracking demographic profiles of the founding teams. We will also be tracking demographic profiles in our startup school initiative. These measurements will allow us to ensure that we are seeing opportunities from a representative sample of our region's population. The data will guide the creation of specific action plans to improve the equity of our investment pipeline wherever necessary, so that we can be held accountable to providing fair access to our capital pipeline, our mentorship, and training initiatives.
We aren't focused on the short-term. This is a marathon, not a sprint. Here in the upper Midwest, we are contributing to a cycle of growth by building capacity in the innovation ecosystem. The cycle includes not only harvesting profits, but cultivating startups. And by making this cycle accessible, by sharing the plans and the keys to growth engines with underserved communities, we can catalyze the generational change necessary to truly impact disadvantaged people in the region for the next 239 years.
Events
Summer is in full swing. After the 4th, check out these events.
Portfolio News
Misty Robotics has developed a new skill for the robot, "Misty", that turns it into a Temperature Screening Assistant. The skill turns Misty into an autonomous, customizable, user-friendly solution for touchless COVID-19 screening. 
Advisor News
Great North Labs has added a Venture Analyst to the team! Emily Shirley is a graduate of Miami University's Finance and Entrepreneurship program. While at Miami University, Emily co-founded the Social Impact Fund, first undergraduate-led social impact fund in the country. Her recent experience includes as a Strategic Account intern at Cintrifuse. 
Job Board
Dispatch is hiring Product Manager, Product Owner, and Quality Assurance Engineer in Bloomington, MN. Territory Sales Manager positions are open in Atlanta, Kansas City, Memphis, Milwaukee, Nashville, St. Louis, and Minneapolis.
FactoryFix is hiring a Team Lead – Full Stack Developer, Full Stack Developer, and Infrastructure Developer- DevOps in Madison, WI; a Recruiter, and Business Development Rep in Chicago, IL.
PrintWithMe is hiring a Regional Sales Director on the East Coast; a Software Engineer, Summer Strategy Intern (MBA), Summer Strategy Intern (undergraduate), AR/AP Specialist, Account Manager, and Recruiter for Remote work.
Parallax is hiring for Growth/Customer Acquisition in Minneapolis, MN.
Inhabitr is hiring a Chief Growth Officer/Head of B2C Growth and a Sales and Customer Experience Associate in Chicago, IL.
Clinician Nexus is hiring a Product Manager in Minneapolis or Remote.
NoiseAware is hiring a COO, VP of Global Sales & Account Management, Product Marketing Manager, UI/UX Designer, Account Manager, and Customer Advocate in Dallas, TX.
Forecasts of the economic impact are still developing as the COVID-19 pandemic continues. Mary Meeker (famed for her annual Internet Trends report) released a report on coronavirus trends as an exclusive to Axios. Takeaways from the trends report include the acceleration of digital transformation, the inclusion of more scientists and domain experts, and the broad technological evolution of healthcare.

The report closes on a note of optimism, imagining the positive impacts the pandemic can produce if it brings people together to work for common good, saying, "We also need government, business, and entrepreneurial intervention at scale (deployed logically and effectively) to get to the other side. All must work together to ensure jobs and restart the economy so citizens have confidence they can work, have sufficient safety nets and take care of themselves, families and loved ones".

Business and Entrepreneurial Intervention
Government intervention in the crisis is well-covered in the news (and in our last newsletter). As far as business and entrepreneurial intervention are concerned, Great North Labs has been busy. Our team has scaled up charitable giving to organizations. Our portfolio companies are responding in a variety of impactful ways. Our fund has continued investing in promising startups.
Nonprofits and other organizations that depend on events and donations are hurting at this time. One organization we support is the CentraCare Foundation, who is raising a COVID-19 Emergency Response Fund at this time. If you are interested in supporting them, donate before May 30th and your donation will be doubled due in part to a donation from our managing partners Rob and Ryan Weber.
People are mobilizing to help each other and fight the pandemic together. Our portfolio companies are active in the fight. Dispatch, Clinician Nexus, 2ndKitchen, and PrintWithMe have been supporting local businesses, supporting medical staff, and sourcing necessary supplies. You can read about their exploits, and more about charitable giving, in this recent article.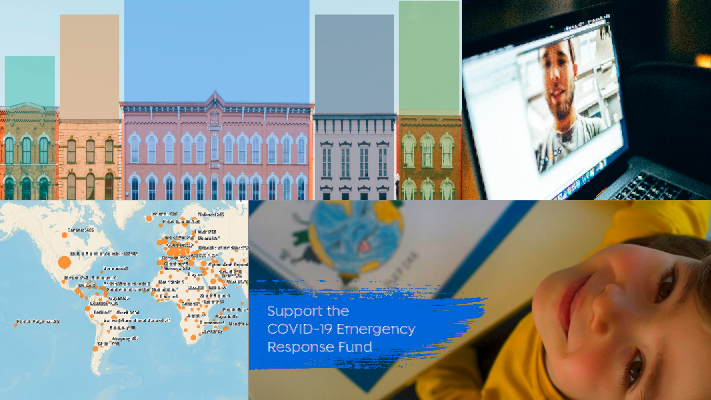 While Great North Labs has closed two unannounced deals since early March, it is no secret that venture investing overall has slowed down. Managing Partner Rob Weber shared his short- and long-term forecasts with MinneInno in a recent article about the effects of COVID-19 on VC.
"The bar for getting funded will certainly be even higher given the market turmoil, but should not deter founders from trying to raise altogether if they think they are VC ready," Weber said. "Long term, I continue to remain very bullish on Minnesota and other Midwest-based startups."
Founders Survey
Speaking of founders who are ready for VC investment, we are seeking anonymous responses from startup founders and co-founders on your awareness and opinions of early-stage investors in the region. If you are a startup founder in one of the following states: MN, IA, IL, WI ND, SD- please take our survey!
We value your opinions, and are providing completed survey respondents with a $10 Amazon e-gift card. E-gift cards are delivered by email, and can be used to credit your Amazon account for future use, or used for an immediate purchase.
Events
Due to public health and safety considerations, many events mentioned in previous newsletters have been rescheduled or canceled, including the Great North Labs Startup Summit 2020. Originally planned for August 27th, this year's in-person conference has been canceled. We are exploring options for virtual events, and will keep you updated on changes.
Here are some virtual events that will still be held.

Portfolio News

In response to COVID-19, Inhabitr has postponed pickups when necessary, increased sanitation for pickups, and offered contactless delivery. Inhabitr is also offering cleaning supplies to customers for delivery alongside their furniture rental. Featured in this article, "DTC, subscription companies step up sanitation practices in answer to COVID-19", CEO Ankur Agrawal shared how Inhabitr is helping local furniture businesses, ""Since the next 90 to 100 days will be dark for most local stores, the subscription model gives them an opportunity to stay afloat."

2ndKitchen's new contactless delivery product for breweries, 2Go, was mentioned in this article.

PrintWithMe was profiled by AmericanInno in the article "Need to Print? This Startup Will Deliver Documents to Your Door".
Job Board
Dispatch is hiring a Director of Sales, Senior Manager of Enterprise Sales, Business Development Rep, Software Engineering Manager, UX Design Manager, Product Owner, QA Engineer, Senior Software Engineer, and Senior UX Designer in Bloomington, MN.
FactoryFix is hiring a Team Lead – Full Stack Developer, Full Stack Developer, and Infrastructure Developer- DevOps in Madison, WI; a Recruiter, and Business Development Rep in Chicago, IL.
TeamGenius is hiring a Customer Success Associate in Minneapolis, MN.
PrintWithMe is hiring a Regional Sales Director on the East Coast; a Software Engineer, Summer Strategy Intern (MBA), and Summer Strategy Intern (undergraduate) for Remote work.
Parallax is hiring a Customer Success Specialist, and Growth/Customer Acquisition in Minneapolis, MN.
Branch is hiring a Revenue Operations Manager, and Sales Development Rep in Minneapolis, MN.
NoiseAware is hiring a COO, VP of Global Sales & Account Management, Product Marketing Manager, UI/UX Designer, Account Manager, and Customer Advocate in Dallas, TX.
With approximately 500 attendees, uber-founder and CEO Navroop Sahdev and VP Heidi Cuppari conducted the outstanding The Digital Economist Roundtable at the World Economic Forum 2020 at Davos. Great North Labs was invited to the event to discuss the role of venture capital in economic impact, and I shared the fund's experience and strategy.
The strategy starts with Fund I. The plan for Fund I is to invest in roughly 30 companies. We anticipate these portfolio companies will raise a total of ~$200M from co-investments as they grow. With that total and, for example, a 500% return over the life of the fund, we would build ~$1B in market value. By motivating LPs with successful exits to reinvest in subsequent funds, this builds a cycle of growth.
In the course of raising and investing Fund I, we gained valuable experience in developing relationships and aligning incentives. Great North Labs built an ecosystem of 200+ investment partners, 60+ advisors, and developed relationships with universities, regional economic development organizations, government, and innovation catalyst organizations such as Singularity University. To develop local talent, we founded a startup school that educated 200+ on startup entrepreneurship, regularly provide office hours and mentorship to entrepreneurs, and worked with, trained, and hired college students.
Regional entrepreneurs prefer to raise money and grow in their communities, and investors prefer to invest within the region where regional VCs are available. By leveraging our foundational work from Fund I, our second fund could bring 2-3X the co-investment dollars and returns. Over 3-4 decades, this is how investors built fortunes and turned the farm economy of Silicon Valley into one of the world's most prosperous regions.
While continuing to lead and co-invest in Seed Stage through B Rounds in Fund I, we will raise Fund II. This will create investing continuity and maintain dealflow, synchronicity with the local ecosystem, and co-investor relations. By creating a cycle of growth and re-investment, our goal is to create prosperity in a similar fashion as Silicon Valley, here in the Upper Midwest.
Great North Labs's August Update
Fostering Midwest success means making guidance and capital available for tech startups
Great North Labs got the front-page treatment in the Star Tribune Business section this Sunday. Former investment banker, consultant and corporate officer (and current business journalist) Lee Schafer talked about building successful tech companies with Ryan and Rob Weber– including the importance of providing advice and mentorship in addition to capital.
Rob also caught up with former advisor and mentor Young Sohn, President of Samsung, and former advisee and investee Mynul Khan, CEO of FieldNation. They illustrate the success that can come with "a little bit of money and a lot of advice".
If a startup is considering moving from the Midwest to find that success, as Rob says in the article, "It shouldn't be because the capital can't find you. It shouldn't be because you can't get the mentorship you need."
Events
September 17th, St. Cloud – Great North Labs Startup Ecosystem Kickoff. This invite-only event is THE annual event for Great North Labs! We will hear from:
Mary Grove, Partner at Revolution/Rise of the Rest Seed Fund, formerly Director of Google for Entrepreneurs
Margaret Anderson Kelliher, President/CEO of Minnesota High Tech Association
Matt Lewis, Director of Make It MSP @ Greater MSP, team member at Forge North
Mynul Khan, founder/ CEO of FieldNation
Corey Koskie, former Minnesota Twin, Founder at Linklete
Mark Ritchie, former Minnesota Secretary of State
Talks include "Why the Future is Bright for Startups Across America" and an "Outlook for Minnesota Technology & Innovation".
A panel discussion on Sports Tech features local startup executives from SportsEngine, SportsRadar, SportsHub, and Starting11, while an Outstate Entrepreneurship panel will feature leaders from local accelerators, investors and entrepreneurs who are actively involved in outstate, upper Midwest ventures.
Great North Labs portfolio companies will give updates, and will be available to connect with. These include: Dispatch, Structural, Pitchly, ZapInfo, TeamGenius and FactoryFix.
This is about building the startup ecosystem, so there will be plenty of time for some high-quality networking and hors d'oeuvres.
If you haven't received an invite, go here to request one. Tickets are free, but the invite list is filling up fast! After you receive your invitation, tickets for you and up to 2 guests can be claimed via Eventbrite.
October 8th-14th, Greater Minneapolis-St.Paul Area. Twin Cities Startup Week. With too many events scheduled to list, we'll just focus on our own:
Great North Labs Pre-TedX Happy Hour, St. Cloud. From 5-6pm October 11th, we'll gather at Great North Labs's headquarters for a happy hour ecosystem talk and networking, before TedX St.Cloud 2018: Cultivating, which will be held only a few blocks away, at the Paramount in St. Cloud.
Past Event: Forward Fest was a great event this year, with Ryan Weber in Madison for two days (Aug. 20-21) of the annual week-long Wisconsin startup gathering. The fun started at Starting Block Madison, where GNL Advisor Nick Kartos ( CEO-GymDandy) helped facilitate a meet-and-greet happy hour. The event pitted MN and WI microbrews against each other, while entrepreneurs and investors had a chance to check out Starting Block's space and hear about Great North Labs. The next day, Ryan moderated a panel on Startup-Corporate Partnerships at the Forward Technology Conference (Forward Fest's "headline tech conference"). Thanks to everyone who came out, and thanks for the help, Nick!
Portfolio action
ZAPinfo is new to the Great North Labs portfolio. Formerly WebClipDrop, ZAPinfo is an information automation and productivity tool that helps recruiters and sales professionals be more productive by capturing, enriching, and sharing data easily across the web and any web based applications. With one click, users can gather a plethora of information about candidates from a variety of web sources, and with another click export it to any web form or app, or to a CSV, PDF, or other data file.
ZAPinfo is led by CEO/founder Doug Berg, who previously founded Jobs2Web and techies.com, and is an expert on workforce and career trends.
New advisors
Great North Labs welcomed two new advisors in August:
Daine Billmark, Senior Manager at TransUnion (formerly eBureau).
Wade Beavers, President of Mobile at Newscycle Solutions.
Welcome to the team!
Job Board
Dispatch is hiring Drivers in Cincinnati, Chicago, Dallas, Kansas City, Orlando, and Minneapolis.
Structural is hiring an Account Executive and a Senior Software Engineer.
Team Genius is hiring a Lead Full-Stack Engineer.
Pitchly is hiring a UI/UX designer and Core engineer- watch for postings or contact directly for details.