Great North Ventures is an established early-stage VC fund with $70M in AUM. GNV is investing out of its recently closed Fund 2 into high growth startups across the spectrum of early stage (pre-seed to series A.) This head of finance and accounting role presents the candidate with an opportunity to gain deep experience in every aspect of venture investing (fundraising, portfolio management, investor relations, deal sourcing, due diligence, transaction management, and portfolio support.) GNV invests across many different industries and a candidate will have the opportunity to utilize their past industry experience as well as develop new areas of expertise. GNV also operates an incubation studio that will present the candidate with opportunities to work closely with management teams to build new startups from the ground up.

Position Summary
The Head of Finance & Fund Administration will support the organization and its national portfolio of investments with respect to financial analysis and modeling, valuation, business case development, and coordinating deal structuring and documentation with outside counsel. The successful candidate will demonstrate the ability to assess market opportunities, develop business cases for equity investment, lead business planning exercises, and provide ongoing performance monitoring and forecasting insight in a fun, fast-paced and entrepreneurial environment.
You will perform financial and operational due diligence, prepare professional presentations in PowerPoint, support deal structuring and negotiation, and provide post-close investment performance monitoring and documentation to inform executive decision-making. This is a data-driven organization, and this position requires an individual who is comfortable analyzing financial statements as well as operational metrics and can communicate findings and recommendations crisply.
This position will work closely with GNV's managing partners; however, a great deal of independence and autonomy will be required.

Responsibilities
Experience conducting market research, competitive analysis and evaluating new business opportunities
Extensive, hands-on experience drafting management presentations, business plans and investor reporting materials
Experience with managing key vendor relationships and ensuring deadlines are met by GNV and its vendor partners (fund administration, accounting/tax, legal, regulatory.)
Experience coordinating complex investment transactions with many stakeholders and vendors involved.
Experience with private equity accounting concepts and audit procedures.
Coordinate with third-party fund administrator on quarterly investor reporting and on annual audit and tax reporting.
Ability to effectively ingest detailed investment performance information, interpret quarterly financial data and synthesize results for senior decision makers
Ability to meet stringent deadlines and perform with a high degree of autonomy and integrity while coaching and developing others
Preferably someone with deep analytical and financial modeling experience with working knowledge of valuation techniques, financial/operational due diligence, business case preparation and private equity or venture capital investing structures; experience with detailed capitalization table modeling is a plus
Mastery-level knowledge of Microsoft Excel, PowerPoint and Word
Hands-on style and self-starter with a passion for entrepreneurship and the start-up ecosystem
Above all – a deep intellectual curiosity and appetite for learning

Qualifications
● GNV encourages all candidates to apply regardless of educational background.
● 4-7 years of professional experience in accounting, auditing, and or startup finance are preferred, but not required.
● CPA and/or JD will be helpful in this role, but are not required.

Location
● From home (we are a remote team)

Compensation
● Competitive salary plus participation in fund's carried interest
● Benefits – Medical, dental, vision insurance
● 401(k) contribution
● Statutory holidays + 4-weeks time off each year
Application Procedures
For interested candidates, please send the following items to Rob Weber at rob@greatnorthventures.com
●Updated resume
●Optional-A hypothetical investment memo for one of Great North Venture's portfolio companies – This is intended to provide some insight into how you think about startup investing. This is open ended and you can include anything you find relevant or information that would be important for you to complete a more thorough analysis
Welcome back to the Great North Ventures newsletter! The big news this month is the closing of Fund II!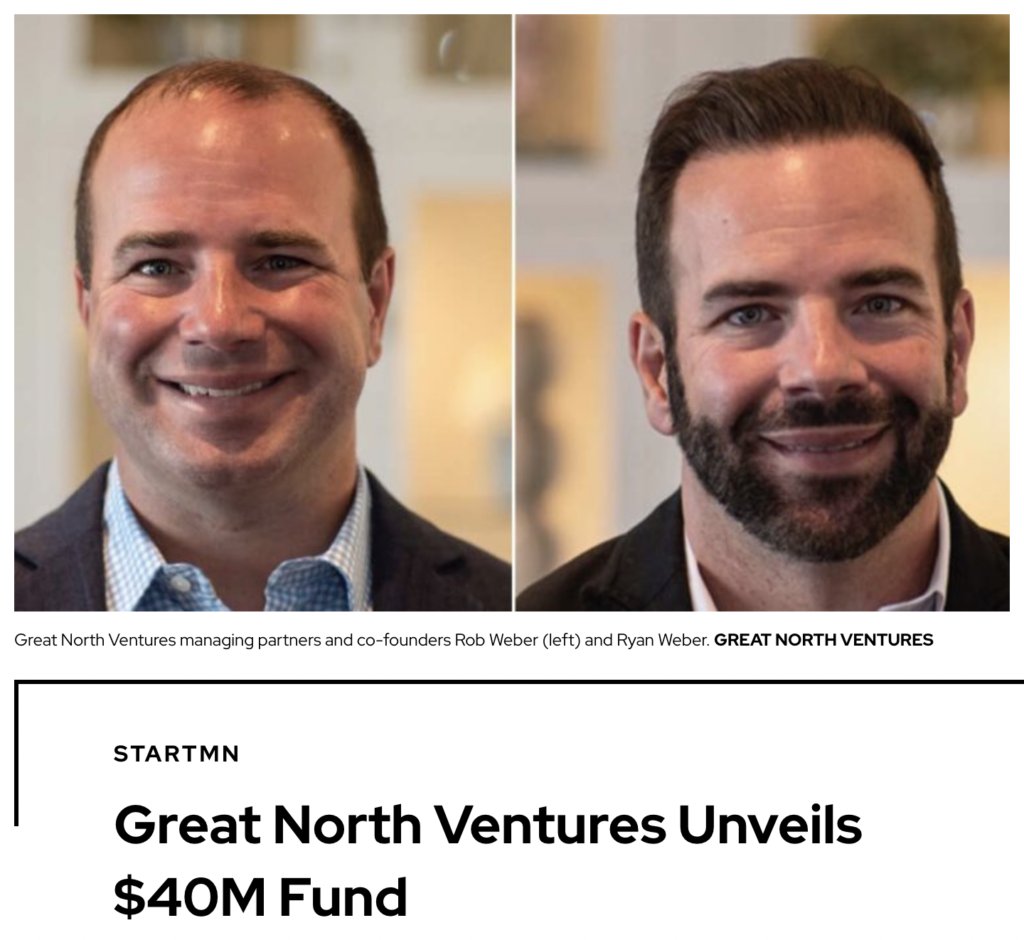 We have closed our $40M Fund II! Great North is excited to build on its Fund I success investing in startups from Seed to Series A, with a new, larger fund.
Fund II Snapshot:
Investment Themes: "Digital Transformation Through AI", "Community-Driven Applications", and "Solving Labor Problems"
Network-driven investing, rooted in Minnesota, spread through the Upper Midwest and beyond
Innovator Network of successful founders, investors, and experienced Fortune 500 operators
Fund II's Venture Studio co-creates and supports ~1 startup/year from ideation through launch and beyond
View our Fund II Investment Thesis
Thanks to our investors, founders, team, and to our community! Read more coverage here and here.
"Great North Ventures has a strong track record," said Rob Weber, Founder & Managing Partner. "Our investors have given us a vote of confidence by coming out strong for Fund II, with a 70% increase in fund size, and we are grateful for their continued support as well as the support of new investors. Our strategy as a thematic, network-driven investor focusing on opportunities in underserved markets is resonating, and we see this successful Fund II raise as proof of this theme and our ability to execute."
Interested Founders can apply for funding consideration immediately. Are you looking for early-stage funding?
Do you fit one of these themes:

Visit our site to view our criteria and to apply.
Need to learn more about early-stage scaling and venture funding? Are you working on scaling and thinking about VC funding? Listen to the latest episode of Execution is King.
It features Eric Martell, Founder of Pear Commerce, former founder of EatStreet, and former Venture Partner at gener8tor. As a successful founder, investor, and now repeat founder, Eric has valuable insight on what it takes to scale and successfully utilize funding. And guess what? He shared it with us.
Like this tidbit on what remaining focused on the problem looks like: "it took some patience and dozens, if not hundreds of customer conversations, and not being super in love with any individual solution to the big problem that we were trying to solve until we found that correct solution. And it's almost like, you know when you know, because then the business really took off."
Portfolio News

Amulet Launches to Bring Powerful Detection Out of the Lab and Into the Hands of Millions [Allergy Amulet]

OneMedNet Partners with Flywheel to Provide Leading Healthcare Imaging Data and Data Management Solutions

Good Design Awards Highlight Connected Devices [Allergy Amulet]

Omnia Fishing To Simulcast Bassmaster LIVE As Shoppable Feed For Two Elite Series Eve
129 Open Positions
See all open positions on the Great North Ventures careers page
Dispatch is hiring for 49 positions
Structural is hiring for 1 position

FactoryFix is hiring for 5 positions
PrintWithMe is hiring for 19 positions
Parallax is hiring for 4 positions
Branch is hiring for 15 positions
Inhabitr is hiring for 1 positions
NoiseAware is hiring for 5 positions
PartySlate is hiring for 5 positions
Flywheel is hiring for 3 positions
Skillit is hiring for 1 position
NextGem is hiring for 2 positions
Backhouse Brands is hiring for 1 position
Yardstik is hiring for 7 positions
Micruity is hiring for 3 positions
Omnia Fishing is hiring for 8 positions
    Doubling Down on Success Investing in Trailblazers
Minneapolis – May 23, 2022 – Early-stage VC firm Great North Ventures announced today it has closed $40 million for its second venture fund ("Fund II"). The fund aims to continue the firm's success investing in startups from Seed to Series A stages. New investments will address three key themes: digital transformation through AI, community-driven applications, and solving labor problems.
Founded and operated by successful founders, Great North Ventures focuses on providing capital, connections, and operational guidance to startups. Its new Fund II has added a Venture Studio, whereby new startups are co-created and supported from ideation through launch and beyond. The fund's investing and support are network-driven, with connection density in Minnesota, through the Upper Midwest, and extending beyond.
Founders seeking funding can apply for immediate consideration.
"We have refined our approach as a network-driven investor with Fund II. Our Innovator Network has depth and breadth across startups and Fortune 500 companies. Our team's network is diverse and rooted in our own experience as founders. It is densest in Minnesota and the Upper Midwest, and extends beyond. Our deal flow and support and consequently, our capital deployment, align with this density, By playing to our network's strengths in this way, we maximize investment potential, while also creating a blueprint for further Fund growth in locations that are undercapitalized."- Ryan Weber, Founder & Managing Partner
"Great North Ventures has a strong track record. Our investors have given us a vote of confidence by coming out strong for Fund II, with a 70% increase in fund size, and we are grateful for their continued support as well as the support of new investors. Our strategy as a thematic, network-driven investor focusing on opportunities in underserved markets is resonating and we see this successful Fund II raise as proof of this theme and our ability to execute."- Rob Weber, Founder & Managing Partner 
Fund II Strategy and Themes
Great North invests in domains with substantial unsolved problems that can be solved by entrepreneurs leveraging technology. The firm's Innovator Network is a network of former founders, skilled operators, and successful investors that have a track record of execution. It is a key resource for helping with sourcing opportunities, diligence, strategy insights, referrals for team additions, and mentorship for the core team. 
One of the key strategies of Great North Fund II is its Venture Studio, in which it designs and builds companies with world-class founders in focused market segments with substantial opportunities. In the venture studio model, problems that startups could solve are identified, markets are evaluated, teams are built, MVPs (minimum viable products) are spun up, and experiments are run to iterate products until product/market fit is achieved.
Startups co-created in the Great North's Venture Studio continue to receive fundraising support and board oversight after they launch. NextGem is a tool and social network for trading card enthusiasts to better manage and discover great cards. It is the first company created in Great North's Venture Studio. The second startup to come out of the studio is Backhouse Brands, a self-serve marketplace for creating and managing virtual restaurant brands.
Three investment themes drive Great North Ventures Fund II:
• Digital Transformation Through AI – Great North is looking for technology-driven startups that are innovating traditional industries using artificial intelligence. Its portfolio examples across Fund I and II include Allergy Amulet, Coverlease, DispatchFlywheel, Inhabitr, and Nested Knowledge.
• Community-Driven Applications – Great North is looking for consumer or enterprise startups that are connecting people through software, especially in the areas of media consumption or commerce. Its portfolio examples include NextGem, Omnia Fishing, and PartySlate.
• Solving Labor Problems – Great North is looking for startups with market-driven solutions for workplaces and labor. Its portfolio examples include FactoryFix, Skillit, and Yardstik
Founders who fit one or more of these themes and are raising a Series Seed through Series A round may apply for funding on this web page.
Fund I History
The firm was originally known as Great North Labs when it was founded in 2017. Its first fund of approximately $24 million was one of the largest debut venture funds raised in the Midwest and now includes a portfolio of 27 investments, six of which have exited. New investments from Fund I are now complete,  with the remaining capital reserved for follow-on investments. 
Strong growth has continued across Great North's Fund I portfolio. Aggregate revenue run rate of these companies increased 294% from the time of initial investment through the end of 2021. Recently, several of Great North Fund I portfolio companies have announced new growth rounds including Dispatch, Branch, and FactoryFix.
Great North Ventures' co-founders, Robert and Ryan Weber, are twin brothers with a successful track record since the early 2000s as founders and angel investors. They were joined in founding the firm by a former mentor, Pradip Madan, who is a successful technology executive and investor. Rounding out the team are Venture Partner Mike Schulte, and Director of Marketing Josef Siebert.
About Great North Ventures
Great North Ventures is an early-stage VC firm located in Minneapolis. The firm has raised two funds since its 2017 founding. As a network-driven, early-stage investor, the firm has deep roots and density in the "capital desert" outside Silicon Valley, New York, and Boston.
Built by founders, for founders, the team is experienced in founding and scaling tech companies. Its team consists of ex-operators with significant experience across stages of growth from startup to public companies and M&A, and broad and deep technical, sales, marketing, and transactional expertise. Great North prioritizes execution over strategy and pedigree when choosing companies and founders to back. Fund II will invest in startups that fit three themes: Digital Transformation through AI, Community-Driven Applications, and Solving Labor Problems. 

For more information, please visit its website, or follow the firm on LinkedIn or Twitter. Listen to the Great North Ventures podcast, or sign up for its newsletter.
Great North Ventures Investment Themes
Great North Ventures is a network-driven, generalist early-stage fund that prioritizes exceptional execution. Founded by founders, for founders – we back repeat founders, we back strong first-time founders, and we form founder teams in our venture studio.
Our innovator network and team's connections drive our value-add to startups, and our network density is greatest in Minnesota and the Upper Midwest. While we are a generalist fund, we invest in three themes: "Solving Labor Problems", "Digital transformation Through AI", and "Community-Driven Applications". 
Community-Driven Applications
There is a global trend towards network-driven software expanding into every industry, for both consumers, and for businesses. And while much of the world is buzzing about Web3, we believe we are still in the early innings of Web 2.0, as these software platforms continue their expansion.
There is a strong investment reason to invest in network-driven startups: they outperform! Why? Network-driven apps have lower customer acquisition costs than their single-user counterparts. This is because of strong viral effects that make use of growth loops, which compound user acquisition. When these network effects cause customers to engage with other customers retention rates also increase.
Founders building software today can leverage the behavioral design patterns that dominated horizontal online communications (Facebook, Instagram, Snap, YouTube) and gaming (Roblox, Fortnite, Zynga, etc). These same Web 2.0 patterns can be applied in any category where end users benefit through collaboration.
Web3 startups will also take advantage of these network effects. The winners in the crypto and metaverse spaces will take on a mobile-first approach ("Start With a Mobile App, Not a Website") and will adopt best-in-category community features. Regardless of which internet paradigm a startup is part of, the apps with the highest engagement of their end-users will win in most categories and capture most of that category's profits.
Starting and scaling a network can be challenging due to what is commonly referred to as the cold start problem. In addition to having a strong product, successful startups usually find the smallest network that can stand on their own ("atomic network") and focus on building a leadership position there before expanding to other networks while eventually eroding the market share of the incumbent network.
In practice, we have seen other strategies work as well. Andrew Chen details four of them in his book "The Cold Start Problem":

1. Invite Only refers to allowing users to join only if they are invited to use the app by other users. This ensures a stronger network effect from those that get invited as they already know other users on the service.
2. Come for the Tool, Stay for the Network refers to providing a single-player mode that allows a user to get value from the service even before it has a strong network. Instagram had photo filters, for example.
3. Paying for Launch refers to paying to grow the network, after the initial atomic network has been figured out, as a way to accelerate growth until the tipping point is reached where the network grows rapidly due to compounding atomic networks strengthening each other. This tends to be expensive and is not usually a tactic taken in the early stages of a startup that is resource-constrained.
4. Flintstoning refers to manually helping to keep the network strong while still early in developing automated capabilities that can exist at scale through the stronger network and product.
Tactically, we see many of the same tools and techniques work effectively across social apps. We've had startups scale based on strong network effects in both consumer and enterprise businesses. Usually, incumbents lack the creativity and know-how to thwart a well executed attack. Utilize a new technology, or market trend, to uncover a unique and valuable tool or focus on a specific network whose needs are only partially being satisfied and you may have the next big community app.
What We are Looking For
Vertical Social and Passion Marketplaces
The Web 1.0 marketplace winners like Craigslist and eBay were largely horizontal in nature. Since the early 2000s, nearly every category of e-commerce has had multiple successful marketplaces targeting it. But most categories have not fully embraced Web 2.0.
We have multiple examples of these marketplaces in our portfolio, including NextGem, Mustard, Omnia Fishing, and TeamGenius.
Consumerization of Enterprise SAAS
Enterprises used to move slowly when it came to new tech adoption. Workers have accelerated and transformed that adoption as tools they elect to use garner enterprise sales. By getting enough workers to adopt the product first, businesses can't say no to the enterprise products without risking productivity. As a result, now enterprise software is consumer grade: simple, easy to use, and mobile first.
Examples from our portfolio include Branch, FactoryFix, Dispatch, Flywheel, Mustard, Omnia Fishing, PartySlate, Pitchly, SkillIt, CoverLease, ClinicianNexus, and Structural.
Work with us
If you have a startup that is a community-driven application, submit here for feedback. We will provide pitch deck feedback to all startups who submit. Before you submit, get an inside look at our process first: "This is how to evaluate early-stage consumer app startups"
Great North Ventures Investment Themes
Great North Ventures is a network-driven, generalist early-stage fund that prioritizes exceptional execution. Founded by founders, for founders – we back repeat founders, we back strong first-time founders, and we form founder teams in our venture studio.
Our innovator network and team's connections drive our value-add to startups, and our network density is greatest in Minnesota and the Upper Midwest. While we are a generalist fund, we invest in three theses: "Solving Labor Problems", "Digital transformation Through AI", and "Community-Driven Applications".
Digital Transformation Through AI
In Steve Case's book "The Third Wave", Case describes how the greatest opportunity for innovation will come from startups who disrupt legacy industries, and that proximity to these companies in these industries will enable founders to better empathize with their prospective customers and grow faster.
We agree with Steve, but we would take it a step further. The tools and technology that use AI to solve pervasive problems in legacy industries are going to be the dominant wave of technology-driven innovation in the years to come.
From the 1990s to the 2010s, early adopters of AI implementation were largely found in financial services and digital media. The talent required to build and deploy machine learning models was inaccessible by most companies- the world has an extreme shortage of scientists with advanced degrees in machine learning. Our firsthand experience backs this up, as founders from the digital media space where our company implemented predictive modeling at scale, our machine learning talent came at a premium.
In the last few years, we have seen developer tools and cloud infrastructure improve so much that building applications using AI is now less of a scientific hurdle. These advancements enable startups to implement machine learning in their target market, and will accelerate the pace of digital transformation.
Now the problem is more of a data acquisition hurdle. Can a startup identify a path to acquire the data they need to train the AI in the beginning? Can they build a proprietary data pipeline, that with scale, creates a strong competitive advantage? In our experience, typically, the best way to monetize data is to keep it to yourself. Startups succeed by requiring users to engage through their product to make use of their data.
What We are Looking For
Retail/E-commerce
E-commerce has gone from nice-to-have to a requirement for retailers, accelerated by the pandemic. Digital has become a cornerstone of retail strategy because of the ability to collect and act on customer data at the right time, in the right place. Top retailers are refining omnichannel strategies that embrace the right channels and offer seamless customer experiences.
An example from our portfolio is NextGem. NextGem has developed core AI technology to create an image scanner which reads and maps data, and a search engine which uses that data for their trading card platform.
Manufacturing
Digital transformation in manufacturing includes things like asset optimization, workforce productivity, and production speed. It also includes IIoT (Industrial Internet of Things), which encompasses the use of smart sensors and actuators to enhance manufacturing and industrial processes.
In our portfolio, FactoryFix is a marketplace for skilled manufacturing labor, which uses a matching algorithm to help predict the best-suited candidates for hiring managers.
Transportation/Logistics
It doesn't always take a container ship lodged in the Suez canal to cause worldwide supply chain issues- worldwide pandemics and war easily do the trick. Predicting behavior, weather, demand based on troves of data leads to optimization of routes and delivery, increasing efficiency, decreasing waste, and better service and profits – whether the cargo is goods or people.
An example in our portfolio is Dispatch, which is a last-mile delivery company that provides on-demand delivery services to businesses of all sizes.
Healthcare
Protein folding algorithms, case triage, and AI-enabled medical devices are three examples of how AI is changing how healthcare professionals research new drugs, diagnose issues, and treat patients.
Flywheel is an example which offers solutions for the life sciences, clinical research, and academic research industries to accelerates collaboration, enables machine learning, and streamlines the massive task of data aggregation, curation and management. Nested Knowledge, which consolidates insight through metastudies, systematic reviews and living reviews in medical research, is an example in our portfolio.
Education
The most visible of digital transformations in education was accelerated during the pandemic: remote learning. Not only is it improving accessibility, but it has opened the door to personalized learning approaches, and wider inclusion of digital resources – both of which can be complemented or optimized through AI.
Yardstik is an example from our portfolio focused on worker training, screening, and verification. Its platform offers solutions to help marketplaces and platforms more easily hire, onboard, and manage safer workforces.
Food and Ag
Agriculture is being optimized at all levels through AI. Tools for crop and soil monitoring, systems that can develop models and tools for assessments and management strategies, and self-operating machines are some uses of AI.
An example in our portfolio is Allergy Amulet, which uses AI to correlate allergen detection in food at the point of consumption.
Travel/Hospitality
From restaurant reservations and food delivery, to airline pricing and route planning, to chatbots and data analysis, digital transformation through AI has affected every facet of the travel and hospitality industry. From what is available, to how it's procured, and even to how we experience it – every aspect has been affected.
Examples from our portfolio include Inhabitr and PrintWithMe. Inhabitr curates, sources, and delivers furniture for rental or purchase. PrintWithMe provides self-serve in-house printing amenities for coffee shops, apartment buildings, and other places people gather and work remotely.
Real Estate/Construction
Transformations in the industry are as mundane as chatbots serving real estate customers, to AI-controlled robots performing dangerous construction tasks. Scheduling, monitoring/sensing, and cloud-based collaboration are all widely used, and AI is increasingly used for planning, design, and risk mitigation.
CoverLease is software that enables data collection for the commercial real estate industry, which enables insight discovery and decision-making. Another example is SiteKick, a construction site monitoring and reporting system that allows for remote, constant monitoring of job sites.
Work with us
If you have a startup that is driving digital transformation through AI in these or other ways, submit here for feedback.If you have a startup that is driving digital transformation through AI in these or other ways, submit here for feedback. We will provide pitch deck feedback to all startups who submit.
Before you submit, get an inside look at our process first: "This is how to evaluate early-stage consumer app startups"
Great North Ventures Investment Themes
Great North Ventures is a network-driven, generalist early-stage fund that prioritizes exceptional execution. Founded by founders, for founders – we back repeat founders, we back strong first-time founders, and we form founder teams in our venture studio.
Our innovator network and team's connections drive our value-add to startups, and our network density is greatest in Minnesota and the Upper Midwest. While we are a generalist fund, we invest in three theses: "Solving Labor Problems", "Digital transformation Through AI", and "Community-Driven Applications".
Solving Labor Problems
The world's talent markets are more connected and competitive than ever. The hardest challenges for virtually every business are related to attracting and retaining talent, including skilled and unskilled. Given the pressure across all industries for recruiting, developing, and retaining top talent, we are focused on investing in startups that look to tackle talent issues with either horizontal approaches (across industries) or vertical approaches (going deep in a single industry).
The future of work will see more workers who value their flexibility connecting across the world, working from anywhere. Traditional definitions of jobs (like the "9-5") will also change as gig work and variations of employment affect how talent approaches the idea of work.
As the industry changes, down to the very conception of "work", new solutions will come to market to meet demand while accommodating new realities.
What We are Looking For
Labor Marketplaces
Despite the rise of horizontal recruitment platforms like LinkedIn and Indeed, most workers are unsatisfied with the way they find new work; similarly, employers want to source the right workers more easily . Workers end up with low success rates on time-consuming applications for many job types because the horizontal platforms can't go deep enough to match-make at a high rate. This same filtering issue plagues employers because they end up with a lot of noise from poorly recommended matches.
Examples in our portfolio include FactoryFix and Skillit. FactoryFix is a labor marketplace that for manufacturing businesses to find skilled talent to run their business. Skillit matches skills-tested carpenters with great construction firms.
Financial Services for Workers
As companies compete to attract talent, services offered to employees factor into employment decisions. Financial services for employees improve the employee experience by reducing inefficiencies, saving money, and giving employees greater control over their earnings.
Examples in our current portfolio include Branch and Micruity. Branch allows users to budget, take paycheck advances, and earn more income by picking up available shifts. Micruity partners with life insurers and fund managers to pensionize 401(k) plans, to provide access to a secure retirement for workers.
EdTech
Workers expect that they will advance in their careers. If they stay stagnant for too long, they will leave and go to another place. As such, employers and recruitment platforms need to get better at advancing the skills of workers so that they can level up. Edtech, especially "continuing education" offers this skill advancement.
An example from Fund I that has already been acquired is Clinician Nexus. Clinician Nexus provides clinical rotation management for health systems, medical and nursing schools, and medical and nursing students, with a transparent, people-centered platform.
Gig Work
Employees want flexible solutions so they can choose when they want to work and have the flexibility to work around their personal schedules or part-time positions.
Examples in our portfolio include Dispatch and Yardstik. Dispatch employs a driver network that performs last-mile delivery on-demand. Yardstik makes it easy for gig marketplaces and SaaS platforms to screen, verify, and train their workers.
Workplace Collaboration
A very effective way to increase productivity, while also increasing the engagement of workers, is to increase collaboration within and across functional areas of businesses. Collaboration limitations can be due to institutional silos, or physical barriers like those presented by remote work.
An example from our portfolio is Structural. Structural is an Employee Success Platform built to nurture employee connections within an organization.
Remote & Hybrid Work– The market was already trending towards supporting remote work, but the pandemic has accelerated the transformation by 10X. The cat is out of the bag and it isn't ever going back. We still have a lot of opportunities to continue to innovate.
PrintWithMe is an example in our portfolio. PrintWithMe provides an accessible and smart printing solution for people who work from coffee shops, apartment buildings, or wherever a kiosk is located.
Project/Task Management– Given talent constraints in the market, efficiently allocating resources is more important than ever. Businesses that can increase operational efficiency can stay ahead.
An example from our portfolio is Parallax. Parallax is a platform built to help digital agencies and tech consultancies operate more efficiently, with better utilization of billable resources.
Work with us
If you have a startup that is solving labor market challenges in these or other ways, submit here for feedback. We will provide feedback to all startups who submit.
Before you submit, get an inside look at our process first: "This is how to evaluate early-stage consumer app startups"
Welcome back to the Great North Ventures newsletter! We have a couple of big raises to report, along with updates and job listings from our portfolio.
Branch has raised $75M in Series C funding. With $133M raised to date, Branch has grown 2,000% in the last three years and has had 700% year-over-year platform growth in 2021. Funds will be used to double their headcount from the current 120, and to expand to a second location in Tampa.
Atif Siddiqi, CEO of Branch, joined Rob Weber and Josef Siebert on the podcast before the round was announced. We talked fundraising, deciding when to pivot, and knowing when to call on your mom to bust heads and get your Nintendo games back.
Full episode here: "Execution is King: Interview with Atif Siddiqi"
Dispatch has raised $50M in Series C funding. This is one of our very first investments from Fund I! "Dispatch said it has grown revenue at about 175% year-over-year in each of the past two years and it has doubled its headcount in that time frame."
The round will support Dispatch's expansion into 50 more markets across the country, and enable continued growth of its delivery management software for both customers and drivers.
Y Combinator's latest batch of startups presented this week. Winter 2022 Demo Day had 394 startups presenting to over 1500 investors. This is the first year where every accelerator participant startup received the new standard deal from YC. The deal includes $125k in exchange for 7% equity in the startup, plus a new $375K SAFE note with favorable terms for YC.
The move has garnered mixed reactions with some claiming that microfunds and angels will be pushed out of these deals, and others praising the move as major pressure relief for founders coming out of YC.
What is certain is that the additional $375K will affect seed investors around the world, as top startups won't have to raise immediately out of the program. Of 3650 total YC alumni, 2498 are in the US, and 4 YC alumni in Minnesota: LEAH Labs, Novel, Fanchatter, and Pyrls.
Portfolio News

Omnia Fishing is new to the Great North Ventures portfolio! Read more here: "Omnia Fishing Raises $4 Million"

"Branch raises $75M to help workers get paid faster"

"Logistics startup Dispatch raises $50M, will double geographic presence"

"Inhabitr moves HQ to West Coast, adds key California markets"

"NoiseAware taps Kevin Locraft as CEO"

"Pittsburgh fintech firm partners with The Retirement Learning Center" [IRALOGIX]
135 Open Positions
See all open positions on the Great North Ventures careers page
Dispatch is hiring for 49 positions
Structural is hiring for 1 position

FactoryFix is hiring for 5 positions
TeamGenius is hiring for 6 position
PrintWithMe is hiring for 11 positions
Parallax is hiring for 7 positions
Branch is hiring for 12 positions
Inhabitr is hiring for 3 positions
PartySlate is hiring for 9 positions
Flywheel is hiring for 2 positions
Skillit is hiring for 1 position
NextGem is hiring for 2 positions
Backhouse Brands is hiring for 1 position
Yardstik is hiring for 9 positions
Micruity is hiring for 6 positions
Omnia Fishing is hiring for 11 positions
In this compilation episode, Josef features the best advice for founders that we picked up at our 2021 Annual Event.
Every year, Great North gathers investors, founders, and ecosystem builders together for networking and progress updates.
In this episode, you can hear advice from our stakeholders- people who have proven they can execute- on hiring and firing, leadership, go to market, and more.
Transcript:
0:07
Welcome to the execution is King podcast where we talk to successful startup founders, investors and ecosystem builders to uncover insights and best practices for the next generation of great global startups. This month, we have a special episode, instead of a single guest. We have advice from a ton of people. Every year, we gather all of the Great North ventures stakeholders together to network an update on the funds progress. This year, we asked attendees, founders, investors and builders, questions centered on quality execution. What's the best advice you have for founders out there? When it comes to team building, specifically hiring and firing?
0:49
hiring and firing? I've heard this a number of different ways. There's the old cliches of hire slow fire quick. And then some people follow that up with hire Quick Fire quick. I like what what my co founder Chris had brought to us where you say, let's be really careful about who we bring on the team. And use the I think he called it the shopping mall test. And that test is like, if you hired this person, like, and on a Saturday, you saw them at a at a shopping mall unexpectedly, would you want to go up and say hi to him? It seems like a simple test. But there's, you know, some people you might want to avoid and other people you just be like, I gotta go say hi, I can't believe I see him at the mall. on a Saturday. So yeah, so that's, we've used that approach, we have really good luck, we've had really good luck with Team retention. Our team is really everything to us, you know, people stay with us. You know, so we were really happy with with what we've built so far.
1:46
That was Todd Larson, co founder of Team genius.
1:51
You know, there's kind of the latest and greatest theme out there that is hire slowly and fire quickly. I'm kind of borrowing that. But you know, in my career, I think being upfront with people and really focusing on making sure that as a leader, we're all about doing servant leadership and removing roadblocks for people, and making them be the best that they can be. And really celebrating that I think is super important. That's the way that I try to manage my teams, I try to surround myself with smart people that can bring things to the table that I necessarily don't see right away. But I think as a team, you collaborate and you always come up with the best ideas and the best approaches. And the sum of all parts is better than just one individual.
2:36
That was James Don Francesco, president and co founder of Next Gen.
2:42
So I've always had a fail fast mentality, where founders typically will always just bring anyone they can get their hands on into their company, some unemployed person, their uncle, a friend. And that's okay, in the very, very, very beginning. But as you start getting traction, if people aren't performing well, or aren't doing their own basic jobs, you have to cut bait, you have to get out of it. You have to make sure you're working with people in your startup that are moving the ball every day. And if you're in your gut, you know that somebody's not making it I've seen founders be really, they're committed to people that were there in the beginning, because those people were there in the beginning. And so they think being committed to people who were committed is a great rule. It's a horrible rule. And it kills the opportunity for everybody. And so especially as you start getting eight and 10 people into your business, everybody knows who the nonperforming person is. But as the CEO or founder if you don't deal with that, you start losing a lot of credibility and hindering everybody else's opportunity.
3:55
That was Doug Berg, former founder of zap info,
4:00
growth mindset. It's really the the number one thing that I look for when hiring people I try to look for, have you started a business a side business? Have you created something on your own? Have you demonstrated some interest in learning and getting better and being humble about what you know or don't know? And I find that that trumps you know, experience all day as if you've just you've shown that grit to, you know, grow and persevere.
4:25
That was Chris Knutson, CEO and co founder of Team genius.
4:30
Like just general advice that I learned from doing a startup is, is really not I think, really focus on what your company's the best at and, and not try to invent the wheel on every element. I think leverage the the knowledge of the community and your advisors, your your investors is really key.
4:52
That was Brian Biss Bala, former co founder of Ramboll and code 42.
4:58
Well, I think you got to look at hiring and firing as finding the right spot for people. And when you're letting someone go, it's probably because they need to go someplace else versus the emotion of the difficulty, like people have an opportunity to do great things. Sometimes they get stuck in a certain spot where they just don't want to move to the next level or the next opportunity. So sometimes you're kind of like letting them find their next chapter, that might be their best chapter. Certainly listening, being empathetic. It's not easy, though, to let people go, certainly in the hiring side, business is all about people. And so you cannot take the people side of things for granted at all, you have to be very deliberate, very careful with hiring, it's very easy to hire, very difficult to fire. So being very careful, making sure that you're just not cutting corners on people. At the end of the day, we're all in the people business. And so you want to make sure you have the best possible people. And so being very careful in how you onboard people, and also make sure they're part of the culture of your organizations huge.
6:01
That was Brian Shawn born attorney at Moss and Barnett, I think
6:05
the core of it is always hire people smarter than yourself, and empower them to use their expertise, and understand what's blocking them or what they knew needed to do their job. And then stay out of their way. And that is really hard to do. You care, you started the business. So you have some expertise, right. So you have to be kind of humble with where your expertise ends, and there's begins or certainly eclipses yours. But you know, you're hiring these people, because they're really good at something that you're not good at. Otherwise, you're hiring wrong. You're hiring people like you, you're just way off base, I think the best place to start there is you have to figure out your mission, your vision and your values. And that allows you to make very easy decisions. And then people are, you know, no fault of them. They're not bad people. It's just they fit or they don't. And it's better for everyone, if you get people who fit what you're trying to do, where you're trying to go and how you want to do it. And then it's really hard to do, especially in early stage companies, you got to do the performance management thing. You got to you got to hold people accountable, and make sure people are doing what they say they're doing.
7:21
That was Andrew Schultz, CEO and co founder of noiseaware. What's your best advice when it comes to leadership?
7:30
I would say the best advice I've gotten and I truly believe it is you have to love what you do and be passionate about what you do. Because as a leader, especially a CEO of a tech startup, you're gonna face a lot of obstacles and challenges. And you got to love what you do to get through it and to get to the other side. And then you got to make your team inspire a team to get through the tough times to celebrate the good times. Without that passion can't be done. I think with leadership, it's one thing that's really important for CEOs and co founders that grow something from, you know, two employees to 50 employees to 100 employees is to stay focused on the future and the vision and the mission of the company, be the one setting the metrics and the goals. But don't be the one that's in the in the weeds, really making people feel micromanage. So my biggest advice is stay really focused and laser focused on what are the where's the big picture? Where are you going? And what are those important metrics that run your business. And that's where you should be managing versus in the weeds.
8:35
That was Julie Roth Novak, CEO and co founder of party slate,
8:39
I would say two main piece of advice for leadership. One is you know, the old cliche of hire people smarter than you and get out of their way. There's that notion that, you know, if you create a startup, you do it for one of two reasons. You either want to be rich or you want to be king. I'm personally one that wants to be rich. At the end of this, I don't have to be in charge of a full team. I don't have to be the boss and make sure that I command this team of people every day. So I've replaced myself and just about every job that I've done so far, including head of engineering. So that's, that's, that's one of the biggest pieces of advice that I'd give.
9:17
That was Todd Larson.
9:20
Leadership wise, I would say the best advice that we've been given is around hiring, hiring great leaders and hiring them earlier than you think. And then I would say, I mean, the types that you want to be in business with are already pretty curious and have a mentor network, ideally that they're working with. But having folks that can help you kind of learn some of the stuff you don't know. And then then the other piece would be for us. We did something called the Entrepreneurial Operating System that came from a book called traction. So for us that was actually helping us like organize how we work. I mean, leadership, I think is just us being really authentic about what we're doing where we're going. And then doing that with a system like EOS has been really where that worked for us.
10:12
That was Ryan Hansen, CRO and co founder of dispatch.
10:16
Yeah, I think kind of in the same theme, right. But Angela Aaron's who was the retail and apple.com. President, back when I was there, in 2014 2015. And she would always say, look, as a leader, I think you just have to basically eliminate roadblocks. Tell the people where you're going. And again, make it so that they can be the best that they can be and show up to work every day with their best attitude. And, you know, feel free to ask questions, and basically work as a team. And I like that model for basically, hey, as a leader, I need to remove roadblocks for my people so they can do the best they can.
10:57
That was James Don Francesco.
10:59
trust people, I think is the biggest thing, find great people to work with. Because at the end of the day, you're only as good as you are and the more quality people that you can instill trust into and they can trust you back, I think that's really going to lead to like, ultimate success.
11:14
That was Andrew Schultz. Again,
11:17
I think leadership comes from the heart. You know, you lead from the heart, the meaning of life is love, and all mouths this time. So you find what you love, the purpose, passion. And when you're into something, when you believe when you're committed, leadership kind of comes audio doesn't matter what sort of person you are, whether you're an introvert or an extrovert, leaders lead with their heart, the best leaders lead with their heart, and they connect their time with the stuff they're passionate about. And so following your heart, as a way to success and happiness, and leader being a great leader, too.
11:50
That was Brian, Shawn born again. What advice do you have for founders on go to market and customer acquisition?
11:59
So I founded a few companies. And frankly, I think I did a pretty good job of knowing like, when my product was ready to kind of show to people, I've met a lot of other founders that have kind of over baked or tried to over build their technology. So it was perfect and ready to go to market. And really, all you need to do is get it so that it's ready to demo ready to show and ready to get the first couple of customers that will then help you to build the rest of the product. And to the point where they'll even pay you to help build it the way they would want it to be. And so I've just seen a lot of value in like selling your idea. Maybe before it's even an MVP, but allowing customers to pull you forward in innovation, as opposed to just a salesperson or your own ideas. I've seen things go off the rails a lot where a founder overthinks things and over builds things. They waste time, they waste quarters, they waste years, they kill their home equity lines, they can't get venture funding, they aren't hearing from customers firsthand. You know, and so I just I see them circling a lot with their ideas. And again, they burn a lot of money, and they can frustrate the heck out of the tech guys that are actually building their thing. And then they they change their mind or they add, there's always like, Hey, I'm glad you built us to hear but now we need to add these next five features for it to, in my mind be ready to go to market. I've been very fortunate in that. I think our Minnesota nice stuff plays really good with customer acquisition. Even if you're selling across the country, I've sold to 1000s of customers, even global customers, and they always appreciate when somebody from Minnesota is selling them a solution, we tend to listen to what they want, they tend to be better configurators if you will have like what an even a demo is. So tell me what you're after. You know, it's kind of like what what's the menu? What, instead of me throwing everything at you like what are you in the mood for right now. So that's thing one, but thing too is in go to market for entrepreneurs, you just have to be very smart. Like when you acquire your first few customers, you have to pick fights you can win. So you want to find customers that aren't difficult, who in their mind are almost like emotional investors in what you're doing? Because it's going to help them with a killer part of their business. And as they do that you want them to be your early cheerleaders. You want them to be your early advocates. So one of the tricks that I did was I created what I call customer advisory boards right out of the gate and I'll see if you'll help me innovate. You'll help me get you into your company, I will help innovate in the direction you want me to. But I also need you to participate. Because everything today is around. No one believes the founder of this startup, but they believe the customers that you've helped to accomplish something. And if you can, like I would bring customers we'd won battles with. And I would be on a demo with a big customer. And I'll say, Hey, I hope you don't mind. But I've invited one of our other customers to participate in the demo today. And they're going to share what we've done for them. It's Earth changing, to be able to have that kind of participation in your deals, because you will get to market tremendously faster than hoping or waiting to build 10 customers with 10 referenceable accounts with 10, white papers with 10. You can do a lot of this stuff in the very early days, if you just know how to ask. And I think founders are shy sometimes. And they don't ask customers, hey, if I do something really great for you, can you then not pay me back but participate. And the irony is good. Customers love innovation, and they can't do it in their big company. So they think that you're their outlet for how to innovate and how to do things outside of their own kind of governance and chaos. And the right ones will actually bring you deeper and deeper into their company, as well as look at you as their outlet like they learn investor even though they're not writing you a check. And that's just a blast, when you start to get 2468 10 of those, the snowball just goes it's fantastic.
16:36
That was Doug Berg. Again. It's always
16:39
harder than you think. And I think you know, there's a lot of things that can work a little bit. And so you have to be careful about not spreading yourself too thinly with customer acquisition, find something that you can double down on and go really deep in it versus trying to do you know, all channels, all tactics at the same time.
16:58
That was Chris Newton again. In hindsight, what's a piece of advice you wish you had received earlier on? Wow,
17:07
okay, advice I wish I had been given before starting the company, find good partners. If you want to go fast, you need to do it with a lot of other people. I'd say. I wish that we had had more advice on legal as well as capital early on to avoid some mistakes that you can't really out execute your way out of.
17:34
That was Ryan Hansen. Again,
17:36
that's a really good question. Number one, you can't use an outside tech firm to build your MVP. I wasted I was just me at the beginning, I wasted probably $100,000, which at the time seemed like a lot of money. I know it's not in the context of a big raise. But working with an outside digital agency. I thought that's my background, I can manage them. And really what I found would have been better is to get a group of contractors get in a room whiteboard together, get them really invested in the company and build together that way. And so when my tech co founder joined me nine months after I started, we threw away everything that the digital agency build started from scratch.
18:21
That was duly rough no back again.
18:24
Try to learn from others as much as you can, I think know where you've reached like I you know, I think our team, we needed to get outside help sooner than we did. So it was really important to kind of seek that outside help. And we also, we did an incredible job. Kind of scaling the company from the three of us to 400 people. So that was an incredible journey and learning experience.
18:52
That was Brian Biss Bala, again.
18:55
Well, I'll tell you some of the best advice I got from the investors as I grew the company, the first was, best time to fundraise is when you're high on mystery and low on history. Best time to move into a new market is when you're pulled. Read every legal document you sign. These seem fundamental but sometimes overlooked. And cliche but when you ask for advice, you get money. When you ask for money, you get advice.
19:27
That was Andrew Schultz again.
19:29
Well, I think that the idea that business is about people, you know, you get so excited about the business model, you get excited about the opportunity, the deal, and you lose sight of the execution and the people and realizing that business is about people like I mentioned and and having the right people by your side makes a difference. You having a quality people with a C opportunity, they're going to be wildly successful. If you have C's or DS or F people with an A plus opportunity, you're gonna fail. So it's finding great people realizing the importance of people and the quality of people, not just their ability mentally or to be able to execute, but just who they are as people, their ethics, their character, you know, you can you can teach them a lot along the way, but they have to be wired the right way. I think that's that's kind of the biggest lesson I learned along the way is just never ever lose sight of the importance of people when you have the right people and the best people with you. Everything's possible.
20:26
That was Brian, Shawn, born again. Was there anyone who particularly went out of their way to help you to become successful? Who was it? And what did they do for you,
20:37
the startup process, I met somebody early on. So when I started building the initial MVP, my goal was to get it out in front of as many people as I could. One of the obvious connections with our player evaluation tool was with a company called AI soccer, which was founded by Scott Lieber, out down out in Silicon Valley, he had developed this sort of national standard curriculum for how to measure how good a soccer player is, through a series of 19 measurable tests. And I was sort of building my evaluation tool, using that curriculum as part of the foundation as like an example of what you could do. So I met with him in person out at the United Soccer Coaches convention, it was my first time showing off the app, he came and talked to me, gave me a lot of great encouragement, told me to go read the Lean Startup, which was a wonderful like this sort of, you know, what every founder should be reading, right? And really, really got me off to a great positive start.
21:41
That was Todd Larson. Again.
21:43
For me, and closer network, I'd say the several of the founders that I worked with that sports engine, were invaluable to me when we went out on our own journey, to be able to come back to some of those folks who were founders and had done this before and ask for their perspective, and maybe help us with with some of the items, help us kind of learn what we had no idea we didn't know. And then I'd say, We've been really fortunate the network around here, in terms of like access to capital, the different like, whether it's beta.mn, great. North is a great example. And many others, I don't know, we've had great resources available to us through either the, you know, old network connections that had started businesses like this or or folks that were volunteering to help.
22:33
That was Ryan Hansen again,
22:35
yeah, I think, in the early days is an example Mindy Weiss, who's a celebrity event planner out of LA really was drawn to our model of really focusing on events for the inspiration, not hairstyles or dresses, or, you know, great gifts, it was all about the creativity of the event itself. And so very early on Mindy Weiss, who does all the Kardashian parties and everything else, came onto our advisory board. And literally, I had just launched it was a PowerPoint in a dream. And she said, Julie, I want to help you. And by getting Mindy Weiss on board, probably one of the most well known wedding and event planners in the country, if not the world, she really legitimize what we are doing and our vision. And that helps get a lot other people on board a party slave,
23:23
that was duly Roth Novak. Again,
23:27
I would say kind of a hybrid, I have had people along the way who have mentored me, and who have really encouraged me to be the best that I can be, who have told me James, you know what, even though the crowd might say, Don't be genuine or authentic. Sometimes you have to kind of skip ahead or omit certain things, I've learned that I'm going to be honest and frank, and I'm going to do the best I can every day. And so the mentors that I've had in my life helped solidify that. I also would say, Yeah, I've had to work pretty hard to get to where I am. And I think the networks that you build, even way back when I started college and met Ryan and Rob, obviously that was helpful to get to know these guys, because, you know, it's it's, as they always say, it's lines, not dots, you don't come in heavy and hope to get, you know, a top notch position. And you know, from one interview, right, you it's a it's a long term relationship. We've gotten to know each other. And I think that that's really special. And so Robin Ryan, obviously are incredible founders themselves, incredible leaders and, you know, really people that I look up to from, you know, how do you do a startup and the subject matter expertise, in particular, Ryan as a card investor is somebody who I've gotten to know much deeper, because he's got all these insights that represents my customer. And so that's been really helpful to be able to access his brain and of course, he's incredibly knowledgeable about that stuff.
24:56
That was James Don Francesco again
25:00
A few people along the ways some of our angel investors that were seasoned entrepreneurs and seasoned investors that had been through many different companies were able to provide with lots of, I guess, more than answers questions, because like, what I found is the answer doesn't matter nearly as much as the question. So knowing the right things to ask at the right time, that's probably been the best piece of advice.
25:21
That was Jai kissoon, president of treble LLC.
25:27
I'm gonna say Brian schoenborn. Brian is on our board. And, you know, he's an investor. But he spent a lot of time you know, early on connecting the dots for us. I'd say at least half of our investors came through Brian, and he's put a lot of time we talk to him every single week in our early days. Advisory calls put a lot of time aside for us.
25:51
That was Chris Knutson again,
25:54
well, I can't think of anything. Any specific person other than my two co founders, I think having three founders of a company was vital, because, you know, as any startup can attest to there's definitely ups and downs. So without the benefit of your of great partners that you really trust, the support you through those ups and downs, you know, one person can have be having a crappy day and the other person can really help keep you going. I think we had many moments where we were like, What the hell are we doing here? Why are we doing this and like that, I think the combination of having those key founders those, those people you are in battle with and living that through really help keep you going. So that I think my two partners are on was the ones that I think of top of mine. So
26:45
that was Brian Biss Bala, again,
26:47
our very first investor, I still talk to on a weekly basis, generally for less than 30 minutes, but just a real quick check in. And it's the hardest part about starting a company and leading company is you're kind of alone. There's no one you can really ask for advice. You're, by definition, the expert in the world or whatever you do. And having some outside perspective, just ask, just talk through the issues you're dealing with is is incredibly valuable. Whether it helps or not, I still have the choice to take their advice or not. But just the ability to talk through it not feel alone is incredibly, incredibly important.
27:23
That was Andrew Schultz again. We'll close with Jai kissoon, giving his best advice to founders on fundraising, which is just great, general advice for founders as well have your
27:37
story down. I mean, honestly, it really comes down to having that guiding mission. And I know it's bigger than a mission statement bigger than a value statement, but and then bringing everything back to that story and being able to have you know, everything reflected from financial performance to what you're doing in marketing, really fall in line in line with that story.
28:01
Thanks for joining us on execution is King
Transcribed by https://otter.ai
Welcome back to the Great North Ventures newsletter! (Sign up here!) This month we have some advice for founders as well as an open call for funding applications.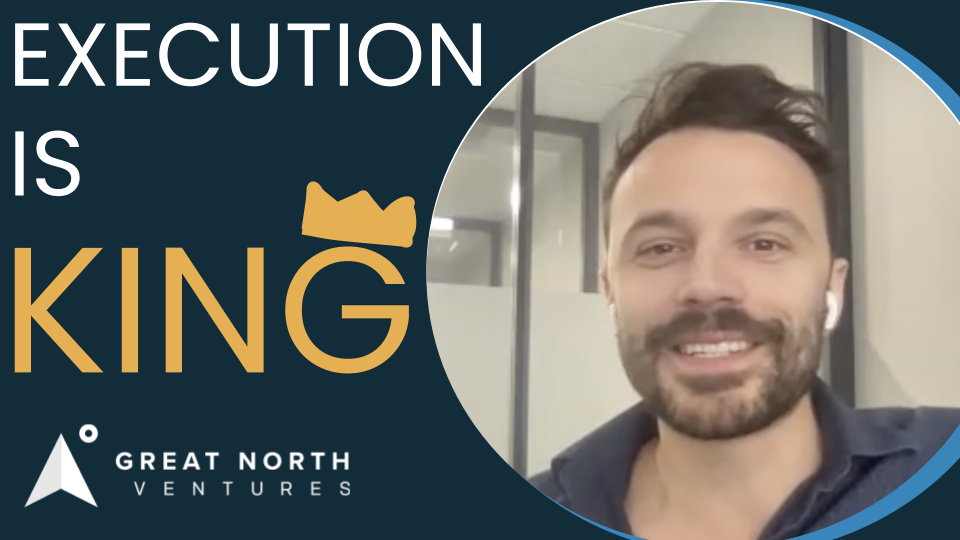 In the latest episode of "Execution is King" we talk with Jonathan Treble of PrintWithMe. Jonathan talks about his path from Wharton to Grubhub to CEO/founder, and shares advice for those starting out:
"Optimize for control over valuation" – when negotiating at early stages.
"Validate with the smallest team that you can" – because, really, more money means more problems.
For the full episode, including recommendations and resources on recruiting, find us wherever you get podcasts or on YouTube.
For the full episode, including recommendations and resources on recruiting, find us wherever you get podcasts or on YouTube.
As we move ahead with Fund II investing, our themes have coalesced. Here are descriptions along with examples from our portfolio.
Digital Transformation through AI – We are looking for technology-driven startups that are innovating analog industries using artificial intelligence. Examples include Dispatch and Flywheel.
Community-Driven Applications – We are looking for consumer or enterprise startups which are connecting people through software, especially in the areas of media consumption or commerce. Examples include NextGem and PartySlate (and our new investment, Mustard!).
Solving Labor Problems – We are looking for startups with market-driven solutions for workplaces and labor. Examples include FactoryFix and Skillit.
If you are a founder who fits a theme and our investment criteria, apply for funding on our website!
Portfolio Updates
Mustard is new to the portfolio! Mustard is a video-based food discovery and ordering app. Users view and share videos of restaurant dishes, discovering food from restaurants nearby, and can even order or reserve a table right from the app. The app is live in LA and free on the App Store.

Patrick O'Rahilly, CEO of FactoryFix Talks Jobs in Manufacturing with Tim Heston of The Fabricator

Allergy Amulet Research Secures Second Peer-Reviewed Publication

NoiseAware Introduces AutoResolve To Solve Vacation-Rental Noise Problems Automatically Any Time Of Day Or Night

Breezeway and NoiseAware announce integration
Open Positions
See open positions on the Great North Ventures careers page
Dispatch is hiring for 58 positions

FactoryFix is hiring for 8 positions
2ndKitchen is hiring for 5 positions
PrintWithMe is hiring for 22 positions
Parallax is hiring for 2 positions
Branch is hiring for 14 positions
Inhabitr is hiring for 6 positions
NoiseAware is hiring for 1 position
PartySlate is hiring for 1 position
Flywheel is hiring for 3 positions
Rob and Josef talk podcasts, and comes clean about his awkward intro to Nick Moran.
Nick talks about his path to becoming a General Partner of New Stack Ventures and the host of The Full Ratchet podcast. We talk decision-making as investors, and advice for founders, including the most common mistake: building a product then trying to find a market for it. Then dive in to address the problem of matching opportunities to investors, whether it's founders pitching VCs, or VCs pitching institutional investors.
Rob and Nick connect as founders-turned investors, while Josef jokes about the Insane Clown Posse in a truly additive and valuable fashion.
Not really.
Who does Nick see executing? He calls out two companies that have pushed through the pandemic, Flamingo and Tripscout.
Full Transcript Below:
00:00
Welcome to execution is king, the Great North ventures podcast. Today we're joined by general partner of new stack ventures, Nick Moran. He's also the host of the full ratchet podcast. With me today also his general partner of Great North ventures Rob Weber. Thanks for having me, guys. This is such a pleasure to be here, Rob. Always good to see ya. Thanks
00:21
for joining us, Nick. First starters, talk a little bit about how you became a venture capitalist. And also tell us about a little bit about your work with the full ratchet.
00:31
Yeah, you got it. I mean, we've talked in the past, it was a bit accidental. This is my second career. So I started out in corporate America, doing m&a, you know, scouting out early stage tech companies to buy through a roundabout series of events, I ended up being an entrepreneur within this organization taking a product to market over three years, working with a large r&d team of 30. And we had sort of extraordinary success with that product. I was a beneficiary of that success and was able to sort of leave corporate america and, and figure out my next path in life as a young man when I was about 32. So I moved back to Chicago with my wife, I started angel investing and, you know, fell down this rabbit hole of venture and startups and, you know, how do you build the next transformational multibillion dollar tech company? And yeah, through that series of events launched the full ratchet, I think it was, maybe at best a clever hack to network with some folks on the coast. At worst, you know, it was just kind of a fun program for me to learn. And it really worked out. I mean, I think I was early to the podcast thing and got lucky. The audience sort of exploded, you know, before there were 1000s and 1000s of podcasts. And that resulted in a lot more deal flow than I knew what to do with and sort of snowballed into this investing for newstagged. ventures.
02:06
And you're up to almost, is it almost 300 podcast episodes so far? Is that right?
02:11
Yeah, I think so. It's probably more than that between we do these special segments in between episodes. So I can't imagine how many we have total. But I would bet how it gets it's more than 500 at this stage.
02:22
Yeah, it's really impressive. I was just talking with Nick before the show about these great episodes he does with investor stories, that are just great little bites. So if you have a minute, check out the podcast, that episode I'm talking about the last one is about 11 minutes long. And it sees for investors giving post mortems on these companies that failed. And it's just as super interesting, especially like the example around the one that failed due to COVID. Because it just this excessive headwinds and stuff. But there's some great points from Great Investors on that podcast, urge you guys to check it out.
03:00
Yeah, I think part of the context that makes your experience, Nick, as he talked about it, you know, so interesting is having been on both sides of the table, you know, building a product, and then spending all this time interviewing all these investors, and then, you know, actually running a fund. But you know, especially as we think about, like, the product side, that's kind of the background that my brother and I had before we started getting more adventures, you know, after, you know, spending so much time in this space. What are some of the takeaways you have, you know, for new founders, you know, in terms of product development? What are some of the common mistakes that you see, or what advice would you have, and I know, your fund is kind of in the pre seed seed stage was very early, in fact, earlier than probably a lot of other venture funds. What would be some of the advice that you would give to, you know, a first time founder who's building their first product?
03:52
It's a good question, I think, sort of classic mistake that still the majority of entrepreneurs make, even though we've we've said this advice over and over again, Rob, you and I have talked about it is, you know, they build a product and then look for a market later. Actually, just last week, we were talking about this episode I did with Dharmesh stacker from battery, right. And he was saying one of the weaknesses with doing investments in serial entrepreneurs. So folks that started and had success with a tech company from a previous generation is often those types of founders from you know, that learned in an old generation of tech, they often want to build super powerful tech, and then go out and you know, find a market for it. try and convince customers that this is the solution to all their problems. And in the modern world, in the modern tech world. That's just not how things work. You need to prove value up front. You need to deliver ROI and value super fast. I think Dharmesh, his rule is in 90 seconds or less, you know, the end user needs to understand why this is transformational for them and makes their life better. And so we've seen this big shift to a focus on customers focus on needs, you know, what are the key problems that you're facing in your work life or in your consumer life? And then how do we reverse engineer a solution that really delivers on on that problem? So if I were to give advice to the early stage founders, it would be you know, become obsessed with your customer, find your ICP, your ideal customer persona, spend time in a market, discover the key insights, you know, what are the key challenges facing that market, and then figure out how to build a solution that meets the need, you know, don't just just because you're a developer, and you're a talented builder, that doesn't mean you should go out and build some super powered tech, and then just assume that the market is going to love it.
06:02
Do you think that's a consequence of tech really exploding out of, you know, the confines of being its own sector, and just kind of taking over every sector? that that that shift away from just being able to build something great, and then figure out a way to sell it, versus having to build to actually fulfill these needs?
06:22
Is that Yes, I think so. Joseph, I think it also goes a little deeper. I think it's a mindset issue. And I think it's, it's the victim of arrogance, right. So we all have a bit of confidence, and maybe maybe a shred of arrogance, some more than others. But when you are arrogance, you believe the world operates like yourself, you believe that the mindset of the consumer base is much like yourself. And so you think that if you can build something, that's your ideal product, right? That's your ideal technology that ever the market will come? Right? If you build it, they will come? The reality is that, you know, if you've met one consumer, you've met one consumer, right? There's a lot of shapes and sizes, there is no one size fits all anymore. That just doesn't work. And so you need to figure out, you know, what are the segments within the market? What are the consumer groups, or the buyer groups within b2b that have a similar philosophy or ideology or buying behavior or need set, and you need to you build products that really serve a problem and serve a need. So I think it's a problem of mindset. And it's folks thinking that the rest of the world operates like themselves. And that's just not the case.
07:42
It's interesting, I do think there's a sort of fine line between self confidence and being open to feedback, right. And I think in entrepreneurship, like you kind of have to have a balance, I think the best entrepreneurs app have developed that strong customer empathy. So they can kind of wreck, you know, they can take the feedback loops, and kind of, you know, bake that into their product development. It does take a degree of self confidence, though, because you can't have every, every single feedback session or artifact, you know, can completely push you off your strategy. So it's kind of a fine line of being a good listener, but also having, you know, some confidence in finding the right path forward. Right. And when you are building out your products in the past, like how much do you stock? Do you put in just like the systems for startups? Like, are your real vocal proponent of kind of lean startups and all the, you know, systems behind that? Or are you kind of take a more like open approach to, you know, in terms of the systems that these entrepreneurs are utilizing to kind of bake their strategy or their product development?
08:50
Yeah, that's a tough one, I would say, Yes, I am a proponent of the lean startup, but more at the theoretical and philosophical level, I think some entrepreneurs can get maybe too caught up in the tactics, and you know, the details with that and chase their tails a bit. I mean, to your point before, you can't be so wishy washy, that all feedback from customers finds its way into the product. Right? We like to say that when we're selecting founders, or we're investing in founders, we like to find people that are incredibly stubborn about their vision, but incredibly flexible about the path to get there. Right. So you need to have a really strong vision, here's where we're going. But you need to be incredibly receptive to the market in the customers and how the product actually manifest in the path. To tie this back to my experience with the product. I'll give you a simple example. Right? I was building a handheld device, right? It was a handheld device for measuring compounds in drinking water. So things like monochloramine or chlorine or nitrate or iron, right. And a huge number of the customers That I did testing with said, I would like this to be touchscreen. Right? We launched this product in 2013 ish timeframe. And there was a big proponent of customers that said, I really need this to be touchscreen, right in the markets that we're testing. Well guess what the reality is, there's a lot of cold weather climates, where people are doing this testing on the back of a pickup truck in sub zero degree temperatures in places like Minneapolis, or Chicago. And they're doing it with huge gloves, and big parkas and a hat and goggles. And you can't have a touchscreen device in that environment. So this is just one simple example of the overwhelming feedback was we want touchscreen. But when you look at the markets we're going to sell this product into it was not a viable decision for the product, right. And so that's just one small thing. Like you need to collect all the different information from the customers, but it's the job of the product manager to decide on the solution. Right? It's the customers that surface the problems, the product manager needs to find a solution that most appropriately services the market.
11:13
That's really interesting. Well, yeah, bringing up, you know, kind of the Midwest in Chicago. I know, that's where you're based. Can you describe a little bit about your experience, since you moved back to Chicago? What is the startup ecosystem like there? For those who are unfamiliar?
11:29
It's exploding. I mean, I'm not on the ground in Minneapolis, I'm sure you've seen things really develop and evolve in your ecosystem. But in Chicago, I got back in 2012 2013, in 1871, had just opened, which is sort of the incubator startup Mecca. Within Chicago, we were really just finding our footing on becoming, you know, a real sort of call it a second tier tech ecosystem, not not on the level of San Francisco, New York, but a major player, right, we had had some big exits, we had some big successes, and that had spurned some talent in the ecosystem that went and started more companies. So now, you know, during the past almost 10 years, geez, it's developed quite a bit, you know, there's more venture capital firms than ever before. There's more startups being funded than ever before. we've really seen the ecosystem progress for the better, and sort of hit its stride. So I think Chicago is only going to go from here. But you know, if you go back to the time I started investing, there was very few pools of capital. And we kind of, we had our choice of the startups we wanted to invest in now. It's, it's, it's more competitive, which is better for everyone involved.
12:55
I was really impressed. When I went back to Northwestern in February, pre COVID. For venture capital events. I had gone to school at macdill. So I haven't spent a lot of time at Kellogg, but when I went there, they have this fabulous new building, which they were just building when I was at Northwestern. And it was just a beautiful setting right there on the lake, the field. And it was full of all kinds of people. Betsy Ziegler was there from you mentioned 1871, some other people, all kinds of great funds represented there, mingling with just these top level up and coming VCs, out of Kellogg, and just being in that spot. And that's not even that's up in Evanston. That's not in the heart of anything, which, from my experience is more towards 1871 would be kind of the heart of a lot of this action, while at least downtown in general will be more towards the heart of it. But it was super impressive. It really gave me some hope for what what we can aim for here. You know, like getting that vision, getting that idea, that vision for Minneapolis and what the ecosystem can aspire to be.
14:04
Yeah, it's really great. I mean, you've cited the university's Stanford and MIT their efforts are well documented and the stratix accelerator at Stanford, you know, one of the most prominent in the country. But look, look at Northwestern, you mentioned them, they've got the Wildcat challenge and look at Chicago Booth. They've got the NVC the new venture challenge, which I believe kicks off tomorrow on the third of June. This has become the Chicago Booth one has become one of the preeminent accelerators in the country. That ranks right up there with the YCS and Angel pads, right? The successes from that program, you know, the winners of Chicago, Booth NVC, our grub hub, Braintree tovala, I mean, you know, hundreds of millions, if not billion dollar companies that have been enormously successful. So it's it's really nice to see that the academic academic institutions have structured themselves in a way to really promote true Entrepreneurship, that is the challenge when you get into academia, you know, is this going to be more of a research or learning exercise, there's this really, you know, a capitalist endeavor. And I think what we found is the Chicago based institutions have figured it out, and, you know, created some really transformational, you know, large scale tech companies. So we're looking forward to meet and some more tomorrow at the competition, and at a future Northwestern event as well.
15:29
I think it's really interesting, Nick, I've been building software companies, either as an was started off as an entrepreneur, and then an investor, the last, you know, I don't know, 15 years, but 25 years as entrepreneur, all in Minnesota, and really, you know, from when I got started, there was very little support, there weren't organized, you know, communities for startup competitions, accelerators, you know, maybe there was one or two venture funds, you know, now there's, you know, just in the Twin Cities market, there's well over a dozen early stage funds. And then we have, you know, it's a little different in Minnesota, the University of Minnesota, I think it's a little over 10 years old, we have a Minnesota cup, which is actually kind of built for all startups in Minnesota, it sort of lives, you know, on the campus of the University of Minnesota, but it's not just for the U of M students. So it's kind of interesting, I think it's, it's evolved a bit differently. But in many respects, I think the last decade is really brought just incredible wealth of support for entrepreneurs starting to build things. Of course, I think one of the main areas that entrepreneurs that are looking to get discovered are looking for support is on fundraising. And you know, despite the emergence of what 1500 plus venture funds around the country, you know, getting that first round of capital for many is still really challenging. And I know you're, you're one of the few funds that you know, invests in kind of pre seed, and then also what I've called, like, really early seed stage companies in the Midwest, I know you invest all around the country, what are some of the signals you look for? Or what are some of the things that you would in terms of advice would pass along to founders, you know, in terms of raising that first round of venture capital?
17:08
Well, first of all, you need to know where to aim. Right? Like before you launch a process, and before you start pitching. And before, you know you do your dog and pony show with a bunch of investors, you have to understand your ICP. Just like if you're launching a product into a market, right, who's your ideal customer persona. And for a fundraise is the same Rob, you just mentioned, like in the Midwest, there are seed stage investors series A investors pre seed, some will do pre traction, some won't. Some will invest in hardware, others won't write some, like consumer, some have a preference for b2b. We've got a whole crop of Life Sciences folks, right? There's a lot of shapes and sizes to these investors. And if you just roll out of bed with a really cool product, and you know, a little bit of sales, and do your rounds in sort of Minnesota ecosystem with whoever you can get an intro to, you're probably going to find some mismatches, right? It's like the dating app. And you know, you're you're dating somebody from a different culture that doesn't speak your language. And it's like, where do we even begin here? So you kind of have to know where to aim. Figure out what type of startup you're building, right? What are the sectors you appeal to? What are the technologies that you're building around, you know, Ai, blockchain, etc? Who are the markets that you're serving? Right? Are you serving certain demographics with your startup, let's say, the boomers or Gen Z, for instance, or you know, maybe your startup is focused on women. And then the stage, of course, the stage is important, the geo is important. So there's all these filters and structures that investors use to kind of think about your startup. Here. Again, it's like sector, market technology, geo stage. And if you are honest with yourself about which boxes you check, you can find the ideal set of investors that is just well designed for your startup. Right. There are generalists that just invest in Minneapolis startups, there are specialists that just invest in AI powered startups, right, you need to know who those investors are first. Rob, you and I have discussed this tool that we built VC dash rank.com. It's a simple questionnaire that startup founders can fill out in five minutes or less about their startup. And they generate a customized list of all the ideal early stage investors for their startup. I think we have somewhere from 15 to 30. Startups filling that out every day. So it ends up being you know, you add those up over time, there's a lot of startups out there looking for investors, but if you're aimed in the wrong direction, you know, you're gonna waste a lot of your own time. In founders time is the most important thing when you're building an early stage startup.
19:57
I think that that's a lot a source of a lot. VC hate that you see, I mean, there is plenty of legitimate criticism about VCs, there's there's bad behaving VCs, don't get me wrong. But I think that that point you just made, that it just being a mismatch, that people going into every what should be a speed date with the intention that they want to get married, without actually realizing that they need to make sure that that's going to be a good match. I think that that manifests itself and justly so in people getting incredibly, you know, frustrated by that process, and then taking it out against just the industry in general. It kind of obfuscates a lot of the legitimate criticism of the industry, though, and and makes people you know, it makes it harder to uncover. Because when the problem is that source, what's the real problem? It's hard to uncover when it's just simply a mismatch from the beginning.
20:54
100% Joseph, and I'm getting a taste of my own medicine, right, because as we embark on on raising our next fund, we're not raising currently, but as we do that, we need to meet with the right investors for us, right. In our industry, we call them LPs limited partners. But I need to know who are the institutions that like to invest in emerging funds, right? Who are the institutions that like funds in the $50 million size range? Who are the institutions that have an interest in the middle of the country investing versus coastal, right or international, right, if I don't do my homework, on my own ICP, then I end up spinning my own wheels with a bunch of folks that you know, want to cut billion dollar checks in the multi billion dollar funds that are focused only on San Francisco, and I've just wasted their time in my own. So, you know, this, this has got many different levels of extra abstraction, whether you're a startup selling a product, you know, founder trying to, you know, sell your business, sell equity in your business, or a venture capitalist that's, you know, trying to raise a fund.
21:55
And just some advice to anybody out there who's going to turn around and Google ICP to figure out how to proceed, ignore the first results, or any results with pictures of crazy clown makeup. That's the wrong result for you. Wow, flashback there. Now we're showing our age.
22:12
It's really interesting, Nick, when I was a sort of founder turned investor, you know, I was like you as an angel investor for a while, while while I was sort of founder, took the success as an angel investor became a VC. And the number one request we have, from founders we back is, can you help me complete my round? Or can you help me connect other capital sources, and to me is like a founder turned investor, it's like, the least interesting thing I could help a founder with, is just finding more capital, I'd rather go deep on like product goes to market, you know, human resource and operations, like how do you scale the growth of the company? Not so much like, Hey, can I i've this spreadsheet, I started with 200. Plus, it's just people in the last four years that I've talked to you that are involved in the VC game, and I did use the VC dash rink comm tool that you built for internal startup we had been incubating called next jam, it's really, really useful to kind of filter down across these different dimensions, who are the funds that we should be talking to? And I think a lot of founders, it's not even so much as like getting an intro to the funds, like, I know that a lot of the funds that we should be talking to, but they weren't necessarily the ones top of mind for me. So just having a filter to say yes, these are the ones that based on, you know, some kind of database are probably the ones that are right for you and make some ton of sense to me. So I think it's super valuable. I'd love to see more startups using this. And it wouldn't solve this, like signal and noise issue when what you really want is like relevant deal flow that can make right you know, the speed for fundraising faster, right. 100%.
23:46
I mean, it's, it's amazing to your point, how network driven and opaque the whole fundraising landscape still is, it's always based on referrals. And you have to have the right networking etiquette. I mean, if you go back to the origins of VC, it was a little cottage industry, you know, country clovers, and people that were insiders, Sharon deals. And that's kind of where this industry began. But, you know, as we move forward in time, it's institutionalized. I mean, tech is no longer, you know, a footnote in the asset class universe tech is sort of leading and driving the returns, both in privates and publics. And so I think we're gonna see our industry, our asset class, really professionalize and become more tech fold. Right? It shouldn't be this old insider game of who you know, and who can I get an intro to and, like, you know, can I can I get the royal treatment from the investors at benchmark I mean, amazing, firm, right benchmark, but they they don't have a website, right? You have to know somebody to kind of get in there. And honestly, I think that's the model of the past. I think it's gonna die. The future is about you. Technology Solutions media, you know, having a systematic process, it's it's not about who you know, it's about what you can build.
25:08
And increasingly, it's not about where you're located either. I mean, that's starting to not matter at all, which used to be hugely important for VC. And even when you look at VCs who do business all over the world or across the country, you know, that geography that they do more deals, where they're located, then states further away, like if you're based in DC, or even if you're based in Chicago, you know, there might be a way more deals in Silicon Valley, but you're going to be doing more deals in Chicago, just because that's who you run into. But increasingly, that's becoming less and less important.
25:44
Well, I think, you know, one of the effects of COVID is no longer do I have discussions with investors that say, oh, middle of the country, investing the Tam's too small, like the outcomes aren't going to be big everyone? Well, not everyone, but the vast majority of folks out there realize, wow, there's talent everywhere, you know, whether it's talent that left the coast that moved other locations, or just the reality that great, huge, multi billion dollar tech companies are being built everywhere. We're seeing that more and more every day, which is, it's nice not to have to face that objection anymore. Oh, Minneapolis. Oh, yeah. No good tech companies are gonna come out of there. Chicago. Yeah. You know, you guys have your strengths, but it's not technology. Yeah. Okay. Let's look at you know, the cameos of the world and, and you know, these other huge successes. So it's no longer an objection, we really have to face which is nice.
26:39
So Nick, I know, you take a very systematic approach to venture capital, kind of pioneering how to use tools and technology to make the process more efficient. I saw this survey a few months back that ranked from founders seeking capital, the number one criteria or attribute that they cared about the most was speed. Yeah, and I know you've interviewed a lot of funds, are there, you know, from a systematic standpoint, are there certain things you found to really speed up the investing process? Or is there any any other venture funds that, you know, obviously speeding, making a quality decision that times are enemies of each other? Right? Like, you know, how do you have you? Have you found ways to move faster in decision making, or across the VCs that you've interviewed? Any that really stand out to you on this dimension of speed?
27:27
Wow, that's a tough question. Yes, we have implemented a lot of systems and processes, I can talk about that when to your ladder question on any VCs in particular, I would say that the VCs that stand out, as being great at making decisions quickly, are solo capitalists, largely, you know, when an individual is doing the meetings with the founders and can decide at first meeting or second meeting. Look, this person has the right ingredients, you know, like you're taking all these data points, they're mixing up in your head, we talked about this abstract concept, pattern recognition. But honestly, a lot of at bats in this industry over time, you start to figure out here are the things that I like, and you process all these data points, and you make decisions. So it's the solo capitalists that can move quickest, because, you know, there's no infrastructure, there's not multiple people, there's not, you know, a whole series of diligence. When it comes to our firm. We are not that, right. So we have a number of people at our firm that can do deals. It's not just Nick Moran, right. And I've been very clear with my folks here in New sec from the beginning, this will not be the Nick Moran show. This is newstagged ventures, we are building a scalable venture capital firm. And so what we've had to do is get very, very clear about what we're looking for. We kind of divided up into three segments. So when we're looking at a deal, we look at the who, the what, and the how. So the who is the foundation, that's the people behind it, the talent, their raw capabilities, their you know, their raw mindset. The what is kind of the business is the business, the industry, the sector, the product, is it, you know, scalable? Is it venture scale is an interesting does it have tailwinds and then the How is sort of the framework that the founders are using to access that market, build the right product. Think about you know, how we wedge into the market? How are we focused on customer needs? To that point, we did you know at the top of the interview or are we tech first. So the How is like the process that the founders are going about to access the opportunity. And then you know, at New stack we think very specifically about what are our must haves. What are important to have and what are nice to haves and across each of those three, the who, what and the how we've been very specific about what those three are. So we have must haves on every deal. If a must have Isn't there we pass, we have our important hands on every deal, if a certain percentage of important to haves aren't there, we pass. And then we have our nice to haves as well. And so that's our attempt at taking all these patterns and all these factors that we're vetting for, and actually codify them into a process that can be taught to young folks, you know, as we have this fellowship program of 20 young folks across the country, undergraduates, and it's too hard to spend the next you know, five years with all of them and try and teach them all these abstract patterns, we have to codify them, we have to get very specific about here are the factors to be looking for, so that their learning curve, you know, moves quicker. And the end effect of that, Rob, is that we should be able to make a decision on a founder, and investing in that founder in less than two weeks, hopefully, less than one week. But if we know what we're looking for, and who we are as a firm, and you know, what types of founders are positioned to succeed in a partnership with the SEC, then we can move more quickly.
31:04
I just said one more kind of a more narrow question around this process and system you have I know, one of the things they talk about in venture capitalists kind of decision making is this notion. It's like a psychology notion of, they call it confirmation bias. And I know I've experienced I've had to sort of fight myself against is that time where I see it, even in our partnership, like the more time you spend on a deal, there's a tendency to look for evidence to support, you know, your initial interest in that deal. And so you have this self fulfilling kind of confirmation bias to do a deal as you dig in more and more and more. Have you had any, you know, with this sort of more in this sort of system that you have? Do you have any sort of guardrails against like confirmation bias? Or have you ever felt like you've experienced that? And, you know, or how do you avoid confirmation bias?
31:53
It's a good question. I don't know, if we have an answer to that, if I'm being honest, I do know that we've gotten incredibly late stage in diligence on deals. I mean, I even flew with, with my deal lead to Colombia, the country to do diligence on a deal and spent two entire days, you know, in the field, like meeting with customers and whatnot, we ended up passing because something came up late stage and diligence that violated my staff. And we had to have a real honest conversation about that. And, you know, as I think about scaling this firm, I think about, you know, we need to use these moments as teaching moments of how we got to make decisions. And even if it's even if it's so much easier to proceed with the investment at that point, because the sunk cost is there. And the confirmation bias, is there. the right decision, if we really want to build a best in class firm, that's going to produce great returns, and teach folks how to say no, even when you're over committed, is you got to say no, when, when it's right to say no. And I learned that the hard way working for dinner for years in m&a, a very aggressive acquire My god, I would do diligence on 1000s of companies, I would spend, in some cases multiple years, getting to know founders of different companies and visiting them in Spain and Italy and all around the states. And then those deals would fall apart. And so yeah, that was a painful reality in our business. I mean, we're meeting with founders, you know, for weeks or months. And so to pull the plug on those for me is like, you know, that's nothing. It might be harder for the younger people. But for me, it's nothing compared to multi year. relationships.
33:39
Yeah, totally. You bet that your prior experiences is super helpful in that regard. So I think Joseph, you had a kind of a final question, right? Oh, yeah.
33:49
Yeah. So our last question here, like to ask all of our guests who come on the show, can you tell us about someone or a startup that you've observed executing at a really exceptional level, maybe someone in your portfolio or someone outside of your portfolio, but someone you've seen maybe who isn't getting recognition for that, but who's really killing it? There's too many to choose from.
34:15
Maybe I'll pick a couple that were slammed hard by the pandemic. I mean, terrible categories for the bat pandemic. One is Jude chewy, he runs a company called Flamingo. Flamingo serves the multifamily property industry. And it's a it's an events focused platform. And that thing, I mean, the events out of the business went to zero effectively last, I think, April or May. This guy is just a rock star. He built a SaaS business alongside his events business during the pandemic, grew it to the size of the events business. I mean, remarkable MRR and now the events have come back and so now he's got I mean, it's kind of amazing but he's got a you know, two sided, you know, dangerous multifamily software business that does both events and, and software as a service, which are super complimentary for what he's working on. And it's just been amazing to see the resiliency. I mean, it would have been very easy for him to shut it down. And many of my LPs reached out and said, Is God gonna survive? And I said, if you ask him, there is no quit here. There is no, you know, pulling this business up and just super proud of him. Another one is Conrad Wallace Xu scheme in MDX at at a business called trip scout. This is a travel business that serves consumers and just got crushed, absolutely crushed by the pandemic. Many travel companies went out of business, many large travel public businesses just are on the ropes like the TripAdvisor is of the world. And these guys have just made magic of, of the situation. It's, it's unbelievable, how they doubled down created more content and special guests. You know, created a almost like an Anthony Bourdain, like series on travel during the pandemic, travel from home, you know, everyone's stuck inside. How do you get the experience of being on a trip when you're at home? And coming out of the pandemic? they close? I think they recently closed 4 million bucks from accomplice, I mean, tier one VC there. I mean, they are on this upward trajectory, like I haven't seen. And it's it's kind of amazing. You know, there was never quit, there was never hesitation. There was optimism, despite a really tough situation. So those are two I would, I would just, you know, tip my cap to them. I'm glad and proud to be an investor in people like that more so than than anything. Trip scout and Flamingo. We'll have to check those out. All right. Well, thanks
36:53
a lot for joining us today, Nick. It's been a pleasure and best of luck as you continue to grow, you know, new stack and thanks for you know, launching VC dash rank.com. And the other work you do to support entrepreneurs and founders and of course, the podcast, which is one of my faves. So thanks for joining us today.
37:12
Yeah, thanks, Nick. Make sure you check out the full ratchet, visit the new stack website. They've got some great tools for founders on there.
37:20
Such a pleasure to be here guys. Thanks for having me and love the pod Keep it up. Can't wait to see who the next guest is.