Welcome back to the Great North Ventures newsletter! The big news this month is the closing of Fund II!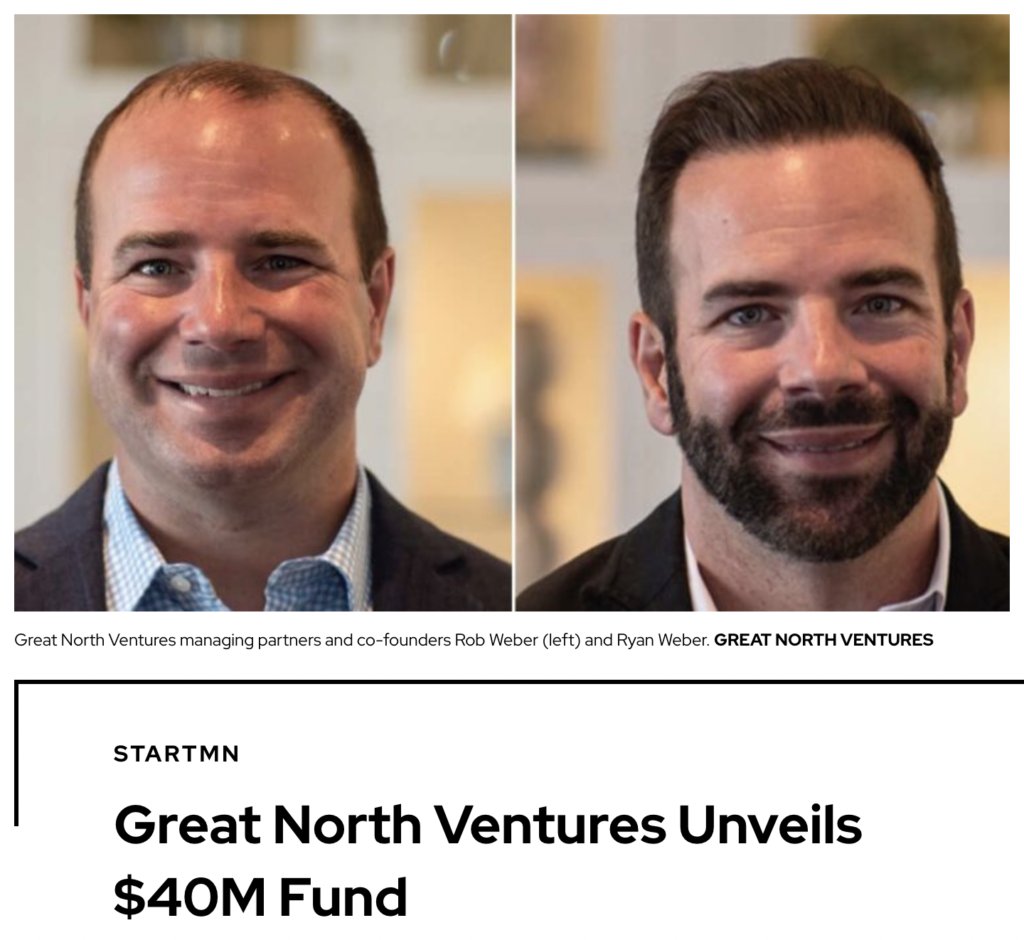 We have closed our $40M Fund II! Great North is excited to build on its Fund I success investing in startups from Seed to Series A, with a new, larger fund.
Fund II Snapshot:
Investment Themes: "Digital Transformation Through AI", "Community-Driven Applications", and "Solving Labor Problems"
Network-driven investing, rooted in Minnesota, spread through the Upper Midwest and beyond
Innovator Network of successful founders, investors, and experienced Fortune 500 operators
Fund II's Venture Studio co-creates and supports ~1 startup/year from ideation through launch and beyond
View our Fund II Investment Thesis
Thanks to our investors, founders, team, and to our community! Read more coverage here and here.
"Great North Ventures has a strong track record," said Rob Weber, Founder & Managing Partner. "Our investors have given us a vote of confidence by coming out strong for Fund II, with a 70% increase in fund size, and we are grateful for their continued support as well as the support of new investors. Our strategy as a thematic, network-driven investor focusing on opportunities in underserved markets is resonating, and we see this successful Fund II raise as proof of this theme and our ability to execute."
Interested Founders can apply for funding consideration immediately. Are you looking for early-stage funding?
Do you fit one of these themes:

Visit our site to view our criteria and to apply.
Need to learn more about early-stage scaling and venture funding? Are you working on scaling and thinking about VC funding? Listen to the latest episode of Execution is King.
It features Eric Martell, Founder of Pear Commerce, former founder of EatStreet, and former Venture Partner at gener8tor. As a successful founder, investor, and now repeat founder, Eric has valuable insight on what it takes to scale and successfully utilize funding. And guess what? He shared it with us.
Like this tidbit on what remaining focused on the problem looks like: "it took some patience and dozens, if not hundreds of customer conversations, and not being super in love with any individual solution to the big problem that we were trying to solve until we found that correct solution. And it's almost like, you know when you know, because then the business really took off."
Portfolio News

Amulet Launches to Bring Powerful Detection Out of the Lab and Into the Hands of Millions [Allergy Amulet]

OneMedNet Partners with Flywheel to Provide Leading Healthcare Imaging Data and Data Management Solutions

Good Design Awards Highlight Connected Devices [Allergy Amulet]

Omnia Fishing To Simulcast Bassmaster LIVE As Shoppable Feed For Two Elite Series Eve
129 Open Positions
See all open positions on the Great North Ventures careers page
Dispatch is hiring for 49 positions
Structural is hiring for 1 position

FactoryFix is hiring for 5 positions
PrintWithMe is hiring for 19 positions
Parallax is hiring for 4 positions
Branch is hiring for 15 positions
Inhabitr is hiring for 1 positions
NoiseAware is hiring for 5 positions
PartySlate is hiring for 5 positions
Flywheel is hiring for 3 positions
Skillit is hiring for 1 position
NextGem is hiring for 2 positions
Backhouse Brands is hiring for 1 position
Yardstik is hiring for 7 positions
Micruity is hiring for 3 positions
Omnia Fishing is hiring for 8 positions
Great North Ventures is pleased to announce the promotion of Mike Schulte to Venture Partner!
Mike joined Great North as an Associate in January 2018. He was previously employed in the venture practice of Soffer Charbonnet Law Group in the Twin Cities. Mike received his BA degree from Minnesota State University Mankato in 2013 and JD/MBA degrees from the University of St. Thomas in 2017.
"Mike Schulte has proven himself to be a key contributor for our fund, and a valuable resource to our portfolio founders and fund investors," said Rob Weber, Founding Partner of Great North Ventures. "Mike excels in investing, on the legal side of venture, and in taxation and structures to benefit our investors, such as the 1202 qualified small business stock exemption. He has also been a valuable resource to the co-created startups in our new Venture Studio. We look forward to an even bigger impact from Mike in his expanded role as Venture Partner as we move ahead with investing, growing, and building startups in Great North's Fund II."
Mike has made an impression with founders of Great North portfolio companies, including Tom Spaniol, CEO and cofounder at ZenLord Pro. "I've worked closely with Mike for the past two years and I've had nothing but great experience. His knowledge of the startup ecosystem has been a great value to us as we grow our business and raise investment dollars. I look forward to working closely with Mike in the future."
Andrew Schulz, CEO and cofounder of NoiseAware, said, "Mike was thoughtful and respectful as NoiseAware was moving through our process. I felt like he cared about our business, employees, and customers, which made us even more excited to work with the Great North Ventures team."
Asked about the promotion, Mike said, "I am honored to continue investing in the innovation ecosystem with such a great team."
Welcome to the Great North Ventures newsletter!

Yes, you read that correctly: Great North Ventures. We have had some big news come out lately, and the name change to Great North Ventures better reflects our organization.

We Launched a Venture Studio
The Great North Venture Studio co-creates startups to tackle focused market opportunities. We pair with talented founders and operators to generate 1-2 startups every year. The first startup is a consumer app in the collectible sports card trading space. 

Read more about the venture studio in our announcement.
The ideal companies that will launch from the studio are quick-to-market, digital products focused on health care and life sciences, financial services, consumers, real estate, transport and logistics, workforce development and education, and business-to-business.

New Name, New Venture Studio, and New Fund
These changes are all connected to our investing. As we complete our final investments from our inaugural fund and start investing from Fund II, we have evolved our model.
By co-creating ventures, we will produce unique deals for investors, and unique opportunities for talented operators.
By widening our geographic focus to invest in founders wherever they are, we are open to more quality early-stage opportunities and founders.
By changing our name, we reflect these changes from our Fund I model to our new investment strategy.
Stay tuned for more changes as we update our content and presence across online platforms, to clarify and better serve investors, founders, and talented operators.
Portfolio News
SiteKick is new to the Great North Ventures portfolio! SiteKick is a construction site monitoring and reporting software platform intended to effortlessly monitor and report on critical construction site activities.

Allergy Amulet closed a $4.1M round of funding. "The world's smallest & fastest consumer food allergen sensor" will officially launch in late 2021.

Flywheel's CTO, Gunnar Schaefer, did a Q&A with the Tech Tribune where he talks about working in medical imaging at Stanford, realizing a huge problem presented to researchers, and how Flywheel solves it.

Job Board
Dispatch is hiring
Territory Sales Manager- Las Vegas, NV/REMOTE
Territory Sales Manager- Phoenix, AZ/REMOTE
Territory Sales Manager- Tucson, AZ/REMOTE
Territory Sales Manager – West Region – REMOTE (OR)
Territory Sales Manager – West Region – REMOTE(UT)
Territory Sales Manager – Mid Atlantic – REMOTE
Territory Sales Manager – South Atlantic – REMOTE
Software Engineering Manager – REMOTE
Vice President of Product – REMOTE
Business Development Intern – REMOTE
Structuralis hiring
Director of Sales – Twin Cities, MN or Indianapolis, IN, or REMOTE
Enterprise Sales Consultant – West Coast or East Coast
Implementation Specialist – Twin Cities, MN or Indianapolis, IN
FactoryFixis hiring
Senior Full Stack Developer – Chicago, IL or Madison, WI or REMOTE
Infrastructure Developer – DevOps – Madison, WI
Account Executive – Chicago, IL
TeamGeniusis hiring
Vice President, Marketing – Minneapolis, MN or REMOTE
Lead Engineer, Mobile Development – Minneapolis, MN
2ndKitchenis hiring
Backend Developer – New York City, Chicago, or REMOTE
Frontend Developer – New York City, Chicago, or REMOTE
Account Executive, Hotels – Chicago, IL
PrintWithMe ishiring
Regional Multifamily Housing Sales Director (East Coast) – Philadelphia, PA
Regional Multifamily Housing Sales Director (East Coast) – Washington, D.C.
Regional Multifamily Housing Sales Director (West Coast) – Sacramento, CA
National Account Director, Multifamily Housing – Chicago, IL
Director, Demand Generation – Chicago, IL
Inside Sales Manager, Training – Chicago, IL
Strategy Intern (MBA) – Chicago, IL
IT Network Support Specialist – Chicago, IL
Technical Support Specialist – Chicago, IL
Inventory and Logistics Specialist (Part Time) – Chicago, IL
Shipping and Receiving Technician (Part Time) – Chicago, IL
Parallaxis hiring
Customer Success Consultant (CSC) – Edina, MN
Customer Success Specialist (CSS) – Edina, MN
Branch is hiring
Senior Android Engineer – REMOTE
Data Science Engineer – REMOTE
Sr. Software Engineer – Minneapolis, MN or REMOTE
Inhabitr is hiring
Chief Growth Officer/Head of B2C Growth – Chicago, IL
Sales and Customer Experience Associate – Chicago, IL
Clinician Nexusis hiring
Customer Success Manager – Minneapolis, MN
NoiseAwareis hiring
Customer Advocate – Dallas, TX or REMOTE
Strategic Account Manager – Dallas/Austin/Denver or REMOTE
Cloud Solutions Architect – REMOTE
Front End Developer – Dallas/Austin, TX or REMOTE
Senior IT Specialist – Dallas/Austin, TX or REMOTE
Senior Demand Generation Manager – REMOTE
Senior Partner Marketing Manager – REMOTE
Scrum Master- Dallas/Austin, TX or REMOTE
Director of Product Management- Austin/Dallas, TX or REMOTE
Software Product Manager- Dallas/Austin, TX or REMOTE
PartySlate is hiring
Account Executive- Chicago, IL
Flywheelis hiring
Director of Marketing, Demand Generation – REMOTE
Frontend Engineer- REMOTE
Platform Engineer (DevOps)- REMOTE
We are pleased to announce the launch of our venture studio, Great North Venture Labs. Great North Venture Labs will design and build companies with world-class founders and operators that are in focused market segments with substantial opportunities. Promising studio startups will be funded with capital from the second Great North venture fund.
The venture studio model is a relatively new model for entrepreneurship that combines company building with venture capital. By creating researched opportunities from great ideas, and pairing them with talent that can execute, Great North Venture Labs will create early-stage startups built to succeed. These startups will be vetted for funding, with seed capital coming from Great North Ventures (formerly Great North Labs).
Great North Ventures will focus on investing in founders who are applying breakthrough tech to inefficient processes. Our first two Great North Venture Labs companies are headquartered where we have the strongest talent pipeline, in Minnesota. In light of today's reality of startups adopting a remote-first approach to developing their teams, Great North Ventures will encourage founders to build where they are.
We are flexible with respect to what the right business model is, and will pursue different business model types including enterprise SAAS, online marketplaces, and online community/social networks. Strong execution translates to all verticals and business models, and knows no borders.
This is an evolution from our initial positioning. The truth is that the latest opportunities, teams, and new ventures are distributed. Remote work is becoming standard, and our geographic investment focus has become increasingly arbitrary. Good opportunities happen anywhere people can execute them.
Why Now?
Before we launched Great North Labs in 2017, we considered launching a venture fund and a venture studio. Predating the launch of Great North Labs, Ryan Weber and I traveled the world as founders, and we were able to see great examples of the venture studio/incubator type of businesses such as Betaworks in NYC, IdealLab in LA (our partners in Fund I portfolio company Branch), and High Alpha (our partners in Fund I portfolio Structural) in Indianapolis. Locally, Rally Ventures (our Fund I partners in Parallax) and Invenshure (our Fund I partners in Flywheel) have successfully executed this studio model too. After much consideration, we opted to exclusively focus on launching our venture fund first so that we could develop a strong platform as early stage investors.
Now that we are getting started to launch Fund II, we now have a more robust internal team along with our Innovator Network. This strong foundation rooted in strong execution from founders and operators who have demonstrated excellence in execution enable us to do so where most other early stage funds lack operational depth.
We are not just service providers, we are entrepreneurs!
One of the biggest questions we get from our fund's Limited Partners is how can we build even large ownership in the startups we invest our capital and resources into. With the explosion of new early stage funds, including those that invest earlier such as in pre-seed, the competition for the best deals is fierce. There is no more proprietary deal flow than ground up building a startup, and the opportunity to pick teams centered around strong foundation execution enables us to de-risk the earlier stages at a level not possible by most other funds.
The first Great North Venture Labs company
The first Great North Venture Labs company is in stealth mode. The new startup is focused on solving the biggest problems faced by collectors of trading cards. Like many other alt assets such as luxury goods, paintings, vintage cars, NFTs, the trading card market has grown immensely over recent years, but the market is still dominated by legacy marketplaces and other industry participants, many of which rely on dated technology and analog business processes. It looks to enhance the trading card market by using breakthrough technologies not available to prior businesses operating in the trading card market.
This stealth startup is headquartered in Minnesota. Additional details will be shared at a later date.