Welcome back to the Great North Ventures newsletter! (Sign up here!) We are excited for the launch of our new podcast and Fund II investing!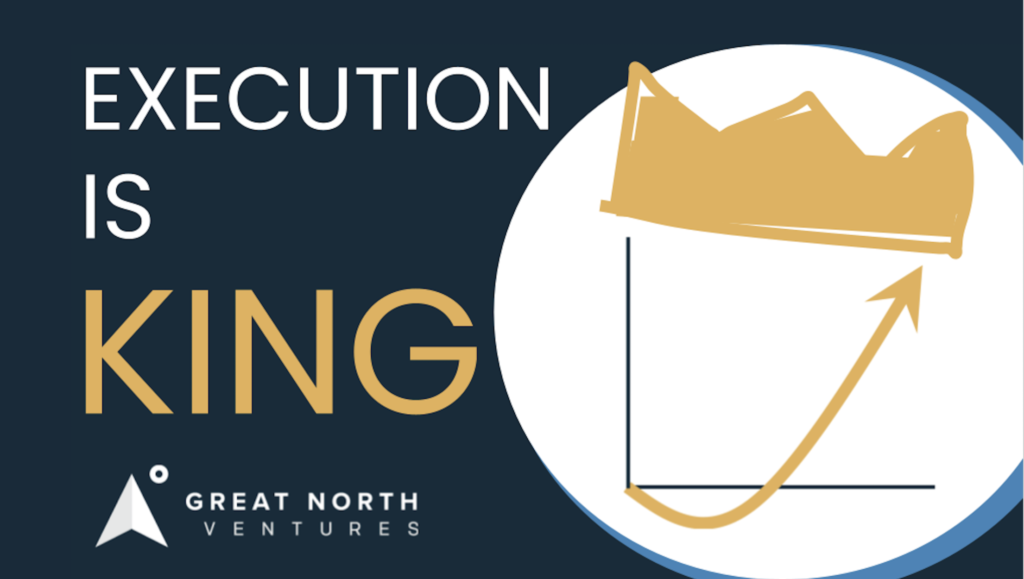 Our new podcast is live! Check out "Execution is King" on Spotify, Google Podcasts, Apple Podcasts, or wherever you get your podcasts!
Join me, Josef Siebert, and either Ryan or Rob Weber as we interview founders, investors, and ecosystem builders to uncover insights and best practices for the next generation of global startup founders.
As mentioned in our last newsletter, Fund II is now open for business! We have officially made our first investment outside of our own venture studio projects. Early-stage founders, check out our Founders page for criteria and to get in touch.
Portfolio Updates
Skillit is new to the portfolio! Skillit is a jobs and recruitment platform that matches skills-tested carpenters with great construction firms.

Flywheel has raised a $22M Series C round from 8VC, Great North Ventures, and others. Flywheel will use raised capital to acquired St. Louis-based Radiologics.

TeamGenius raises $1.1 million to expand its athlete development platform

Airbnb partner Migo taps NoiseAware for noise-monitoring solution

PrintWithMe Announces New Platform for Expansion, WithMe, Inc.

FactoryFix Successful Series "Factory Made" Offers Viewers Peak into American Manufacturing

Hotels open the door to the next evolution in room service [2ndKitchen]

Open Positions
See all open positions on the Great North Ventures careers page
Great North Venturesis hiring 6 interns for Summer 2022
Dispatch is hiring for 41 positions

FactoryFixis hiring for 7 positions
TeamGeniusis hiring for 1 position
2ndKitchenis hiring for 5 positions
PrintWithMe ishiring for 13 positions
Parallaxis hiring for 9 positions
Branch is hiring for 14 positions
Inhabitr is hiring for 3 positions
Clinician Nexusis hiring for 1 position
PartySlateis hiring for 1 position
Flywheelis hiring for 2 positions
Today it was announced that last quarter's drop in GDP was the second largest ever recorded. Overall US economic output fell by 9.5%. This dire news comes on the heels of fantastic news for the MN tech startup community: the largest IPO from a Minnesota company ever, Jamf's $468M IPO and $4.7B market cap. 
Minnesota's Resilient Startups

In good times, founding a startup is hard. Being a successful operator is even harder. Add in the challenging times and limited resources of a recession, and you wind up with a pressure cooker that will test teams, products, and people to their limits. 

There is a history of successful companies weathering recessions, however. While some startups crumble under the pressure, others become diamonds. We compiled a list of Minnesota's Resilient Startups to showcase some of our state's startup successes that not only weathered tough times, but were formed during recessions. 
Leveraging Resilient Founders

It's no coincidence that many of our operating partners appear on that list. We believe that successful founders and operators make the best early stage investors because they've had to scale an emerging technology company before. Leveraging that experience to identify, invest in, and support startups is what makes Great North Labs unique compared to most seed funds.

Tech.MN recently interviewed Managing Partner Rob Weber about his own experience as a founder of a NativeX, which was founded in the wake of the dot-com bust. Rob also talks about what led him and Ryan Weber to found Great North Labs.
"For us, I have gotten to know a lot of other founders in Minnesota and the surrounding region and many of them, either through their business model or whatever, required more early-stage capital than we did. And I heard about how terrible it was for them to raise money the last 10-20 years.

I just thought, 'We can do this. We can invest in these companies and we can make money doing so.'

And that's what compelled me to write checks. It was almost a feeling of obligation. We got a little bit of capital, and great mentorship, from these guys from Silicon Valley and I just thought, 'We could do this here.'" – Rob Weber
Even with the challenges of a recession, we are positioned to continue contributing to a cycle of growth. We continue to build capacity in the innovation ecosystem by cultivating, capitalizing, and contributing to startup successes in Minnesota and the Upper Midwest. 
Events
Here are some interesting events rounding out the summer lineup.
Aug. 12th is the virtual OnRamp Healthcare Conference. "The conference highlights innovations disrupting health care and the future of medicine, the health care leaders making such innovations possible and how new technologies and business models will reinvent the industry."
Aug. 13-20th is ForwardFest in Madison, WI. This year's event is virtual and free."Join fellow entrepreneurs, nerds, geeks, hackers, foodies, and creatives from the Midwest in an 8-day celebration of innovation and entrepreneurship."
Sept. 7 – 25, 2020 is Twin Cities Startup Week. This is the biggest annual tech startup event in Minnesota. 2020's event is virtual, and will be spread over a month with sessions, networking, and education for founders, investors, and innovation-minded professionals.
Portfolio News

"CCRCs to participate in $3 million test of robots to curb resident loneliness, apathy"– Misty is encouraging social interaction in retirement homes in this study with Misty Robotics.

"The Lowdown on Discounts"– OSU campus publication featuring discounts from Plyo.

"PrintWithMe Announces National Partnership With Invesco Real Estate"– PrintWithMe agreement with 28th largest apartment owner in the US.

"Property risk increases as booking behaviour changes" – Problem trend, with success stories from NoiseAware.
Dispatch is hiring a Business Development Representative, Driver Engagement Agent, Inbound Marketing Specialist, Cloud Engineer, Data Engineer, Manager-Software Engineering, Quality Assurance Engineer, Software Engineer, and Support Engineer in Bloomington, MN.
FactoryFix is hiring a Team Lead – Full Stack Developer, Full Stack Developer, and Infrastructure Developer- DevOps in Madison, WI; a Recruiter, Sales Development Representative, and Account Executive in Chicago, IL.
PrintWithMe is hiring a Regional Sales Director on the East Coast; AR/AP Specialist, Inside Sales Executive in Chicago, IL; ; a Software Engineer, Account Manager, and Marketing Director for Remote work.
Parallax is hiring a Growth/Experienced Business Development Representative in Minneapolis, MN.
Branch is hiring a Data Platform Manager, Senior Backend Engineer, and Solutions Engineer in Minneapolis, MN or Remote; and a Customer Success Manager in Minneapolis, MN.
Inhabitr is hiring a Chief Growth Officer/Head of B2C Growth, a Chief Growth Officer/Head of Growth, and a Sales and Customer Experience Associate in Chicago, IL.
NoiseAware is hiring a COO, VP of Global Sales & Account Management, Back-end Developer, QA Technician (independent contractor), Account Manager, and Customer Advocate in Dallas, TX.
Welcome back to the Great North Labs newsletter! 2020 kicked off to a fast start. We were invited to participate in the World Economic Forum, and we announced the next chapter in our Startup School. There's also a new advisor on the team, and a new portfolio company.
World Economic Forum
Managing Partner Pradip Madan went to Davos for the annual gathering, which focuses on entrepreneurship in the global public interest, and shaping global, regional, and industry agendas. On and off stage, Pradip spoke about investing in the Upper Midwest, supporting and growing the ecosystem, and of course, the promise of the Upper Midwest region.
Pradip spoke on the Global Citizen panel hosted by Minneapolis AI company PinkLion.AI titled Innovation in Tech: Leveraging unexplored areas and geographies to increase scale and innovation in the public and private sector, and hosted an hour-long roundtable for The Digital Economist on Business models and strategies that will hallmark the next phase of global economic transformation.
Great North Labs was also proud to sponsor the International Women Business Leaders Reception and the Digital Future Board Room. Inclusion and digital transformation are both important topics that we are glad to support and help elevate on the world stage.
There was a strong regional contingent involved with and leading these events, including Jennifer Bonine of PinkLion.AI, Patricia Simmons of Mayo, and Maria Dayton, Ambassador of SingularityU Minneapolis-St.Paul. Maria and Jennifer were instrumental in organizing these events, and are strong representatives for Minnesota and the region.
One of the ecosystem building efforts that Pradip highlighted at WEF was our Startup School, which is currently undergoing a reboot. We have new partners, expanded curricula, and greater reach!
Startup School Reboot
Started in 2017, the original Great North Labs Startup School offered bootcamps covering Lean Startup and Agile Scrum, and additional offerings over the years included education on digital disruption and exponential technologies. Roughly 200 students went through the school.
Now, we are working on an expanded offering with new partners Red Wing Ignite and ILT Studios. While the new initiative will no longer be wholly owned and operated by Great North Labs, it will be greatly expanded, able to reach more of Greater Minnesota, and hopefully scale across the entire state. You can read more about it on our blog, or in this article by Minne Inno.
Classes will begin in March, and sign-up will be live in February. Contact us to get on the mailing list and stay informed, and to find out when you can sign up.
Events
Here are some upcoming events related to tech startups. Where our attendance is noted, feel free to reach out or connect at the event:

Feb. 12- Kellogg Private Equity and Venture Capital Conference 2020 in Evanston, IL. This is a Chicago-area gathering of PE/VC leaders. Panel topics include "The Value of Fostering a Diverse & Inclusive Firm", "The Future of Private Equity Firm Models", and "The Mighty Middle versus The Coasts: Beyond Traditional Venture Ecosystems". Ryan Weber will attend.
Feb. 27- Tech Talent 2020 inMinneapolis. This event at Target Field is put on by MHTA. "During this event, we will build on the data and ideas we delivered last year to look at specific ways the tech and STEM education communities are addressing supply and demand here in Minnesota".
Mar. 16- Wisconsin Tech Summit in Green Bay, WI. The Tech Summit will feature a series of brief meetings, or "speed dates," to foster communication and partnerships.
Apr. 25- Minnebar15 in Richfield, MN. The annual, can't-miss gathering at Best Buy HQ put on by Minnestar. Tickets won't be available until April 9th, but you can check out the talks and register your interest here. If you plan on going, this is good to do, to make sure you can get a seat in the talks you want to hear. (Minnestar uses those registrations to assign room sizes). Check out Managing Partner Rob Weber's talk Scaling a Company Outside of Silicon Valley.
Advisor News
Steve Schmidt is new to the Great North Labs team. He is the Founder and CEO of Abetech, a company that creates bar code and RFID systems and solutions that increase productivity.
Portfolio News
NoiseAware is new to the Great North Labs portfolio. NoiseAware provides a real-time noise monitoring solution for the rapidly growing short-term rental industry. According to property managers, the biggest challenge they face is party prevention. This is likewise a major concern for major rental platforms such as AirBnB. NoiseAware's solution includes options for indoor an outdoor monitoring, in real-time, with historical data and trend tracking across properties.

Job Board
FactoryFix is hiring two Full Stack Developers and a UX Designer in Madison, and a Business Development Specialist and Account Manager in Chicago.
Pitchly is hiring a remote Legal Marketing & Sales Content Specialist
Misty Robotics is hiring a Lead Qualification & Inside Sales Specialist, and an Inside Sales Specialist (contract) in Boulder, CO.
2ndKitchen is hiring an Account Executive, Business Development Representative, Operations Associate, Operations Intern, and Design Operations Intern in Chicago.
PrintWithMe is hiring a Customer Success Associate, Customer Service Representative, Web Developer (Python), Inside Sales Executive, and an Operations Lead in Chicago; Super User Technicians in Portland and Houston; and a Regional Sales Director for the West Coast.
Parallax is hiring a Customer Success Specialist, Quality Assurance Engineer, Senior Software Engineer, and for a Growth/Customer Acquisition role in Minneapolis.
Branch is hiring a Revenue Operations Manager, Sales Development Manager, UX Designer, Senior IOS Engineer, Customer Support Agent, Account Executive (Enterprise), IT Coordinator, Data Engineer, Devops Engineer, Jr. Visual Designer, Senior Backend Engineer, Senior Android Engineer, and Account Executive (Mid-Market) in Minneapolis.
NoiseAware is hiring a Back-end Developer, Embedded Developer, Front-end Developer, Mobile Developer, Site Reliability Engineer, Global Supply Chain Manager, Product Marketing Manager, and UI/UX Designer in Dallas.