NextGem has $1.8M+ raised and $2B+ in trading card assets
The first Great North venture studio startup, has come out of stealth! The company has come out of stealth mode with $1.8M in pre-seed funding, and 3,500+ trading card enthusiasts signed up for the service and with over $2 Billion in trading card assets.
The startup has attracted value-add partners and investors including the first software developer at Uber, Ryan McKillen, fantasy sports analyst for ESPN, Matthew Berry, fantasy sports guru Paul Charchian, former Minnesota Twin Corey Koskie, and many successful founders and entrepreneurs. Co-investors include SK Ventures, Groove Capital, and Gopher Angels.
NextGem, is the first social app built for card enthusiasts to find and share rare and valuable cards right on their smartphones. The app uses AI recognition to capture professional-grade images with smartphone cameras to showcase the world's best trading cards, unlocking previously inaccessible card collections.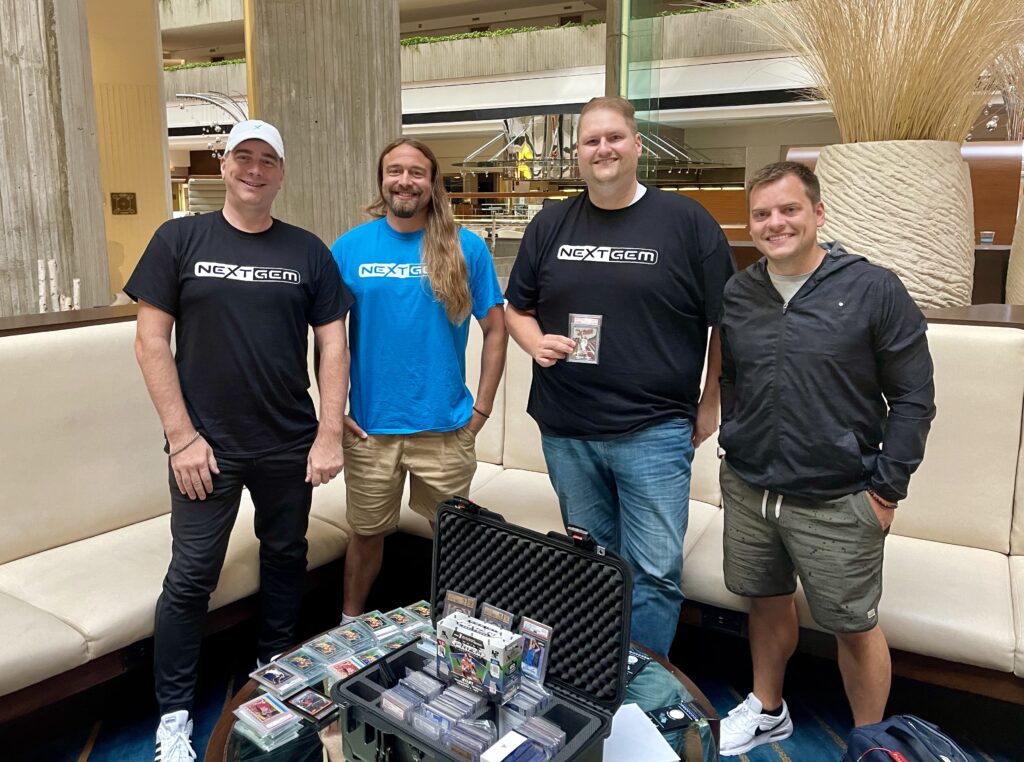 NextGem's mission is to foster, develop and bring together the world's most passionate trading card community, by reimagining the way people collect and discover trading cards through innovative social technologies. Users can manage trading card collections and find rare "gem" cards that are difficult to track down. They can connect instantly with community members, share card images across Instagram, eBay, and more, and leverage knowledge from experts to become a more savvy card investor.
"Tens of millions of fans are passionately collecting sports cards worldwide with the annual online resale market already in the billions, showing strong growth rates, with room to grow considerably from non-sports cards. Long-term, fan experiences will blur between collectibles and real-world fan experiences, further driving interest in new digital platforms such as NextGem."

– James DonFrancesco, President and Co-Founder, NextGem
NextGem is similar to Detroit based StockX, a platform for collectible sneakers that is planning a multi-billion dollar IPO, but it is is targeting the booming $13.8B trading card market. In addition to the social platform, the NextGem AI camera scanner, 'Gemma', provides 4K high definition inspection capabilities, and automated post-processing. The tool can help with authentication and establishing value. Fraud is an expensive hazard of the industry, as seen with the loss recently suffered by YouTube star Logan Paul in a $3.5M Pokemon card scam.
NextGem is the first company created in the Great North Ventures venture studio. In the venture studio, startup opportunities and markets are evaluated, teams built, MVPs spun up, and experiments run to iterate products until product/market fit is achieved. Startups co-created in the venture studio continue to receive fundraising support and board oversight after they launch.

"After validating the idea, we were able to build a great team around the product and attract significant interest to close the investment round. Significant interest is coming from well-known figures in the sports community, at a local and national level, and from other early-stage investors who recognize the opportunity for returns that comes from getting in early to a quality deal, where the market is huge, the product solves a real need, and the team and tech are built to take it on."

– Ryan Weber, Managing Partner, Great North Ventures
NextGem is currently accepting users on a waitlist for the app. If you'd like a sneak preview, contact us via Twitter for an access code.
The NextGem team includes serial entrepreneurs and tech veterans with experience at Apple, Best Buy, Branch, Drip, and DraftCountdown who are driven to explore future state opportunities in Web3 and have the unique opportunity to power a social commerce platform built with a member-first mindset.
The NextGem team is:
James DonFrancesco – James is a co-founder and President, and a former executive product leader and agile consultant. James was brought in to manage a team of 10+ developers, using his years of experience and expertise from previous positions at Apple, Best Buy, and Bremer Bank. James also has 6+ years of experience at Precognitive Research building custom iOS apps as Co-Founder and Head of Product.
Jason Martin – Jason Martin is a co-founder and Head of Growth. Jason brings a decade of B2C growth experience at some of Minnesota's fastest-growing VC-backed startups, Branch, Leadpages, and Drip. He has led go-to-market strategies from pre-revenue to scale and has extensive experience driving customer demand in the fintech, alternative investment, and collectibles space.
Scott Wright – Scott is a co-founder and Head of Community. Scott is the founder of Draft Countdown where he cultivated a passionate following for two decades. An authority in the NFL Draft field he has been featured as an expert analyst on radio, television, print on outlets such as NFL Network, The New York Times, USA Today, NBC Sports, FOX Sports, Forbes, and even the Madden video game. He is also a lifelong collector dating back to his days setting up a table at card shows as a 10-year-old.
Dave Anderson – Dave is a co-founder. Dave is immersed in the collectibles industry, from managing a multi-million dollar collection to being on the ground at trade shows around the country. Through this experience, Dave has developed key relationships with prominent figures across the community.
From my vantage point as a venture capitalist evaluating hundreds of early-stage startups annually, I've become puzzled why the vast majority of founders I come across are still choosing to develop their initial Minimum Viable Products (MVPs) via a website versus a native, mobile app. The data suggests they should not be.
According to eMarketer, over 88% of time spent on mobile is spent inside an app versus a web browser. It's not just that startups are choosing to build their MVPs using a web application, but many are scaling well beyond their seed rounds and into their Series A or B round before ever getting around to launching a native, mobile app.
So what considerations should startups be weighing when deciding whether to be mobile-first and launch with a native app, or launch with a website? Let's dive in with the help of some Twitter friends.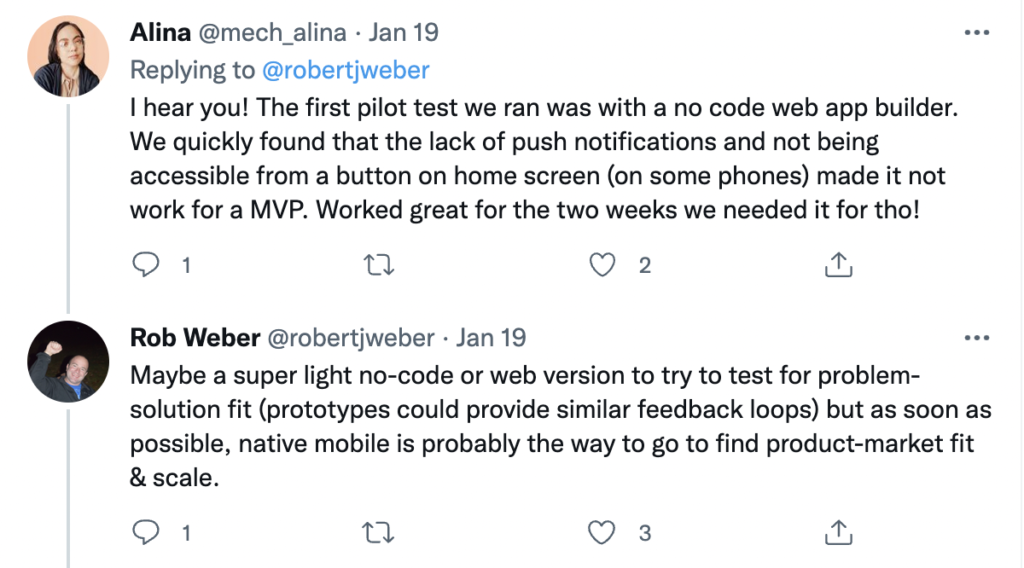 Advantages of a native mobile app
What are the advantages of launching with a native mobile app in a mobile-first world? The dominant consumption habit for the Internet is on a mobile device, and native apps have the most optimized user experience (UX) for mobile devices. But it isn't just about user experience. The opportunity to drive re-engagement from device-triggered push notifications and home screen icons proved too much to resist for founder Alina Matson of Fitment, a new micro workouts startup.
From my vantage point, local push notifications are the #1 reason to launch a native, mobile app first, with clickthrough rates ranging as high as 12% to 40% depending on your category, according to insights shared by Andrew Chen of Andreessen Horowitz.
Email or other forms of reconnecting with users just do not come anywhere near as close as push notifications in terms of clickthrough rates. Also on the marketing front, you can receive additional visibility via App Store Search Optimization (ASO) in the App Store which you are giving up when choosing a website approach.
On the development front, there is easier access to other native APIs, although the differences between what you can and can't do between a mobile app and website are fuzzier to me than ever given the advances in web technology. Finally, why not avoid costly technical debt and refactoring later in? When startups build for the web first, they start to compound technical debt which can dramatically slow down their ability to iterate later when they discover that the majority of their users want to use their application natively on their phone or tablet.
Advantages of a web app
Why would someone launch a website first? Launching a web app is often easier and faster than a mobile app. A founder may know very well that their user experience has more friction within a web app, however, as Maria Semykoz of Ukraine-based What's In My Jar points out, the signal provided in a high friction web app can help to prioritize feature development for a more-costly native mobile app.
Web pages with rich content are more likely to rank higher in search results than content stuck inside a native mobile app. Marketplace startups like Omnia Fishing first launched websites because they knew a main driver of their go-to-market strategy could be ranking high in search results. Also, requiring your users to install an app versus just keying a website into a browser also can reduce initial trials, as Scott Resnick points out.
From a technical standpoint, there are ways to make the user experience more native now than when smartphones first hit the scene. There are web-wrapper products that can make a website look mostly native and minimize the poorer mobile user experience, which has historically been more common with websites on mobile screens, as Jeff Ericson of RubyRide points out.
Other considerations before starting to build
What are some of the other considerations founders should weigh when deciding between going truly mobile-first with a native app, or launching a mobile-optimized web app for your startup?
Since native mobile apps are generally more costly to develop as Derek Rucker points out, the ability for a founder to secure significant initial capital is an important consideration. Startups which are under-capitalized may want to opt for web-only launches. Also, if you do go the native app route, Derek points out that iOS is much simpler to launch on than Android. Android has so many more different device types, with different screen sizes, that it is easier to launch iOS-only than to design for Android.
An alternative to choice: The hybrid approach
Are you still finding it difficult to pick between starting with a native mobile app or a web app for your startup? You may want to take a hybrid approach, and launch with a native iOS app as well as a website like we are planning to do for our first venture studio startup, NextGem.
NextGem is a new social app for trading card enthusiasts to discover and share trading cards. Much of the core initial functionality for NextGem revolves around the use of modern, high definition camera features on the latest phones and tablets. It would be very difficult (if not impossible) to recreate the super high-resolution photo scanning of NextGem through a website.
These high-resolution photos are needed for trading card collectors who want the ability to closely inspect the condition of trading cards before purchasing or trading. The reason the NextGem team chose to also support a website view was for search engine optimization purposes primarily. Each scan of a trading card by a user leads to a new, search-friendly content page that can be easily indexed by Google.
Welcome back to the Great North Ventures newsletter! This month we have advice for founders featured in our latest podcast episode.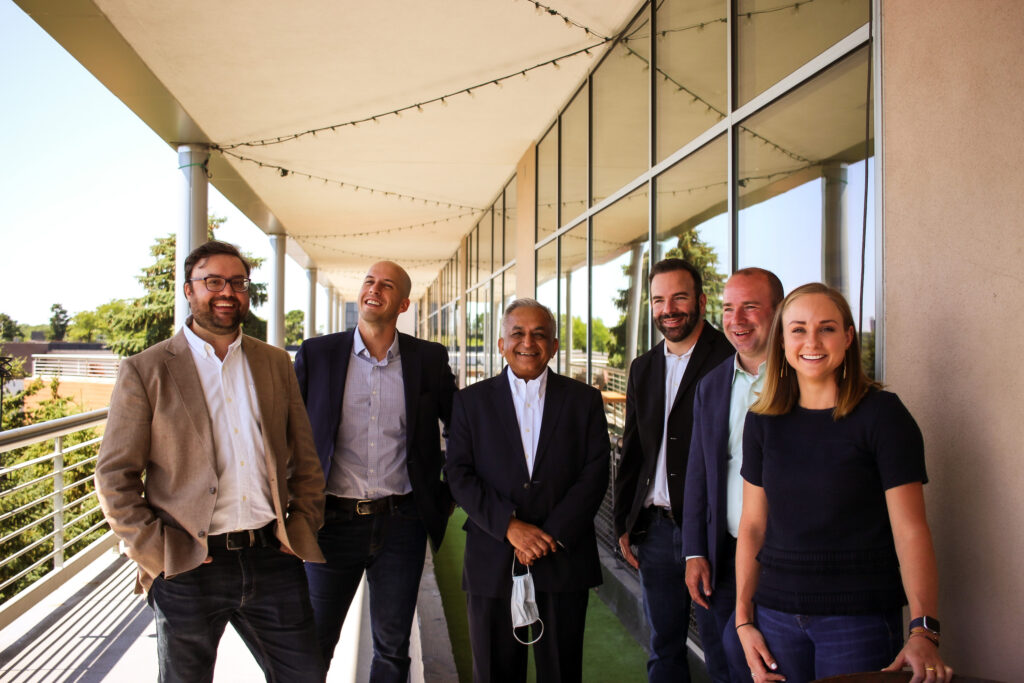 In the latest episode of "Execution is King" we feature the best advice for founders, recorded live at our 2021 Annual Event.
What is the Great North Annual Event? Every year, we gather investors, founders, and ecosystem builders together for networking and progress updates.
This year, we captured advice from our stakeholders, people who have proven they can execute.
Listen to the full episode for guidance on:
Hiring and Firing
Leadership
Go to market
…and more.
Two ventures from our venture studio, NextGem and Backhouse Brands, are hiring. If you are interested in getting in early with a high-growth startup opportunity, check out these open positions.
Portfolio Updates
Flywheel Partners with Roche and Genentech to Accelerate
Development of Personalized Healthcare Solutions

vWise partners with IRALOGIX to enable rapid deployment of IRA solutions

Outstate MN: Innovation in Central Minnesota [ZenLord Pro]

Hot 25 Startups 2022: NoiseAware


105 Open Positions
See all open positions on the Great North Ventures careers page
Dispatch is hiring for 70 positions

FactoryFix is hiring for 6 positions
Parallax is hiring for 2 positions
Branch is hiring for 16 positions
Inhabitr is hiring for 3 positions
NoiseAware is hiring for 2 positions
PartySlate is hiring for 2 positions
Flywheel is hiring for 1 position
NextGem is hiring for 2 positions
Backhouse Brands is hiring for 1 position