Stay up to date with Great North Ventures here! With execution as our North Star we fund, build and scale innovative tech companies.
---
Quick Ask
Deal Flow – We are actively investing out of our $41 million second fund and welcome any opportunities that you think fits our investment thesis
---
What's New
Great North Ventures has added two new Associates, Joseph Daher and Grant Gibson
We hosted several portfolio companies at Target Field to watch the Minnesota Twins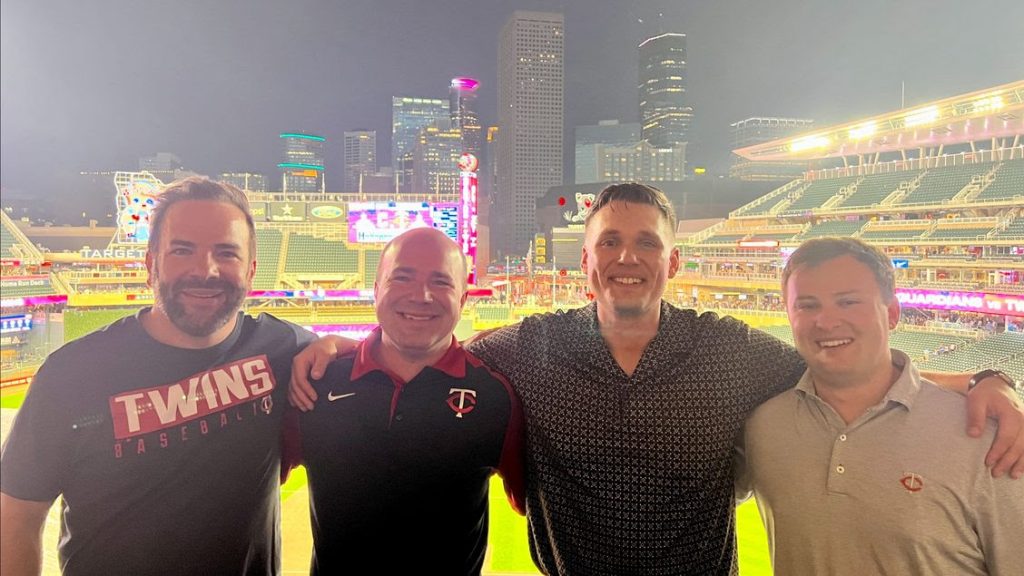 Left to Right: Ryan Weber, Rob Weber, Joseph Daher, Grant Gibson
---
Fund and Portfolio News

Revolutionizing Medical AI Development: Flywheel Announces $54 Million in Series D Funding led by Novalis LifeSciences & NVentures (NVIDIA's venture capital arm) – June 2023
Read More
---
Branch Powers the Uber Pro Debit Card and Brings Instant Disbursements and Rewards to Gig Workers – October 2022
Read More
---
Acquired by Human Powered Health – January 2023
Read More
---
GNV In The Community
May31 : Hosted Twins Game | Minneapolis, MN
June14 : Pitch Breakfast | Charlotte, NC
June 20-21 : Gener8tor Onramp Workforce/Education Conference | St. Paul MN
June 21-22 : Gener8tor Onramp Insurance Conference | St. Paul MN
---
Content on Execution
I'm excited to introduce you all to Joseph Daher. Joseph has played an essential role in sourcing, evaluating, and supporting promising startups for the past nine months and I'm pleased to announce that he will be joining the Great North Ventures team full-time in the role of Associate.
Joseph grew up on Hemlock Ln in Maple Grove Minnesota. He graduated from Osseo Senior High in 2014 and proudly served his country in the United States Marine Corps from 2016-2020 as an aviation logistics management specialist; during this time, he also graduated Magna Cum Laude with a B.S. in psychology from Campbell University, North Carolina.
He will be graduating in May of this year with his MBA from the University of Minnesota Carlson School of Management. Before pursuing his MBA, Joseph attended Columbia University in New York where he studied Social-Organizational Psychology, with a focus on Organizational Leadership.
In addition to his professional and academic accomplishments, Joseph is deeply committed to giving back to the community. He currently volunteers as an Admissions Ambassador for Service to School where he coaches and mentors transitioning service members in their pursuit of higher education, and he is the founder of The Oak Tree Foundation which aims to provide educational resources and scholarships to young people.
We are confident that Joseph's strong background in finance, psychology, and leadership, and his resilience forged during his time in the Marine Corps will help him make a significant impact on our firm and the innovative startups we support. Please join us in welcoming Joseph Daher to the Great North Ventures team.
"I am thrilled to be joining the Great North Ventures team and I am looking forward to identifying promising opportunities and supporting innovative startups that will shape the future."