Stay up to date with Great North Ventures here! With execution as our North Star we fund, build and scale innovative tech companies.
---
Quick Ask
Deal Flow – We are actively investing out of our $41 million second fund and welcome any opportunities that you think fits our investment thesis
---
What's New
Great North Ventures has added two new Associates, Joseph Daher and Grant Gibson
We hosted several portfolio companies at Target Field to watch the Minnesota Twins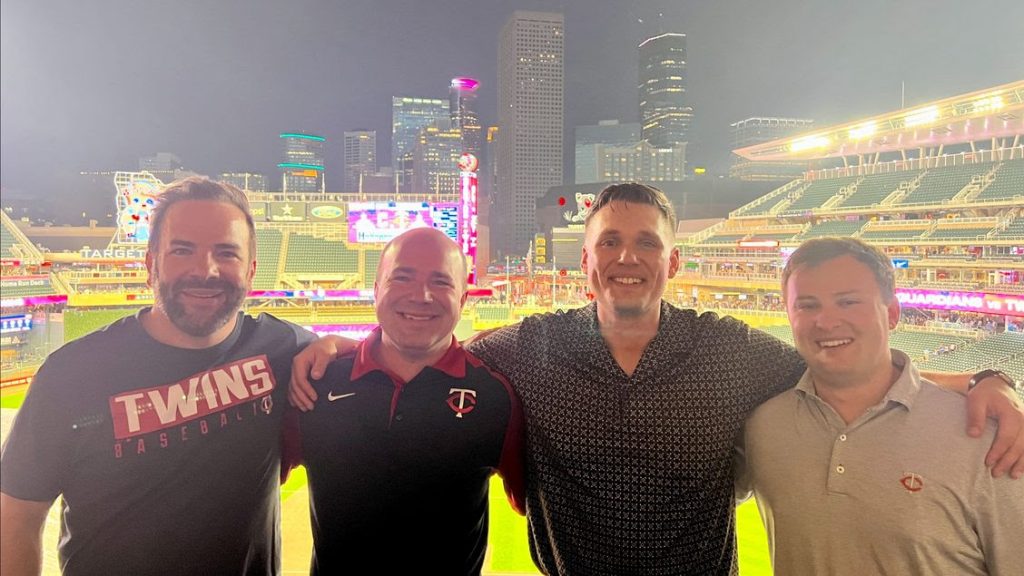 Left to Right: Ryan Weber, Rob Weber, Joseph Daher, Grant Gibson
---
Fund and Portfolio News

Revolutionizing Medical AI Development: Flywheel Announces $54 Million in Series D Funding led by Novalis LifeSciences & NVentures (NVIDIA's venture capital arm) – June 2023
Read More
---
Branch Powers the Uber Pro Debit Card and Brings Instant Disbursements and Rewards to Gig Workers – October 2022
Read More
---
Acquired by Human Powered Health – January 2023
Read More
---
GNV In The Community
May31 : Hosted Twins Game | Minneapolis, MN
June14 : Pitch Breakfast | Charlotte, NC
June 20-21 : Gener8tor Onramp Workforce/Education Conference | St. Paul MN
June 21-22 : Gener8tor Onramp Insurance Conference | St. Paul MN
---
Content on Execution
I am thrilled to announce the addition of our newest Associate, Grant Gibson, who brings a unique blend of business acumen and legal expertise to our Great North Ventures fund. Holding a law degree from St. Thomas School of Law, Grant passed the bar this past fall, solidifying his legal prowess. Prior to joining Great North Ventures, Grant gained invaluable experience as in-house counsel at a cybersecurity startup.

Great North Ventures looks forward to leveraging Grant's diverse skill set to further enhance our ability to identify and nurture promising startups. Grant will be responsible for driving deal closures, assisting in deal sourcing, conducting due diligence, and working closely with portfolio companies to support their growth and success. His expertise will play a pivotal role in Great North Ventures' mission to foster the next generation of transformative businesses.

Please join us in welcoming Grant Gibson to the Great North Ventures team.