From my vantage point as a venture capitalist evaluating hundreds of early-stage startups annually, I've become puzzled why the vast majority of founders I come across are still choosing to develop their initial Minimum Viable Products (MVPs) via a website versus a native, mobile app. The data suggests they should not be.
According to eMarketer, over 88% of time spent on mobile is spent inside an app versus a web browser. It's not just that startups are choosing to build their MVPs using a web application, but many are scaling well beyond their seed rounds and into their Series A or B round before ever getting around to launching a native, mobile app.
So what considerations should startups be weighing when deciding whether to be mobile-first and launch with a native app, or launch with a website? Let's dive in with the help of some Twitter friends.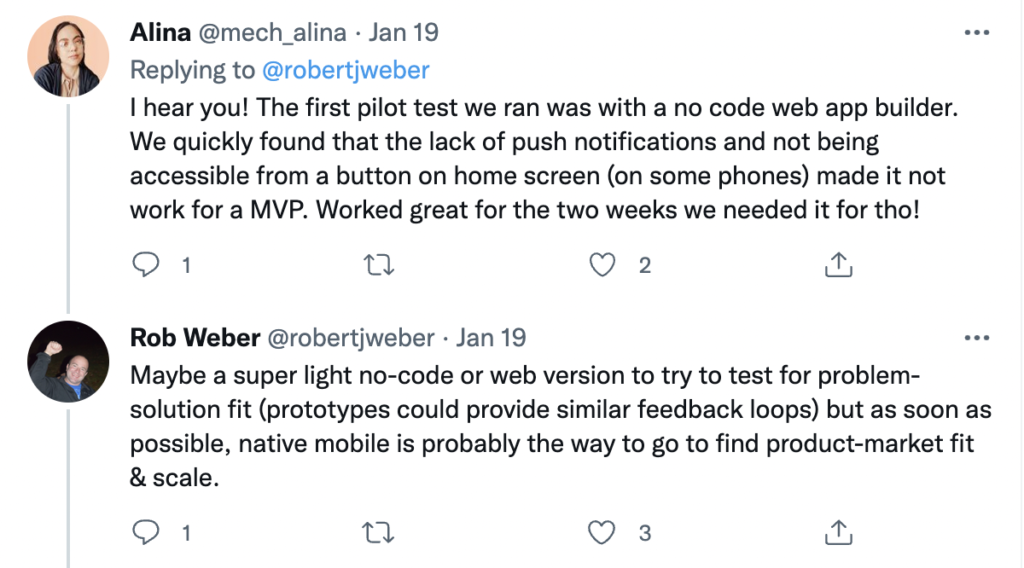 Advantages of a native mobile app
What are the advantages of launching with a native mobile app in a mobile-first world? The dominant consumption habit for the Internet is on a mobile device, and native apps have the most optimized user experience (UX) for mobile devices. But it isn't just about user experience. The opportunity to drive re-engagement from device-triggered push notifications and home screen icons proved too much to resist for founder Alina Matson of Fitment, a new micro workouts startup.
From my vantage point, local push notifications are the #1 reason to launch a native, mobile app first, with clickthrough rates ranging as high as 12% to 40% depending on your category, according to insights shared by Andrew Chen of Andreessen Horowitz.
Email or other forms of reconnecting with users just do not come anywhere near as close as push notifications in terms of clickthrough rates. Also on the marketing front, you can receive additional visibility via App Store Search Optimization (ASO) in the App Store which you are giving up when choosing a website approach.
On the development front, there is easier access to other native APIs, although the differences between what you can and can't do between a mobile app and website are fuzzier to me than ever given the advances in web technology. Finally, why not avoid costly technical debt and refactoring later in? When startups build for the web first, they start to compound technical debt which can dramatically slow down their ability to iterate later when they discover that the majority of their users want to use their application natively on their phone or tablet.
Advantages of a web app
Why would someone launch a website first? Launching a web app is often easier and faster than a mobile app. A founder may know very well that their user experience has more friction within a web app, however, as Maria Semykoz of Ukraine-based What's In My Jar points out, the signal provided in a high friction web app can help to prioritize feature development for a more-costly native mobile app.
Web pages with rich content are more likely to rank higher in search results than content stuck inside a native mobile app. Marketplace startups like Omnia Fishing first launched websites because they knew a main driver of their go-to-market strategy could be ranking high in search results. Also, requiring your users to install an app versus just keying a website into a browser also can reduce initial trials, as Scott Resnick points out.
From a technical standpoint, there are ways to make the user experience more native now than when smartphones first hit the scene. There are web-wrapper products that can make a website look mostly native and minimize the poorer mobile user experience, which has historically been more common with websites on mobile screens, as Jeff Ericson of RubyRide points out.
Other considerations before starting to build
What are some of the other considerations founders should weigh when deciding between going truly mobile-first with a native app, or launching a mobile-optimized web app for your startup?
Since native mobile apps are generally more costly to develop as Derek Rucker points out, the ability for a founder to secure significant initial capital is an important consideration. Startups which are under-capitalized may want to opt for web-only launches. Also, if you do go the native app route, Derek points out that iOS is much simpler to launch on than Android. Android has so many more different device types, with different screen sizes, that it is easier to launch iOS-only than to design for Android.
An alternative to choice: The hybrid approach
Are you still finding it difficult to pick between starting with a native mobile app or a web app for your startup? You may want to take a hybrid approach, and launch with a native iOS app as well as a website like we are planning to do for our first venture studio startup, NextGem.
NextGem is a new social app for trading card enthusiasts to discover and share trading cards. Much of the core initial functionality for NextGem revolves around the use of modern, high definition camera features on the latest phones and tablets. It would be very difficult (if not impossible) to recreate the super high-resolution photo scanning of NextGem through a website.
These high-resolution photos are needed for trading card collectors who want the ability to closely inspect the condition of trading cards before purchasing or trading. The reason the NextGem team chose to also support a website view was for search engine optimization purposes primarily. Each scan of a trading card by a user leads to a new, search-friendly content page that can be easily indexed by Google.
While there are vaccines on the horizon and a potential further stimulus package, possibly in time for the holiday season, we still have a ways to go until economic recovery. Startups will be key to that recovery.

Which Startups Will Succeed?
Have you ever wondered if your app idea was worth pursuing, if a startup was worth working for, or if your buddy's startup was worth investing in? Of course you have. While enterprise SaaS startups have reliable benchmarks to compare against, early-stage consumer app startups are harder to evaluate.
This is a problem for these startups, because it affects their ability to raise money. It's also a problem for Midwest investors, who miss out on huge successes like Groupon and Grubhub.
MN Entrepreneur Gift Guide

As of 2010 census data, roughly 49% of the private sector worked for a small business, and 2 out of 3 new jobs were created by a small business. If you didn't find all of your gifts on Black Friday, Small Business Saturday, or Cyber Monday, check out our 2020 Minnesota Entrepreneur Gift Buying Guide and buy from a small business.
It includes ideas for a variety of products from local companies from camel milk skincare products to Boozy Jerky, and from Askov Finlayson's Climate Positive Parka to the James Beard-winning "Sioux Chef's Indigenous Kitchen" (in case you're still celebrating Native American Heritage Month).
Local Early-Stage Startup News

LaunchMN celebrated it's one-year anniversary, and released a First-Year Progress Report.
Our latest Lean Startup School (with Red Wing Ignite, ILT Studios, and LaunchMN) pitch night ended with 2 winners:
1st Place: Scobium – They have a new eco-friendly synthetic leather material for the textiles industry, manufactured using bacterial cellulose.
2nd Place: TalentSignal – They are a pre-launch startup researching a new business model to help guide students through the development skills needed to land a job in their chosen field by matchmaking them to successful practitioners who serve as mentors.
gBETAGreaterMN St. Cloud Director Precious Drew was just named to Minne Inno's 2020 Under 25! (Boozy Jerky mentioned above is an alumnus!)

Startup Investment Incentive
If you're thinking of investing but need some incentive, here is how investors (including investors in VC funds and angel investors) can get a 100% exclusion on their gains from those startup investments.
Events
Here is a mix of upcoming events, for investors, founders, and/or ecosystem supporters. All events listed are virtual.
Dec. 1-3rd, Rise of the Rest Virtual Tour: Equity Edition. Black-founded startups based off the coasts compete for $2M in funding. Days 1 + 2 feature town halls: "Building Inclusive Startup Ecosystems" and "Entrepreneurship and HBCUs". Day 3 is the Pitch Competition Finals.
Dec. 2-4th, Web Summit From the folks who produce Collision, this is the annual European version.
Dec. 2-4th, Powering Inclusion Annual Summit. This is the Center for Economic Inclusion's Annual Event. Virtual this year, "The Summit is for leaders at every stage of the journey of building racially inclusive organizations, communities, and economies".
Dec. 3-10th, Food | Ag | Ideas Week. Put on by MN-based Grow North, this annual event focuses on ideas to innovate our food system.
Dec. 3rd, 2020 Chicago Tech Day. Sort of a "State of the City" event for Chicago tech, with Mayor Lightfoot and various tech community leaders.
Dec. 13-19th, Curiosity Week with Emerging Digital Academy. Based in Fargo, ND, this new tech community gathering wil feature 30+ events.
January, TBD, Lean Startup School events with ILT Studios:
Portfolio News

USA Softball Announces Partnership Agreement with TeamGenius. TeamGenius has a new partnership to serve as the athlete evaluation system for USA Softball.

Inno on Fire: The 30 companies and people shaping Wisconsin's tech scene. Allergy Amulet was named to the list of impactful tech startups.

2ndKitchen Releases New 2021 Multifamily Amenities Guide. 2ndKitchen has a new report out with research and survey data on the importance of amenities in Multifamily properties.


Job Board
Great North Labs is hiring VC Analyst interns for summer of 2021. The application closes this week!
Dispatch is hiring a Territory Sales Manager, Business Development Representative, and Ruby Developer for Remote work.
FactoryFix is hiring a Team Lead – Full Stack Developer, Full Stack Developer, and Infrastructure Developer- DevOps in Madison, WI; and a Sales Development Representative in Chicago, IL, Indianapolis, IN, or Madison, WI.
PrintWithMe is hiring a Regional Sales Directors for East Coast, South Central, and South East regions; Director, Demand GenerationOperations Lead, and MBA Strategy Intern in Chicago, IL.
Parallax is hiring an Experienced Product Designer in Edina, MN.
Branch is hiring a Senior Software Engineer and Android Engineer for remote work, and an Account Executive, Mid-Market, and Channel Sales Manager in Minneapolis, MN.
Inhabitr is hiring a Chief Growth Officer/Head of B2C Growth, and a Sales and Customer Experience Associate in Chicago, IL.
Clinician Nexus is hiring a Customer Success Manager in Minneapolis, MN.
NoiseAware is hiring a VP of Marketing, a QA Technician (independent contractor), Account Manager, and a Customer Advocate in Dallas, TX.
PartySlate is hiring a Senior Growth Marketing Manager in Chicago, IL.