Stay up to date with Great North Ventures here! With execution as our North Star we fund, build and scale innovative tech companies.
---
Quick Ask
Deal Flow – We are actively investing out of our $41 million second fund and welcome any opportunities that you think fits our investment thesis
---
What's New
Great North Ventures has added two new Associates, Joseph Daher and Grant Gibson
We hosted several portfolio companies at Target Field to watch the Minnesota Twins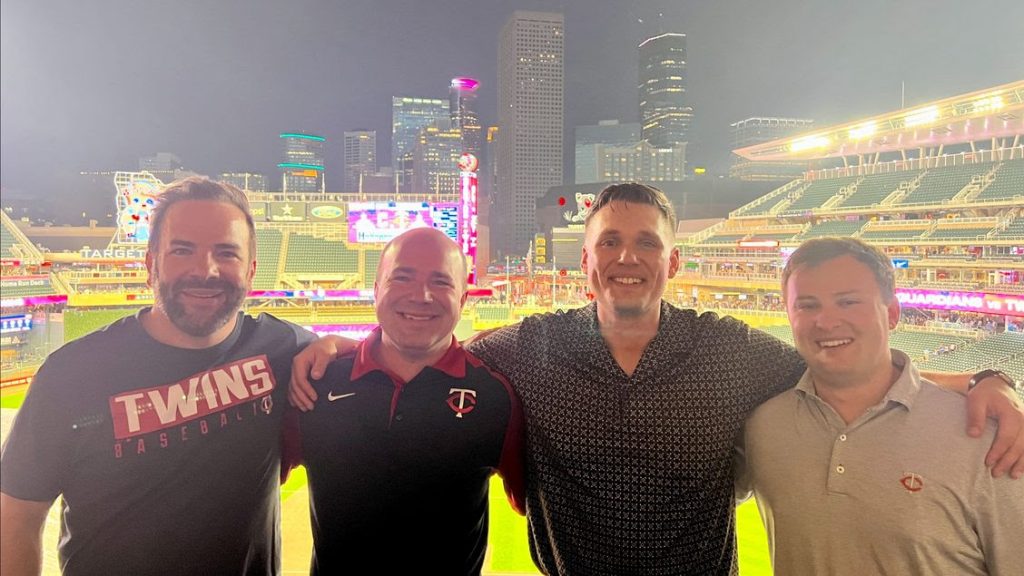 Left to Right: Ryan Weber, Rob Weber, Joseph Daher, Grant Gibson
---
Fund and Portfolio News

Revolutionizing Medical AI Development: Flywheel Announces $54 Million in Series D Funding led by Novalis LifeSciences & NVentures (NVIDIA's venture capital arm) – June 2023
Read More
---
Branch Powers the Uber Pro Debit Card and Brings Instant Disbursements and Rewards to Gig Workers – October 2022
Read More
---
Acquired by Human Powered Health – January 2023
Read More
---
GNV In The Community
May31 : Hosted Twins Game | Minneapolis, MN
June14 : Pitch Breakfast | Charlotte, NC
June 20-21 : Gener8tor Onramp Workforce/Education Conference | St. Paul MN
June 21-22 : Gener8tor Onramp Insurance Conference | St. Paul MN
---
Content on Execution
Welcome back to the Great North Ventures newsletter! (Sign up here!) We are excited for the launch of our new podcast and Fund II investing!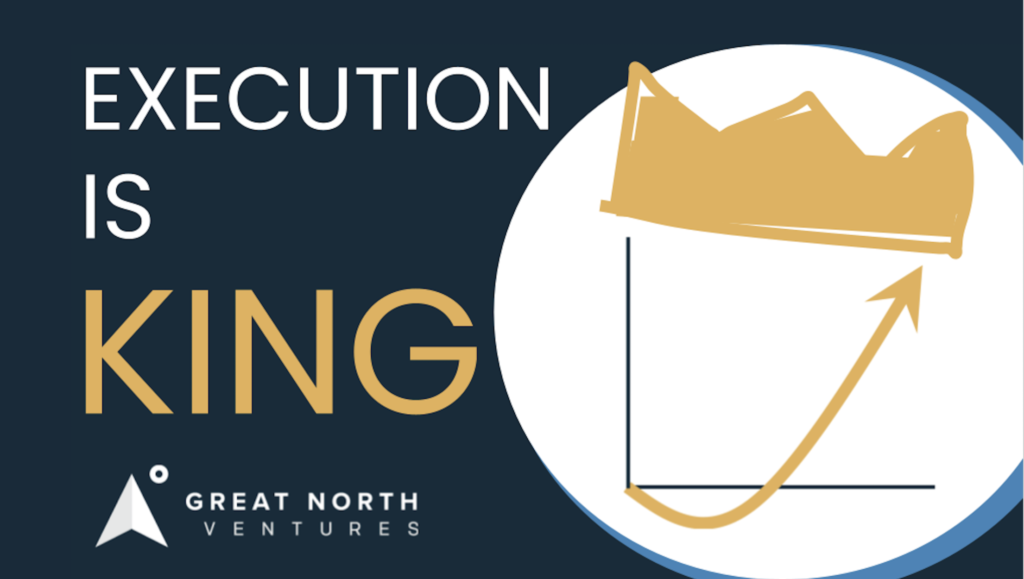 Our new podcast is live! Check out "Execution is King" on Spotify, Google Podcasts, Apple Podcasts, or wherever you get your podcasts!
Join me, Josef Siebert, and either Ryan or Rob Weber as we interview founders, investors, and ecosystem builders to uncover insights and best practices for the next generation of global startup founders.
As mentioned in our last newsletter, Fund II is now open for business! We have officially made our first investment outside of our own venture studio projects. Early-stage founders, check out our Founders page for criteria and to get in touch.
Portfolio Updates
Skillit is new to the portfolio! Skillit is a jobs and recruitment platform that matches skills-tested carpenters with great construction firms.

Flywheel has raised a $22M Series C round from 8VC, Great North Ventures, and others. Flywheel will use raised capital to acquired St. Louis-based Radiologics.

TeamGenius raises $1.1 million to expand its athlete development platform

Airbnb partner Migo taps NoiseAware for noise-monitoring solution

PrintWithMe Announces New Platform for Expansion, WithMe, Inc.

FactoryFix Successful Series "Factory Made" Offers Viewers Peak into American Manufacturing

Hotels open the door to the next evolution in room service [2ndKitchen]

Open Positions
See all open positions on the Great North Ventures careers page
Great North Venturesis hiring 6 interns for Summer 2022
Dispatch is hiring for 41 positions

FactoryFixis hiring for 7 positions
TeamGeniusis hiring for 1 position
2ndKitchenis hiring for 5 positions
PrintWithMe ishiring for 13 positions
Parallaxis hiring for 9 positions
Branch is hiring for 14 positions
Inhabitr is hiring for 3 positions
Clinician Nexusis hiring for 1 position
PartySlateis hiring for 1 position
Flywheelis hiring for 2 positions
The Industrial Internet is the future- and it's being built now.
IoT and Analytics are transforming industry, and who know industry like the upper Midwest?
Add to the decades of institutional experience a community of educated tech adopters, then just add water (liquid capital) and stir. BAM!
Forget Silicon Valley, this is Silicon Lakes.
New Investment
TeamGenius is player evaluation software for managing tryouts, coach evaluations, camps, and more. Team Genius is focused on building stronger young adults and communities through their powerful, simple software tool. Streamline scoring with the mobile application, add transparency to the evaluation process, and ditch the paper evaluation forms, clipboards, and spreadsheets!
Minnebar 13
With no formal workshops, "BarCamps" are user-generated and participant-led by tech and business community leaders. Over 100 sessions were held this year at Minnebar13. Participants, speakers, and staff braved the ridiculous Minnesota blizzard to hunker down at Best Buy HQ for Minnestar's premier tech conference.
MinneStar is currently running a 100 Day Challenge where the Board of Directors is matching donations by new community members. Join Rob and Ryan Weber and contribute to this important part of the Twin Cities tech community!
Great North Labs at Minnebar
Ryan Weber presented How Running Lean Can Help You Raise Capital, about how the stages of funding correlate to the phases of customer development. His Exponential Technology and Leadership talk delved into disruptive technology and innovation.
Rob Weber focused on How Entrepreneurs are Impacting Cities. Participants learned core concepts on entrepreneurial thinking and leveraging local industry expertise to create the next big thing.
Upcoming Events
EntreFEST– May 17-18, Cedar Rapids, IA
State of Innovation: Ag-Tech– May 22nd, Minneapolis, MN
Drone Focus Conference 2018– May 30, Fargo, ND
New Venture Challenge– May 30, Chicago, IL
Welcome New Advisors, to the Great North Labs Team!
Brad Lehrman – Attorney, Soffer Law Group, PLLC
Jeffrey Robbins – Attorney for Entrepreneurs and Angel and Venture Investors, Messerli & Kramer
Mitch Coopet – Co-founder of Aftercode
Paul Borochin – Assistant Professor of Finance at UConn School of Business
Art Rosenberg – President and Owner, Capital Commercial Realty Group, LLC
Shawn Teal – President, Forest Hill Capital