Welcome back to the Great North Ventures newsletter! We talk about labor trends this month, with some original research from Branch and some Metaverse updates.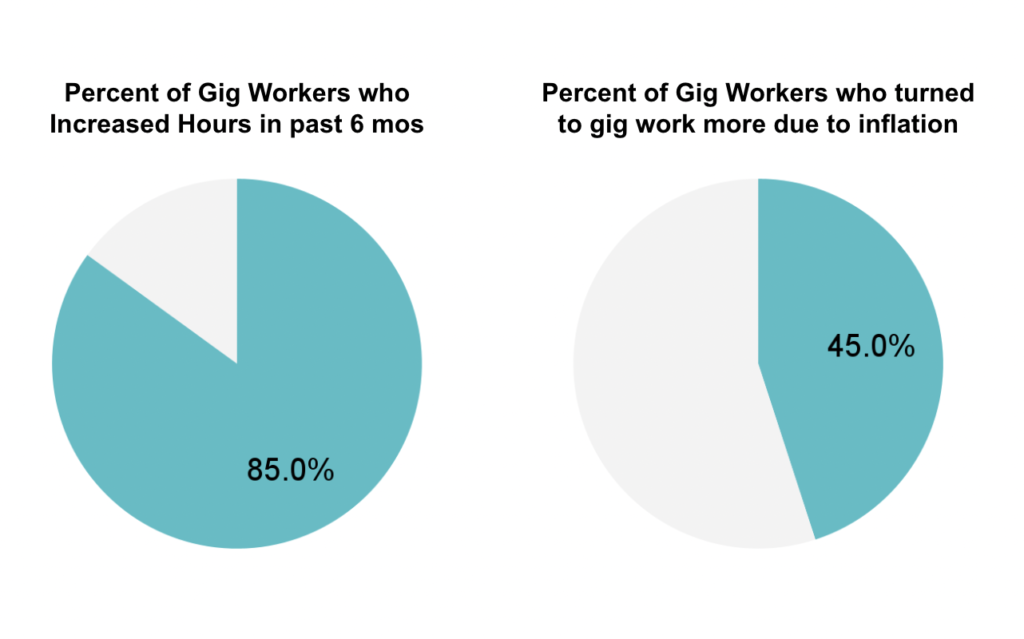 First the pandemic, now inflation is driving growth of the gig economy. According to a Pew Research Center survey, as of Aug 29th, 2021, 16% of Americans had earned money via an online gig platform. Specifically, driving for a ride-hailing app, shopping or delivering groceries, cleaning or assembling furniture, running errands, delivering for a restaurant, or delivering packages.
In a new report released earlier this month based on research by Marqeta and our portfolio company Branch, these gig workers are not only increasing their hours, but are giving up full-time work to to do so – with inflation as a key driver.
44% of gig workers started working in gigs in the past 1-3 years
85% have increased their gig work in the past 6 months
24% have quit full-time employment in the past year to pursue gig work (and 11% plan to)
45% have turned to gig work more in the last 6 months due to inflation (and 13% plan to)
Read more in Fortune, or listen to our recent interview with Branch's CEO where he explains his solution for American workers.
You can now work in the Metaverse. Meta started rolling out features that allow Metaverse creators to get paid for content. While people have been getting paid for everything from building up and selling World of Warcraft accounts, to selling virtual items in Second Life, this is the beginning of monetization in the most ambitious Metaverse project yet.
It's possible that work as we know it will change. Minneapolis-based RedRex is already in the business of building digital spaces for businesses to transition back from remote work to "in-person" collaboration.
Don't quit your day job (or your gig work) though, as Meta has lost $10B last year and $3B in the first quarter of 2022 alone. "I'm just trying to lead the company in a way where we're positioning ourselves as the premier company for building the future of social interaction and the metaverse," Zuckerberg said.
What is the big opportunity with the Metaverse? According to Tipatat Chennavasin, General Manager and Co-Founder of The Venture Reality Fund, "The killer application of the Metaverse is creating content for the Metaverse."
What, really?
Hear all about this insight in our interview with Tipatat on the latest episode of Execution is King.
Portfolio News

"Rapidly Rising Inflation Compelling More People to Enter Gig Economy to Make Ends Meet: Research" [Branch]

"Tippy Integrates with Workforce Payments Platform Branch to Launch Tip Solution"

"MedTech: Transforming Healthcare with Medical Imaging AI" [Flywheel]

"Pros to Know: How Digital Wallets Keep Freight Moving" [Branch]

"Elizabeth Heffernan Joins Micruity as Head of Partnerships and Consulting Strategy"



135 Open Positions
See all open positions on the Great North Ventures careers page
Dispatch is hiring for 43 positions
Structural is hiring for 1 position

FactoryFix is hiring for 7 positions
TeamGenius is hiring for 1 position
PrintWithMe is hiring for 16 positions
Parallax is hiring for 3 positions
Branch is hiring for 11 positions
Inhabitr is hiring for 3 positions
NoiseAware is hiring for 2 positions
PartySlate is hiring for 4 positions
Flywheel is hiring for 2 positions
Skillit is hiring for 1 position
NextGem is hiring for 2 positions
Backhouse Brands is hiring for 1 position
Yardstik is hiring for 5 positions
Micruity is hiring for 3 positions
Omnia Fishing is hiring for 11 positions