Welcome back to the Great North Ventures newsletter! We have grant funding news, as well as our monthly roundup of portfolio company updates and jobs.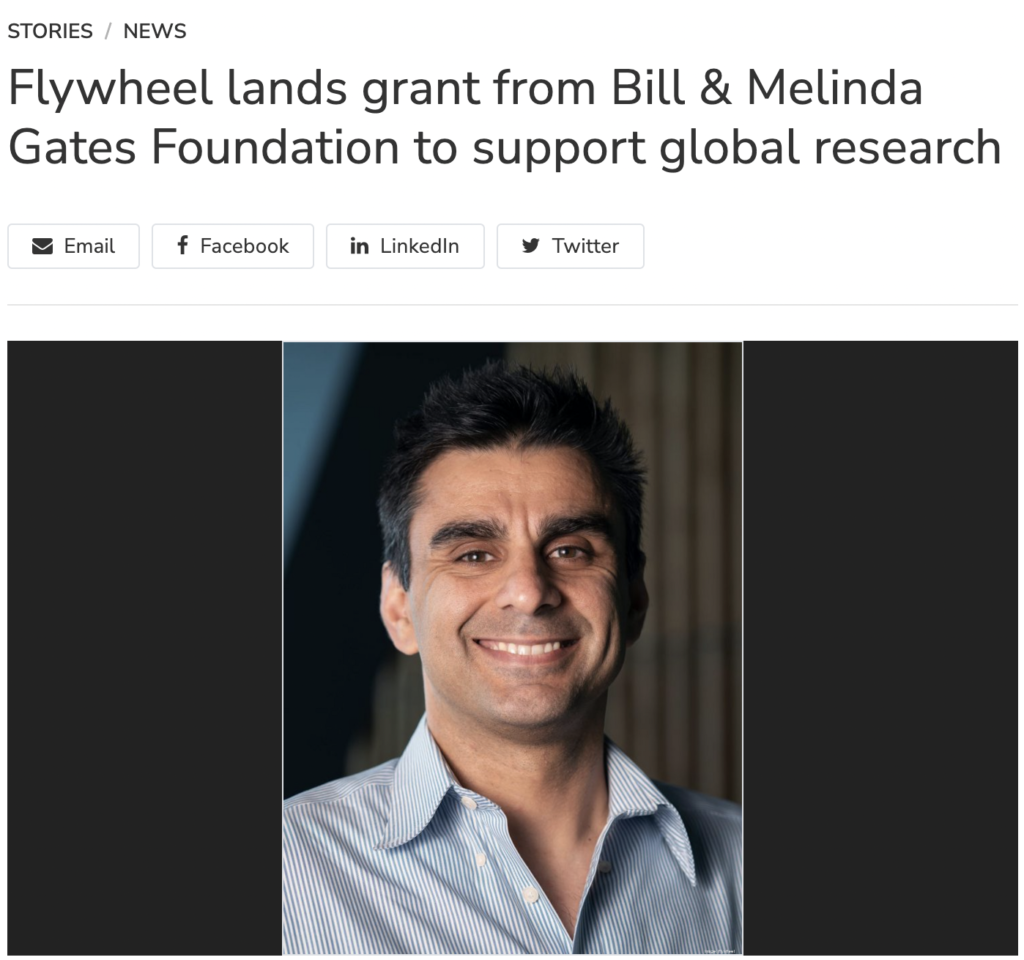 Portfolio company Flywheel has earned a grant from the Bill & Melinda Gates Foundation for its work making data accessible to medical researchers!
Flywheel is the leading data management platform for biomedical research and collaboration. According to managing partner Pradip Madan, "Flywheel's work on data management and collaboration in life sciences and clinical research has created a data management powerhouse accelerating the bench-to-bedside journey of numerous initiatives."
The $829,000 grant will provide a centralized, cloud-based research infrastructure to an international cohort of researchers led by King's College of London, and support research on the neurodevelopmental health of children growing up in poverty and other adverse environments in low- and middle-income countries.
"We're looking forward to leveraging Flywheel not only to make data easily accessible to our neuroimaging partners around the world, but also to develop shared analytic pipelines and maintain consistency and compatibility," said Professor Steven Williams, PhD, Professor of Neuroimaging Sciences at King's College London, and a principal investigator on the project.
"This project will ultimately build the knowledge and analytic capacity of LMIC researchers, allowing them to further optimize neuro-focused interventions in their settings."
Great North Ventures is Hiring!
We have 2 positions open, including a Venture Capital Analyst and an Executive Assistant.
Interested in a remote-first, innovation-centric culture in one of the top up-and-coming markets of an exciting industry? Apply at the links above.
Are you a founder worried about managing growth through a downturn?
In our latest episode of Execution is King, we talked with Orazio Buzza, Founder and CEO of Fooda. Orazio shared his approach to manage growth in the face of unpredictable variables. He outlines a milestone approach that works when forecasting fails and headwinds start to blow, and helps keep expenses from outpacing revenues as your business grows.
Listen to the full episode here:
https://lnkd.in/gMNZHBdK
---
Portfolio News
Dispatch Expands Its Last-Mile Delivery Service Into California and New York

Great North Ventures invests locally

Good Design Awards Highlight Connected Devices
NoiseAware Introduces CrowdControl for Elevated-Occupancy Detection

Madison startup that helps consumers navigate food allergen 'minefield' explores new tech horizons [Allergy Amulet]

Improving carriers' cash flow with Branch — Taking the Hire Road
79 Open Positions
See all open positions on the Great North Ventures careers page
Dispatch is hiring for 9 positions
Structural is hiring for 1 position

FactoryFix is hiring for 5 positions
Pitchly is hiring for 1 position
PrintWithMe is hiring for 18 positions
Parallax is hiring for 3 positions
Branch is hiring for 18 positions
Inhabitr is hiring for 1 position
PartySlate is hiring for 3 positions
Flywheel is hiring for 4 positions
Skillit is hiring for 1 position
NextGem is hiring for 2 positions
Backhouse Brands is hiring for 1 position
Yardstik is hiring for 3 positions
Micruity is hiring for 3 positions
Omnia Fishing is hiring for 6 positions