Forecasts of the economic impact are still developing as the COVID-19 pandemic continues. Mary Meeker (famed for her annual Internet Trends report) released a report on coronavirus trends as an exclusive to Axios. Takeaways from the trends report include the acceleration of digital transformation, the inclusion of more scientists and domain experts, and the broad technological evolution of healthcare.

The report closes on a note of optimism, imagining the positive impacts the pandemic can produce if it brings people together to work for common good, saying, "We also need government, business, and entrepreneurial intervention at scale (deployed logically and effectively) to get to the other side. All must work together to ensure jobs and restart the economy so citizens have confidence they can work, have sufficient safety nets and take care of themselves, families and loved ones".

Business and Entrepreneurial Intervention
Government intervention in the crisis is well-covered in the news (and in our last newsletter). As far as business and entrepreneurial intervention are concerned, Great North Labs has been busy. Our team has scaled up charitable giving to organizations. Our portfolio companies are responding in a variety of impactful ways. Our fund has continued investing in promising startups.
Nonprofits and other organizations that depend on events and donations are hurting at this time. One organization we support is the CentraCare Foundation, who is raising a COVID-19 Emergency Response Fund at this time. If you are interested in supporting them, donate before May 30th and your donation will be doubled due in part to a donation from our managing partners Rob and Ryan Weber.
People are mobilizing to help each other and fight the pandemic together. Our portfolio companies are active in the fight. Dispatch, Clinician Nexus, 2ndKitchen, and PrintWithMe have been supporting local businesses, supporting medical staff, and sourcing necessary supplies. You can read about their exploits, and more about charitable giving, in this recent article.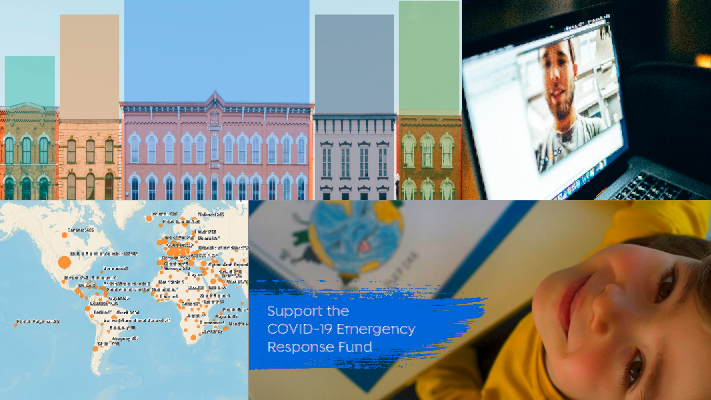 While Great North Labs has closed two unannounced deals since early March, it is no secret that venture investing overall has slowed down. Managing Partner Rob Weber shared his short- and long-term forecasts with MinneInno in a recent article about the effects of COVID-19 on VC.
"The bar for getting funded will certainly be even higher given the market turmoil, but should not deter founders from trying to raise altogether if they think they are VC ready," Weber said. "Long term, I continue to remain very bullish on Minnesota and other Midwest-based startups."
Founders Survey
Speaking of founders who are ready for VC investment, we are seeking anonymous responses from startup founders and co-founders on your awareness and opinions of early-stage investors in the region. If you are a startup founder in one of the following states: MN, IA, IL, WI ND, SD- please take our survey!
We value your opinions, and are providing completed survey respondents with a $10 Amazon e-gift card. E-gift cards are delivered by email, and can be used to credit your Amazon account for future use, or used for an immediate purchase.
Events
Due to public health and safety considerations, many events mentioned in previous newsletters have been rescheduled or canceled, including the Great North Labs Startup Summit 2020. Originally planned for August 27th, this year's in-person conference has been canceled. We are exploring options for virtual events, and will keep you updated on changes.
Here are some virtual events that will still be held.

May 7th is the E1 Ignite Cup Pitch Competition, hosted by Red Wing Ignite and their E1 Southeast Minnesota Partners. First place becomes an automatic MN Cup semi-finalist! Plus $500 cash from Great North Labs, 30 min. mentoring sessions from each judge, and a spot in the Startup School cohort from ILT Studios. Ryan Weber will be speaking.
May 14th is gener8tor's Lunch & Learn: VC and Fundraising Today. Rob Weber will be speaking along with Ann Winblad (Founding Partner, Hummer Winblad Venture Partners) and Sean Higgins (CEO, BetterYou) about the VC and startup financing future, post-COVID.
May 15th is Walleye Tank: COVID-19 Showcase. Walleye Tank events are generally pitch events, but this one is in showcase format, with a focus on coming together to support COVID-19 solution initiatives. The showcase will highlight Minnesota innovators and community leaders stepping up to COVID-19 challenges. MN DEED Commissioner Steve Grove will speak, and 12-15 innovators and community leaders will tell their stories. The audience will be presented with various opportunities to help each of the leaders such as providing connections, mentoring, or funds.
June 23-25th is Collision. Described by Politico as "The Olympics of Tech", this massive annual tech conference is going virtual this year. With SXSW canceled this year, this may be the top tech event of 2020 after CES. Ticket prices go up today!
Portfolio News

In response to COVID-19, Inhabitr has postponed pickups when necessary, increased sanitation for pickups, and offered contactless delivery. Inhabitr is also offering cleaning supplies to customers for delivery alongside their furniture rental. Featured in this article, "DTC, subscription companies step up sanitation practices in answer to COVID-19", CEO Ankur Agrawal shared how Inhabitr is helping local furniture businesses, ""Since the next 90 to 100 days will be dark for most local stores, the subscription model gives them an opportunity to stay afloat."

2ndKitchen's new contactless delivery product for breweries, 2Go, was mentioned in this article.

PrintWithMe was profiled by AmericanInno in the article "Need to Print? This Startup Will Deliver Documents to Your Door".
Job Board
Dispatch is hiring a Director of Sales, Senior Manager of Enterprise Sales, Business Development Rep, Software Engineering Manager, UX Design Manager, Product Owner, QA Engineer, Senior Software Engineer, and Senior UX Designer in Bloomington, MN.
FactoryFix is hiring a Team Lead – Full Stack Developer, Full Stack Developer, and Infrastructure Developer- DevOps in Madison, WI; a Recruiter, and Business Development Rep in Chicago, IL.
TeamGenius is hiring a Customer Success Associate in Minneapolis, MN.
PrintWithMe is hiring a Regional Sales Director on the East Coast; a Software Engineer, Summer Strategy Intern (MBA), and Summer Strategy Intern (undergraduate) for Remote work.
Parallax is hiring a Customer Success Specialist, and Growth/Customer Acquisition in Minneapolis, MN.
Branch is hiring a Revenue Operations Manager, and Sales Development Rep in Minneapolis, MN.
NoiseAware is hiring a COO, VP of Global Sales & Account Management, Product Marketing Manager, UI/UX Designer, Account Manager, and Customer Advocate in Dallas, TX.
With unemployment soaring, small businesses shuttering, and even some large chains withholding rent, the effects of the COVID-19 pandemic are reverberating through our communities. Many people wait on relief from the government in the form of stimulus payments and unemployment benefits. Businesses scramble to secure emergency loans, payroll support, and new ways to gain revenue. Oftentimes lost among other dire news is the plight of nonprofits and charities, who languish as donations dry up and revenue-producing events are put on hold.
Cash and Equity Giving
Jack Dorsey's $1 billion equity pledge is an eye-catching reminder of how important it is to support these causes and organizations now if you are able to. Many are dependent on revenue from events that can't happen and donations from disposable income that has evaporated. Our Founders Pledge is built on the idea of baking giving into your venture as part of your short-term and long-term financial plans, to support your community, and to support the organizations that support you with a mix of cash and equity giving.
One nonprofit that can use your support at this time is the CentraCare Foundation. From now until May 30th, your donation to the COVID-19 Emergency Response Fund will be doubled, due in part to a gift from our partners Ryan and Rob Weber.
Time and Effort Giving
During this time many businesses and leaders have risen to the challenge to support their communities through non-cash/non-equity donations. Our portfolio companies are also active in the fight, supporting local businesses, hospitals, and healthcare workers on the frontline. Here are four examples of their work.
1. Dispatch launched same day delivery for local businesses. This service aims to help alleviate supply chain difficulties during the pandemic
2. 2ndKitchen launched a new service to offer delivery for bars and breweries. This is a lifeline for these businesses when they have to be closed, with 2go allowing bars and breweries to sell beer, food, and merchandise for pickup or delivery- for free.

Clinician Nexus partnered with MN COVIDsitters to provide the technology platform that connects volunteer medical students with healthcare workers to provide free childcare during the pandemic.
4. PrintWithMe is holding a Face Mask Drive. The face masks, unused N95 masks as well as simple surgical masks, are being supplied to Chicago-area hospitals.
Giving for a Better Future
In consideration of the pandemic, the Webers have expanded the list of colleges they support to include North Hennepin Community College (NHCC), one of the largest Minnesota State colleges serving a very diverse student body with many low-income students. Ryan and Rob are alumni of NHCC, where they gained the skills that helped them bootstrap their own startup.
The Webers have donated $10,000 to NHCC's Foundation to directly aid Graphic Design students studying product design, a program they see as well-positioned to fill the large UI/UX design talent gap in Minnesota and the surrounding region. Their support of this program goes beyond money to include volunteering as mentors, promoting awareness of NHCC's Graphic Design program, and using their networks to help students connect with internships and employment opportunities.
We continue to support and evolve our own educational initiative aimed at filling the gap of disciplined startup education in the region, formerly known as the Great North Labs Startup School. The programming is now known by a variety of names, and collectively as the Lean Startup School. The new iterations have come about by partnering with Red Wing Ignite and ILT Studios. These partners have allowed us to develop the programming as a white-label offering to communities around the state, with a particular emphasis on Greater Minnesota. There are two cohorts currently, in St. Cloud and Red Wing, with more planned for the future.
We will get through this crisis, one way or another. Whether or not the federal government gets behind legislation that supports startups with an influx of capital, such as the New Business Preservation Act, there is a broad community of entrepreneurial support and a healthy, growing startup ecosystem in the region. We will continue to cultivate transformative innovations, successful entrepreneurs, and tech startups in the Upper Midwest!
Valuable startup ecosystem organizations we support include MN Cup, Beta.MN, Minnestar, SCSU University Foundation, College of St. Benedict and St. John's University, Greater St. Cloud Development Corporation, gBETA Greater MN-St. Cloud, SingularityU Minneapolis-St. Paul, and Silicon North Stars. If you also find them valuable and you are able, please consider giving to them during this time of need!