Merry Christmas and Happy Holidays to all of you and your families.
We are excited to report that we are now ready to begin making investments out of our fund into regional high growth startups!
We will share updates on our new portfolio companies in future newsletters.
Upcoming Startup School Events
-Lean Startup Bootcamp

-Date: Monday (1/8) and Tuesday (1/9) from 8:30am to 4:00pm
-Instructor: Ryan Weber (Founding Partner of Great North Labs)
-Location: UMN Carlson School in Minneapolis
-Description: Learn, and begin applying, the lean startup practice so that you can eliminate waste in planning and growing your startup.
-Open to students and small business professionals of any type, profit or non-profit, high-tech or no-tech, for free or mid-to-large business professionals for a low cost. Find more information and apply to participate at our website.
-Agile Scrum Crash Course

-Date: January 15th, 9am – 5pm
-Instructor: James DonFrancesco (President, Great North Labs Startup School)
-Location: CoCo Minneapolis
-Description: Learn, and begin applying, foundational concepts of Agile Scrum like improved work transparency, a more organized daily work routine, and smoother collaboration amongst you and your teams.
-Free for Students and Founders
-Training Fee for Professionals / Corporate Teams

New to Our Blog
"Letter to My Younger Self" by Rob Weber.
37 year old Rob shares founder advice to his 20 year old self.

KPIs/Key Milestones:
We hired our first Analyst Intern, Hieu Nguyen. Hieu joins us after spending time at PricewaterhouseCoopers, Shoreline Growth Partners, and Cargill Feed & Nutrition. Hieu will be working primarily with Ryan to review potential investments.
We have added several new advisors to our fund, including Jared Oasheim (Controller at CVRx and formerly of Sports Engine, Compellent Technologies), Kevin Raheja (Director of Strategy Partnerships at HubSpot, formerly Groupon and LeadPages), Ben Edwards (Recently joined Sphero spin-off Misty Robotics,  formerly Co-Founder of SmartThings & Minnestar)
In November, Rob participated in the Early Stage Symposium in Madison put on by the Wisconsin Technology Council.
Our first Blockchain Trends Meetup was a success in late October attracting over 25 participants from beginners to some of our region's top blockchain startup founders and blockchain enthusiasts discussing the latest crypto currency and blockchain technology trends.  We plan to continue to host this and other meetups as part of our focus on disruptive technologies, including another Bitcoin Trends Meetup Event Thursday, 12/14 at Excelsior Brewing Co in Excelsior, MN.

Lowlights:
16 participants joined us for our recent St. Cloud Lean Startups Bootcamp.  However, the participation from students was lower than we hoped.
We've received limited applications for our Digital Marketing Specialist Intern and still have the position open.

Help Wanted/Asks:
Help us get the word out about our upcoming bootcamps and now active fund.
Join the December 14th fireside chat with Rob Weber at Startup Grind St. Paul.
Follow @GreatNorthLabs on Twitter for the latest information on startup activity at Great North Labs and in our region.
We wish you the very best in the new year and thank you for your ongoing support!
The Great North Labs  Team
UPCOMING EVENTS
SGX Fireside Chat w/ Great North Labs Venture Fund General Partner, Rob Weber
Saint Paul
December 14, 2017 / 5:30pm
Bitcoin Trends Meetup
Excelsior Brewing Co, Excelsior MN
December 14, 2017 / 5:30pm
October 2017
Thanks for being a friend of Great North Labs. We are excited to share an update with you regarding our new Venture Fund and affiliated Startup School. Thank you for your interest!
October marks just our 5th month of existence. Our top priority the past two months has been raising capital for our fund. We've also been taking meetings with startups but investing is on hold until the completion of our initial close.
Additionally, we've been working on further developing our business strategy and plan for the fund & startup school. This includes developing an organizational plan for all of Great North Labs. Expect to see a revamped web-site later in October with more details about our strategy and plan.
Startup School Events – Lean Startups Bootcamp Date: Every Monday from 6pm – 8:30pm from 10/23 to 11/20
Instructor: Ryan Weber (Founding Partner of Great North Labs)
Location: Great North Labs office in St. Cloud (near the SCSU Welcome Center)
Description: Learn, and begin applying, the lean startup practice so that you can eliminate waste in planning and growing your startup. It's open to students and small business professionals of any type, profit or non-profit, high-tech or no-tech, for free or mid-to-large business professionals for a low cost. Find more information and apply to participate at our website . The same bootcamp will be offered in early 2018 in the Twin Cities.
Disruptive Tech Series – Blockchain Trends
Great North Labs believes disruptive technology is an important ingredient to drive substantial value in industry.  Due to this, we will make a concerted effort to build our understanding of these technologies and identify opportunities to invest in startups embracing them.  You may have heard of Bitcoin, and possibly the underlying technology it is built on, "Blockchain." We're hosting a Blockchain Meetup where we'll be discussing what Bitcoin and the Blockchain is, how it's starting to impact several markets, and future trends of this new technology. Look for details of this event on our Events section of our website, coming late October.
Job Openings – We're Hiring!
Digital Marketing Specialist Intern (St. Cloud) – Help us help our region's top startups by joining our small team and assist in supporting our digital and event marketing needs.
New To Our Blog:
The Secret To Fostering A Strong Startup Community Inside Your University – by Rob Weber
KPIs/Key Milestones:
–  Joined Coco Minneapolis in the Grain Exchange for our Twin
Cities office location.

–  Contracted a marketing agency in the Twin Cities to help
support our initiatives.

–  Conducted meetings with several St. Cloud and Twin Cities
based universities (SCSU, CSJSB, UofMN) to see how we can better collaborate in supporting startups. The feedback has been very positive. Initially, they are helping to promote our Lean Product Bootcamp but other events are and collaboration are being discussed and we'll post further updates once they are finalized.

Lowlights:

– We've learned after running two Lean Product Bootcamps that hosting a pitch day after only five weeks for a Lean Workshop is impractical. Teams need more time to complete their business model vetting. Instead, we are planning to host a larger pitch event some time in March for anyone that is interested.
Help Wanted/Asks:
●  Promote our Lean Product Bootcamp in St. Cloud (starts
October 23rd) or Twin Cities (early next year) to anyone you know that may be leading a new business and is interested in how learning how to reduce waste in planning and executing on their idea. More information available on our website.

●  Looking for a contractor in the Twin Cities or St. Cloud that has experience in WordPress that may be available part-time on an ongoing basis in support of our further development of the Web-Site.

●  Help us fill the Digital Marketing Specialist Intern opening we have in St. Cloud for Great North Labs.

●  Beginning on November 3rd, vote online for Ryan Weber's session on Running Lean so that he can secure a spot at this year's Twin Cities Product Camp event to be held at the Nerdery on Saturday, November 18th.

●  Follow @GreatNorthLabs on Twitter as there is a lot of activity in the startup community that we'll begin sharing and promoting.

Thank You!
Rob, Ryan, & James – The Great North Labs & Great North Capital Team
P.S. If you know others who would be interested in what we are up to, please refer them to our Newsletter to sign-up to receive updates, become mentors, founders, etc.

You can read the full article on St Cloud Times, here.
Tech leader launches St. Cloud Incubator
Tech incubator starts in St. Cloud
Great North Labs wants to grow talent and business start-ups. Wochit
The cofounder of a St. Cloud-area technology business aims to pass along his experience and boost Central Minnesota's economy with a technology incubator.
Ryan Weber is launching Great North Labs Inc. with the two-pronged strategy of building a tech talent pool while developing start-up businesses.
Weber knows a bit about running a start-up. He and his twin brother Rob created a technology business in 2000 while they were students at St. Cloud State University. That business eventually became NativeX of Sartell, which they sold for $25 million in 2016 to Mobvista. Rob is chief executive of NativeX.
In 2006, the brothers partnered to form a Midwest seed fund called in 32 Degrees, which has invested in tech start-ups. They've had success with investments in the Twin Cities and want the same for outstate college towns like St. Cloud.
Great North Labs will mentor start-up businesses in product research and engineering while offering access to funding and legal services. It will focus on developing start-ups that apply disruptive, breakthrough technologies. "Industries are being disrupted like never before" because of the internet, Ryan Weber explains.
Great North already has been running free boot camps for students from area colleges at 305 Fifth Ave. S, in the commercial area below Coborn Plaza Apartments.
St. Cloud State University computer science student Amir Daghighi said the boot camp offers high-level training in a friendly atmosphere. When students hit an obstacle, they have access to quick answers. Like others in the program, Daghighi is extremely self-motivated.
"I'm just doing my best, pushing myself as hard as I can," he said.
Weber says he wants to "build a program for the community.
"It's not just students, it's not just (start-up) founders," he said. "People want to support economic development. We want to embrace that."
People who are considering a start-up launch get free, practical training through ongoing boot camps liked the one already underway. They will get guidance on product and market research, the software development life cycle, front-end and back-end development and data management. Weber will connect participants with industry professionals in his network.
By late summer, Great North will select ideas for deeper development. Some boot camp participants will segue to paid internships to work on incubator-backed start-ups.
"We think we'll have success this summer," Weber said, "but we're even more excited about the long-term development of talent networks."
The project has support from St. Cloud State. "This will give our students a unique opportunity to work closely with industry professionals," Sarnath Ramnath, chair of the Computer Science and Information Technology Department, said in a statement.
Weber compares Great North to Midwest incubator High Alpha, which has in the past year invested in two Minnesota-based startups.
Weber hopes Great North will help start-ups quickly find the expertise that he and his brother initially struggled to find as they entered the tech business world.
"We just want Minnesota technology companies to rise up and develop a big win over the next decade. We think we've got the right ingredients."
Learn more
Great North Labs wants to connect with accredited investors and engineers willing to contribute expertise in exchange for equity. For those who are interested, there is a barbecue at 5 p.m. Wednesday at Riverside Park in Sartell. Registration and information is available at https://gnladmin.staging.wpengine.com/.
Read the full article here. 
Ryan Weber, who co-founded and later sold tech company NativeX, is launching an incubator that will mentor aspiring entrepreneurs and train college students.
Called Great North Labs, the St. Cloud-based incubator aims to churn out promising young companies and talent for tech companies across the state, Weber said. Students will receive training in product development and engineering skills relevant to building startups.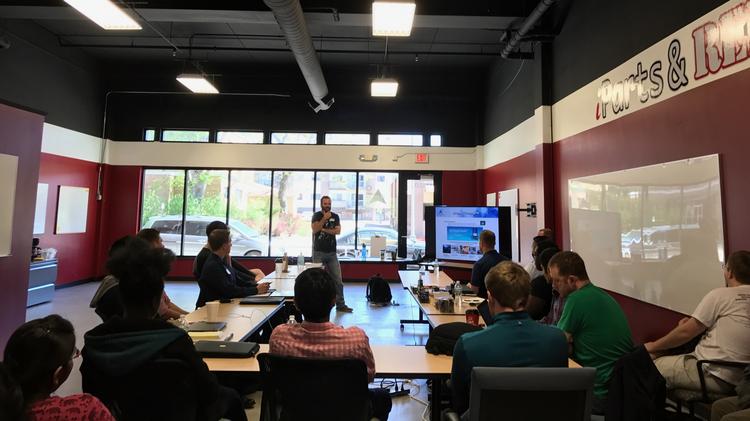 Weber also plans to raise a seed fund that will back companies coming out of Great North Labs. The fund will range between $1 million and $10 million in size and is separate from 32 Degrees, an angel-investor fund that Weber and his brother started in 2005.
Great North will serve startups that might not have fully developed a product, separating itself from accelerators that back companies that are well beyond that stage.
"It's more risky, but we think there's an opportunity to help earlier-stage tech startups," Weber said.
It also expects to stand out by targeting Greater Minnesota, where there are less resources for startups, Weber said. Areas of specific interest for Great North include artificial intelligence and drones. "We're looking for the next Fortune 500 company."
Weber and his brother, Rob, started what became NativeX in a St. Cloud State University dorm room 17 years ago. The business, initially named Freeze.com, began by distributing applications like screen savers to consumers.
It now makes technology businesses use to advertise within mobile apps such as games. Chinese mobile-advertising network Mobvista bought NativeX for $25 million last year.
The Webers' 32 Degrees fund has backed startups such as Field Nation, a Minneapolis-based company that connects businesses with independent contractors and Zencoder, a video-encoding startup that was sold to Brightcove Inc.
Ryan Weber is seeking mentors to participate in Great North Labs.
Katharine Grayson covers med tech, clean tech, technology, health care and venture capital.